The position indicator is available as a mounting part for the pneumatically operated GEMÜ C50 iComLine diaphragm globe valves and is particularly suitable for automation in wet process equipment. The GEMÜ C12A end position indicator detects the position of the valve spindle contactlessly. An electrical signal transmits the respective position of the valve (open/closed) to the plant control system. The electrical position indicator is particularly distinguished by its compact design with reliable functionality and simplicity of installation. It is available for all nominal sizes in the GEMÜ C50 iComLine series and can also be adapted to the GEMÜ PC50 iComLine M-block. The position indicator can be pre-assembled or supplied as a retrofit kit. The electrical position indicator has the IP 64 electrical protection class and is operated with a 24 V DC connection.
Background information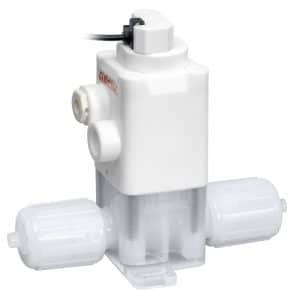 The GEMÜ Group develops and manufactures valves, measurement and control systems for liquids, vapours and gases. GEMÜ is a global market leader when it comes to solutions for sterile applications.
The globally focused, independent family-owned enterprise was founded in 1964. In 2011, Gert Müller took over as Managing Partner together with his cousin Stephan Müller, becoming the second generation to run the company.
The Group achieved a turnover of over €330 million in 2018 and currently employs over 1900 members of staff worldwide, over 1100 of whom are in Germany. They have six manufacturing locations: Germany, Switzerland and France, as well as China, Brazil and the USA. Their worldwide marketing is carried out across 27 subsidiaries, coordinated from Germany. Thanks to a large network of commercial partners, GEMÜ is now active in over 50 countries on all continents.