The new valve is engineered to provide high flow rates at a working pressure of 6000 psig (413 bar) while simplifying installation, minimizing rework requirements, and delivering the reliable shutoff performance needed to keep workers safe and systems operating efficiently in a variety of demanding applications.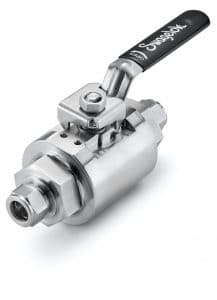 The Swagelok GB series ball valve can be widely deployed as a general-purpose ball valve. Examples of ideal applications for the valve include hydraulic, injection, and fire suppression systems in the oil and gas industry; isolation for compressed natural gas (CNG) vehicle infrastructure; and isolation in highly corrosive alkylation operations in the chemical and petrochemical industry. When combined with Swagelok's broad range of tube fittings, tubing, and instrument valves, the new ball valve enables customers to build a complete 6000 psig-rated fluid system with tubing diameters up to one inch using all Swagelok components.
For engineering, procurement, and construction (EPC) companies and fluid system package vendors, the Swagelok GB series ball valve provides value by reducing the time and cost required to install and verify the performance of components installed in high-flow industrial applications.
The valve is designed for quick, easy setup, with bidirectional flow eliminating concerns about backwards installations. Integral Swagelok end connections that range in size from 3/8 in. to 1 in. further simplify system design and minimize labor and component requirements.
The potential for leaks or costly rework after initial installation is reduced through 100% assembly testing that ensures Swagelok GB series ball valves meet specifications out of the box. Body seal performance is validated through hydrostatic system proof testing up to 1.5 times the maximum rated pressure.
The valve is built to allow simple customization, featuring a bolt pattern that can be used as an installation point for an optional lockout handle or panel mount, as well as a bracket compatible with an ISO 5211 pneumatic actuator. Having the ability to configure GB series ball valves as needed outside the factory makes it possible in some cases to streamline inventories of full-flow valves by stocking fewer SKUs.
The Swagelok GB series ball valve is also engineered to provide long-term benefit to owners and operators through features, materials, and design options that help protect workers and maximize component life in challenging conditions.
The valve was designed with an emphasis on safety, featuring a patent-pending, mechanically locked end screw design that reduces risk of accidental disassembly or leakage. A proven leak-tight stem seal design with a blowout-proof stem provides additional reliability.
To reduce corrosion in harsh environments, the Swagelok GB series ball valve is available in a variety of alloy materials such as 6-Moly, Alloy 2507, and Alloy C-276, as well as materials selected in accordance with NACE MR0175 for sour gas applications. The valve also complies with ASME B31.1 and B31.3 standards for power and process piping systems.
Swagelok GB series ball valves are now available for purchase from authorized Swagelok sales and service centers.