In the majority of cases, this can be achieved quite easily, but in situations where the whole atmosphere poses a potential risk, finding the best solution can be quite a challenge.
Paul Hobden, Bürkert UK ATEX solenoid valve champion, looks at the challenges surrounding process control in potentially explosive atmospheres and how they can be overcome.
Process control achieved using innovative design and industry expertise can deliver solutions that offer improved efficiency and productivity. Very often, at the heart of these systems is the humble solenoid valve, which has continuously evolved to tackle even the most difficult environments.
Material specification
Using the latest plastics and polymers can enable components to conform to the local food and hygiene regulations; specialised cleaning procedures that are required between production processes must not cause any material degradation. The use of chemicals and high temperature steam are often controlled by solenoid valves so their design charcteristics must match the application.
Some applications involve potentially explosive atmospheres and therefore any equipment operating in this environment must have been certified to the appropriate ATEX ratings. The rather complex system for grading the working environment and matching the design of the components to ensure a safe application can be a daunting prospect.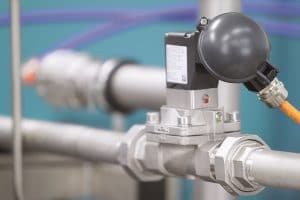 Designing process control systems that meet DSEAR, ATEX and other similar standards requires considerable levels of expertise and competence to deliver a suitably compliant process that meets the demands of the application. When it comes to creating a new, fully certified installation, it is important to select partners that understand process control design with the ability to deliver bespoke solutions using the latest technology that is certified to the standards in force locally.
This allows design features such as vibration-proof, bolted coil systems, and increased leak-tightness to be included in a potential system. Just because the application requires a component that is certified for operation in potentially explosive atmospheres, it shouldn't mean that the choice of control valves is reduced.
Industry expertise
Bürkert Fluid Control Systems is one of the leading manufacturers of control and measuring systems for fluids and gases, with over 25 years' experience in delivering solutions for hazardous areas in a wide range of industries and applications. As part of its development of ATEX and IEC-Ex certified versions of its industry leading components and systems, it has established a centre of competence in Menden, Germany.
Bürkert not only designs a comprehensive range of solenoid valves to cover both standard and specialist applications, it also manufactures every component which includes the machining of the valve body, the injection moulding of the coil body and the manufacture of the coil itself. In this way, Bürkert has control over every aspect of the valve and so can guarantee its performance.
The testing of individual components and complete valves is a continuous process, partly to ensure continued compliance with a wide range of certifications, but also to ensure that the high-quality standards are being maintained. In this way, the customer can be sure of reliable operation, especially in tough operating conditions.
In situations where an existing component will not satisfy the demands of an application, it is possible to work with development engineers to create a bespoke solution that can also be tested and certified in-house. Having this facility within the company also reduces lead times and helps to deliver projects on time.
Safety, above all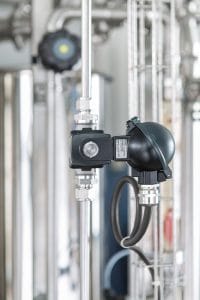 Clearly, the overriding concept for process control within zoned areas is that of safety and on this there can be no compromise. In many cases regional certifications are used as a basis for individual, market-specific approvals; for example, components destined to operate in potentially explosive atmospheres may be certified to IECEx Cat2, but in countries such as Korea and China further national testing may be required to meet KOSHA and NEPSI standards respectively.
Bürkert continuously monitors approvals requirements to ensure that its products can meet the challenges of modern industrial processes, including the creation of all the necessary documentation. With so many regional and national approvals systems, attention to detail is crucial to ensure components are properly accredited.
With over 70 years' experience in the design of solenoid valves, Bürkert continues to improve the technology and the materials used in their construction. The expertise in designing and specifying components for fluid control systems is available to every customer, ensuring that both the component and the application will perform as designed.