During the summer months, when camp is in session, a significant amount of sewage is pumped. Even when the summer camp isn't in session, there are private residences that require a system to run continuously to handle the raw sewage.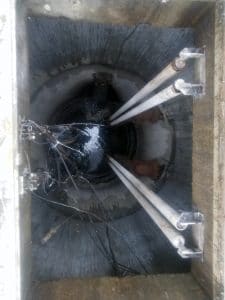 There are three duplex pump systems located strategically throughout the campground to effectively transfer the wastewater. However, the campground was experiencing issues with the pumps clogging and capacitors blowing due to inconsistent power. Every time the pumps would clog, which was almost on a daily basis, someone had to be dispatched to the pumping stations to remove the pumps, unclog them, and then put them back in to continue pumping the wastewater. This became extremely time-consuming and costly.
Frustrations grew and the campsite, which is managed by Suez Killingly, knew it needed to put a new system in place to resolve the daily maintenance demands. The campground looked to Delta Electro Power, Inc. located in Cranston, Rhode Island, for a solution to the clogging problems.
Delta Electro Power has been a distributor of Tsurumi products since 2011 and was confident that the Tsurumi C Series Cutter Pumps would effectively fix the clogging problems at the campground.
The campground application required pumps that would provide 150 gallons per minute at 28 feet of total dynamic head. The campground was limited to using 220V, single phase power.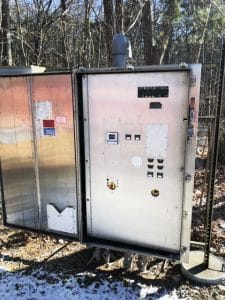 Tsurumi and Delta Electro Power application engineers decided that this severe duty application was too extreme for a single phase non-clog pump. Rather, they decided 3 horsepower, three phase Tsurumi Cutter Pumps with phase inverter control panels to convert the single phase source power to three phase were better suited for the application. To alleviate some of the costs involved in replacing the entire system, Delta Electro Power provided newly-designed guiderail adapters so that the existing guiderails that were in place could be utilized.
The first two Cutter Pumps were installed around November 1, 2013, and performed flawlessly, so four more Cutter Pumps were added six months later.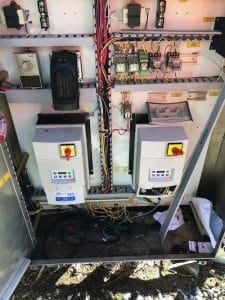 The pumps are still in place at the campgrounds, and there have not been any service calls since the installation nearly six years ago. The Cutter Pumps use a serrated suction cover in combination with a tungsten carbide tip brazed onto the leading edge of the impeller to cut up fibrous and stringy matter, allowing sewage to be conveyed through the pump without clogging. The cutting edge of the pump cuts inorganic waste into a slurry so it is able to pass through the pump without causing any clogging issues.
"There is a substantial amount of water and waste that flow through the pumping stations making it imperative for the pumps to be working properly," said Eric Novogrodski, business development manager at Delta Electro Power. "Excessive clogging can decrease the normal life expectancy of a pump which is why we chose the Tsurumi Cutter Pump for this application. We knew clogging wouldn't be an issue anymore."