Why is fluid flow management gaining importance in manufacturing?
Industrial fluid flow measurement and control technologies are well established for applications involving large pipes, but accelerating market trends present a distinct and pressing challenge: small pipe measurement. The move toward faster, smaller, more compact, and less expensive machines has expanded the need to measure fluid flow in small-diameter, densely-spaced piping. Examples include semiconductor, pharmaceutical, biopharma, and life sciences manufacturing, food and beverage distribution, HVAC, and any ultrapure water application.
Small pipe, confined-space applications require a new way of measuring and metering, and not just from a size perspective. Manufacturers are looking for accurate, efficient, cost-effective technology that features ease of use, low- or no-cost installation, reliable data, and lower power consumption.
What are some small pipe applications driving the micro-fluid measurement trend?
Semiconductor fabrication: The semiconductor industry was revolutionary in how it miniaturized manufacturing technology. Micro levels of fluid are involved in cleaning, rinsing, cooling, coating, and other vital processes. For example, the equipment cooling process is performed inside the machine itself, using densely spaced, very small piping — up to one-half inch in diameter.
Laboratory testing and metered blending: In pharma, processes for creating and mass-producing drugs involve very precise metering of the different components of the recipe. From lab testing to metered dosing and blending, multiple pipes are measured for the various active and inactive substances going into the final product. Those measurements must consistently be ultra-precise to ensure maximum quality, safety, and efficacy.
HVAC efficiencies: Monitoring flow rates in HVAC piping contributes to energy and water savings and environmental regulation compliance. Recovering and recycling condensate water from HVAC systems is another cost-cutting and waste-prevention measure involving compact condensate pumps and return systems.
Leak detection: Loss prevention is a fundamental need in any industry or application size. Early detection of pipe leaks in upstream and downstream manufacturing processes is necessary to rapidly terminate otherwise costly spillage. Precise fluid flow measurement helps to detect fluid loss and empty pipe conditions.
Custody transfer: High fluid measurement accuracy is required to ensure fluid products handed off from sellers to buyers are packaged with the expected volume. Whether filling vaccine vials or dispensing fountain drinks, the flowmeter used must be rated to meet the specified accuracy requirements.
Local mandates: Emerging local directives to control water consumption in drought-prone areas are giving rise to the need for flow measurement devices for consumers. Monitoring household water use will allow consumers to take steps to avoid penalties for overconsumption.
Why does the type of fluid to be measured matter?
Ultrapure water, which is water purified to the highest standards, is a staple in industries such as semiconductor and pharma manufacturing. Because all contaminants are removed, ultrapure water does not have any conductivity that can be measured or sensed from an electromagnetic type of flow measuring device. Instead, the transit-time method of ultrasonic flow measurement is ideal because of ultrapure water's properties.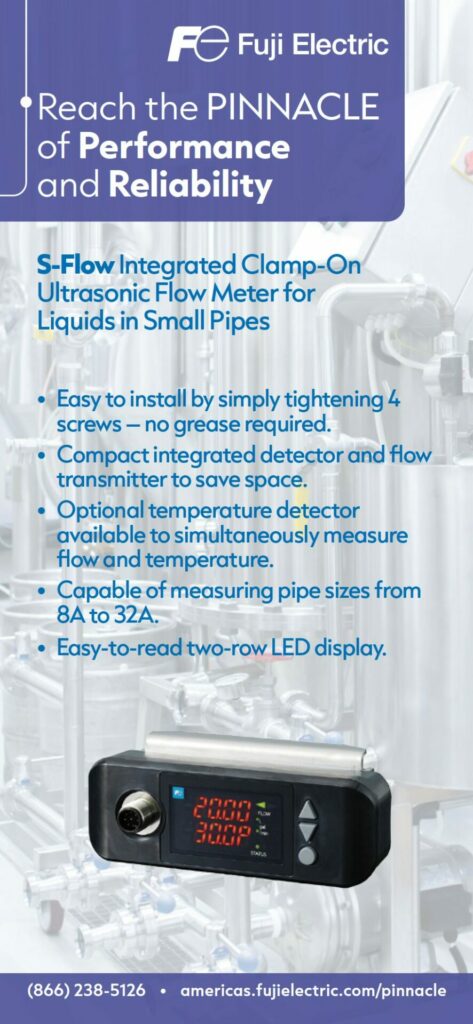 What are the key advantages of ultrasonic flowmeters over traditional technologies?
Ultrasonic flowmeters measure the velocity of flow in pipes. Compared to magnetic/electromagnetic flowmeters, mass flowmeters, turbine flowmeters, or otherwise, the greatest advantage of ultrasonic fluid flow measurement is that it is completely non-intrusive. All the other technologies have a much higher cost because not only do you have to buy the flowmeter, but you must also pay welders to come in to cut your pipe, weld flanges on, and more — all while your whole process is shut down.
With ultrasonic solutions such as the S-Flow from Fuji Electric, you can walk right up to the equipment, clamp the device around the pipe, and start measuring — without shutting anything down or making pipe modifications. It makes for an ultra-low-cost solution.
How do integral ultrasonic flowmeters such as S-Flow address small pipe challenges?
This newly available approach leverages small, compact measuring devices to integrate the measurements inside the manufacturing equipment, rather than measuring externally. In addition to the key benefits of a non-intrusive design, these clamp-on meters are specifically designed for small pipes and confined spaces and come standard with an accuracy of ±2.0%. They are significantly smaller than conventional technologies as the flow detector and transmitter are integrated to save space. Being lightweight and compact, they are easily installed on existing pipes inside manufacturing machines, while they are still running, and without grease, pipe mods, or sensor distance adjustments.
Ultrasonic fluid flowmeters of this nature are suitable for a wide variety of applications with pipes as small as one-quarter inch in diameter and for a wide range of pipe materials and fluids. The highly accurate flow rates are quickly visualized via transit-time method digital signal processing with a response time of 0.5 seconds. With an optional built-in temperature sensor, the flow rate and temperature can be simultaneously measured. Plants benefit in several ways, including equipment, energy, leak cost savings, and improvements in production process and compliance.