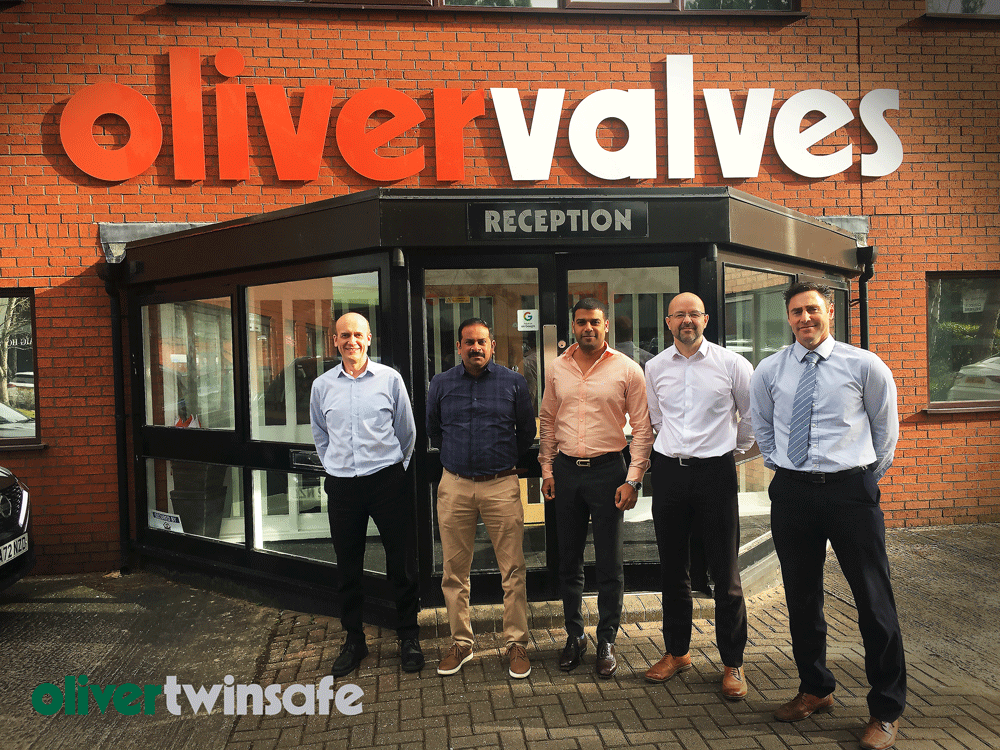 Oliver Twinsafe welcomed esteemed guests from McDermott International to their headquarters in Knutsford, England. On a special visit to discuss ongoing projects and to see the latest order progress on the factory floor, it was also a great opportunity to showcase the latest development of a new range of valves for severe service applications.
Director of Market Development for Oliver Twinsafe and Hydcovalves, Nick Howard, along with Inside Sales Manager, Richard Featherstone, introduced Guru Shetty and Sandeep Gurjar from the McDermott team to Twinsafe's 5 mainstay product groups, they included; Zero Leakage with Metal Seats, Low Fugitive Emission at High Temperature, Low Temperature to -196°C, and Metal Seated Valves at High Temperature up to 500°C.
An exciting discussion point during the tour was the large bore pipeline and transportation valves for hydrogen applications. These could be seen going through on the testing rigs and at the assembly stage. Twinsafe's transportation valves have been certified by a third-party using 99.9% hydrogen.
Speaking after the visit, Oliver, General Manager for the Middle East, Anurag Srivastava, expressed his gratitude to Guru and Sandeep for taking time-out to visit the UK facilities, saying; "Guru and Sandeep have been very impressed by who they've met and of the state-of-art manufacturing facilities that we have in operation. Both feel well assured having been witness to the outstanding quality control procedures and measures that are standardised and implemented across all four of Oliver's UK sites. This visit has certainly strengthened our existing relationship further, and having thoroughly enjoyed their company, we very much look forward to welcoming them back in the near future."
Picture left to right:
Alan Phelps, Guru Shetty, Sandeep Gurjar, Richard Featherstone, Nick Howard
This article is published by
Oliver Valves Ltd, Oliver Valvetek Ltd and Oliver Twinsafe Ltd are world leaders in Instrumentation, Subsea and Pipeline valves, along with our newly established company for the hydrogen and carbon capture market, Oliver Hydcovalves Ltd. Today the four companies design and produce a range of precision, high-quality valve solutions to meet the needs ...