Air-operated double diaphragm ink pumps are used in plants for batches formulation or on newspaper printers.
Fluid inks are used on rotary machines for rotogravure and flexography printing. The applicative parts of these machines consist of two or more cylinders and a lower tank, called an inkwell. The pump, positioned at the side of the machine or immediately above the ink container (usually a 25-litre drum), picks up the ink and transfers it to the inkwell.
The characteristics required of diaphragm ink pump used in the graphic industry are: a constant flow rate without sprays, easy adjustment and silent operation; in addition they must not generate foam.
Flexography is usually used to print:
Decorative wrapping paper
Reel wrappings
Paper and plastic bags
Wallpaper
Paper for corrugated cardboard boxes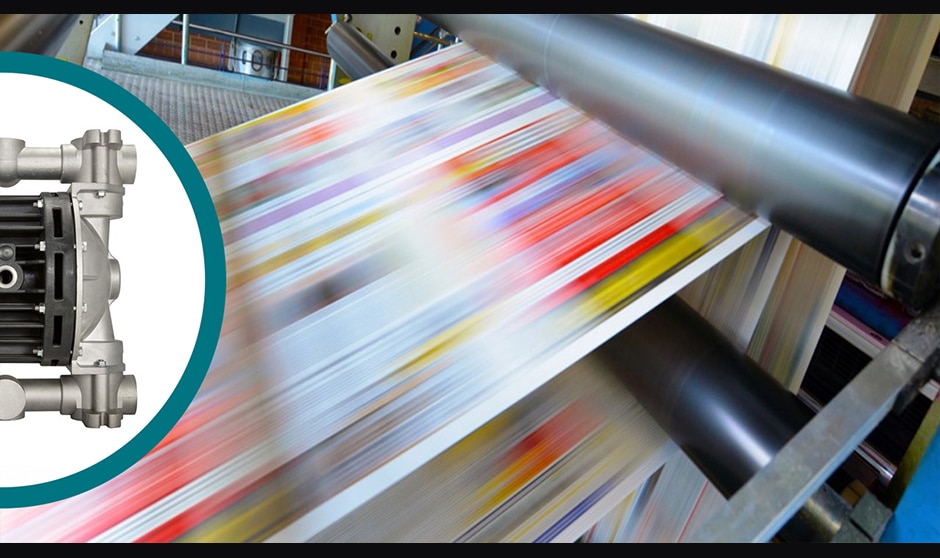 The following inks are being used: 
Solvent-based (ethyl acetate, butanone, acetone) for all supports apart from paper and cardboard. 
Water-based. For paper and cardboard
They both have very low viscosity, between 200 and 500 centipoise.
The diaphragm ink pumps used for these applications are the Boxer 15 or the Boxer 50, or even the Boxer 81 and Boxer 100 for rotogravure machines, where the consumption of ink is much higher.
For many years now air-operated double diaphragm ink pumps have slowly replaced centrifugal electric pumps in this sector, with the following advantages:
Simple to install
Inherent safety due to a lack of electricity (often required in ATEX 1-2)
Excellent regulation of flowrate and pressure, without increasing the temperature of the product being transferred.
Able to transfer delicate products
Low cost
Product mixing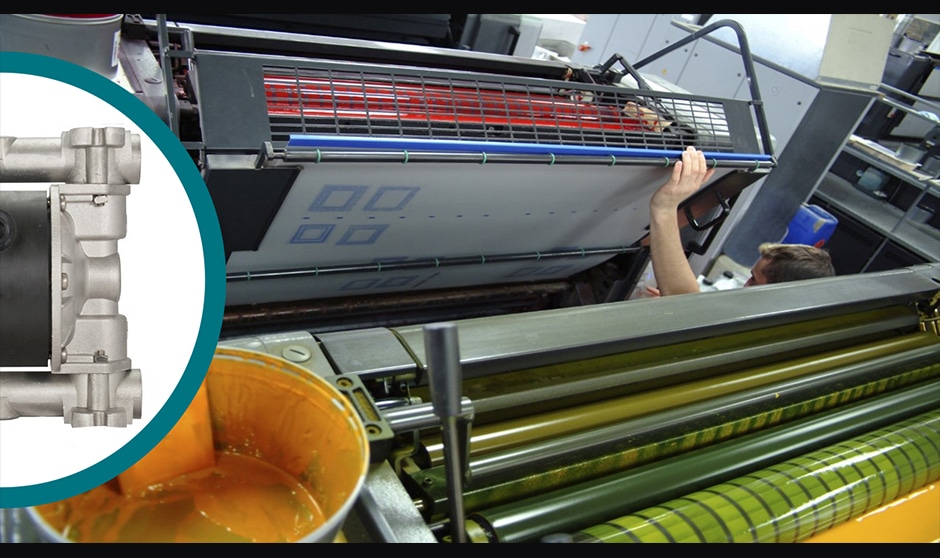 There are other interesting applications in the same sector, for example on roller coaters and lamination machines where the products are more viscous and adhesive and therefore the loss caused by the viscosity will have to be considered very carefully.
Summary of applications:
– Ethyl acetate
– Acetone
– Supplying lamination machines with adhesives or inks for rigid or flexible packaging with corrugated cardboard
– Supplying printing machines
– Supplying rotary machines
– Plants for batches formulation
– Flexography
– Lamination machines
– Machines for printing newspapers
– Rotary machines
– Roller coaters
– MEC
– Transferring water-based ink
– Transferring solvent-based ink
– Pumping oily inks
– Rotogravure printing
– Transferring inks and solvents