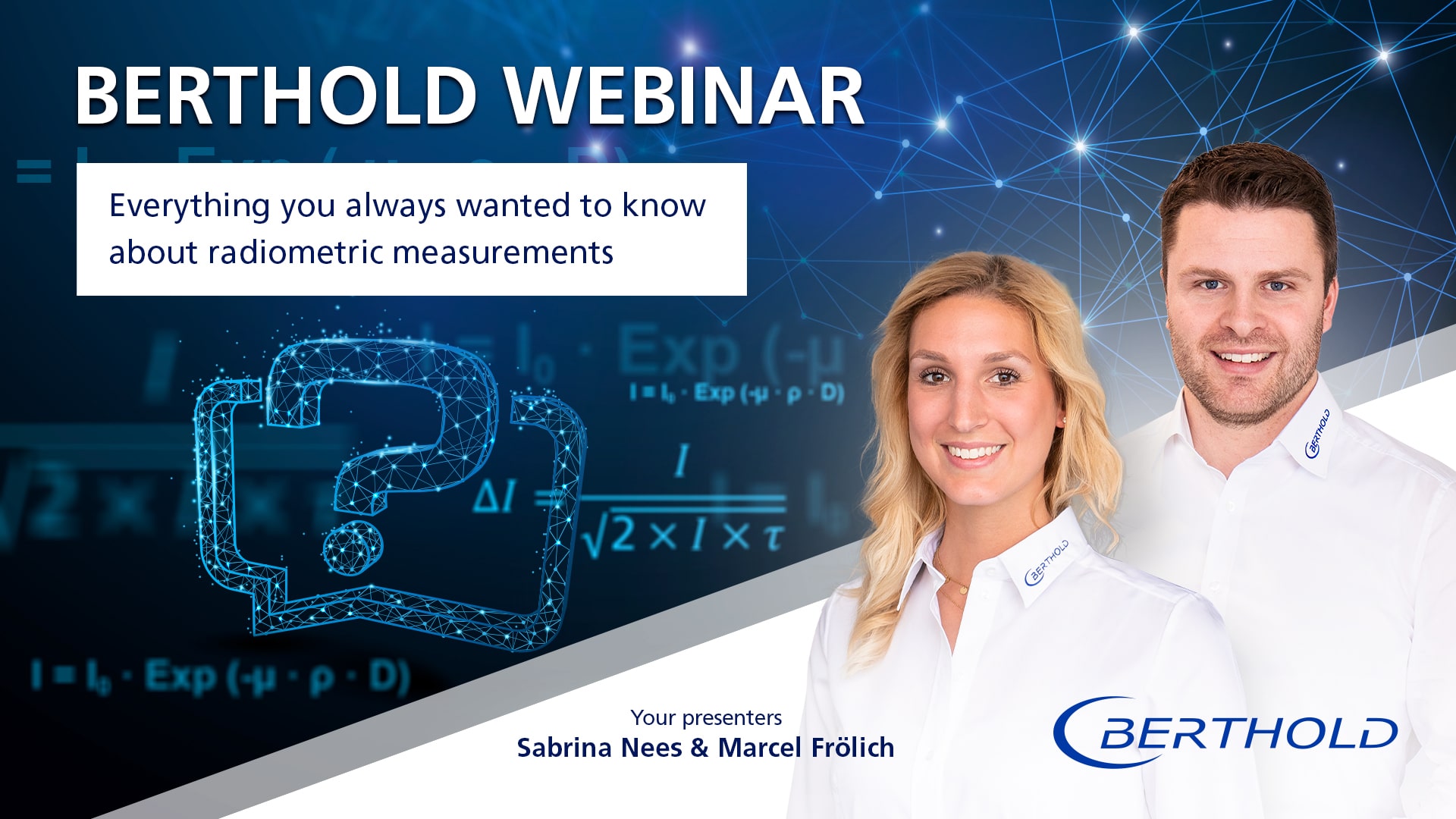 Radiometric measurements are reliable even under the most challenging process conditions and are used where other technologies fail.
But what exactly is a radiometric measurement and what are its advantages and disadvantages? Does this technology justify the use of radioactivity and how dangerous is this measurement then?
Our experts from Berthold will answer these and other frequently asked questions related to radiometry. Sales Manager Marcel Froelich and Product Manager Sabrina Nees will explain what you always wanted to know about radiometric measurements in the webinar.
Whether you are new to radiometry or already experienced with non-contact technology, watch our webinar and learn how a source and detector can safely monitor your process.

Live Webinar additional information
"Everything you always wanted to know about radiometric measurements"
Tuesday, May 11, 2021 Register for 9:00 am event or Register for 3:30 pm event
Europe Summer Time (Berlin, GMT+02:00)
For registration please visit this link: www.berthold.com/webinar-radiometric-measurements
About Berthold Technologies
As a world technology leader in the field of radiometric measuring systems, Berthold products convince with outstanding measuring performance and reliability. The main fields of application are, for example, in chemical & polymers (etc. fertilizer industry), steel and power plants, mining & mineral processing, waste & recycling, refineries, paper, glass and as well as in the food industry (etc. sugar beets). In addition, microwave measuring systems for the determination of moisture and concentration belong to our extensive portfolio. The production of high-quality measuring systems for industry and research began more than 70 years ago in Bad Wildbad in the Black Forest.
This article is published by
Berthold's knowledge and experience in physics and in the techniques of highly sensitive detection of light, nuclear radiation and microwave frequencies, together with the use of modern electronics and software, allows us to maintain our excellent and longstanding reputation as a competent partner in solving diverse and difficult measurement problems, ...