Previously they were using 'stick' pumps which could take over three hours to strip and clean at the end of every day's production; and were leaving up to 25 kg of product in the barrel at the end of each barrel emptying process.
The Flotronic barrel unloader follower plate is it fitted with an inflatable seal which is perfect for dealing with the tapered barrels used on various purees, meaning that less than 1% of the product is left in the barrel.
Pump and follower plate can be stripped down for cleaning and rebuilt in 30 minutes, while the pump has 70% less product hold up than conventional AODP; which means a huge saving in time, cleaning costs and product wastage.
Hygiene is paramount, that is why Flotronic's barrel unloader is fitted with our Slimline Style pumps based on our sanitary range of pumps manufactured from 316L.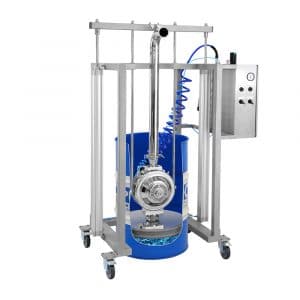 PROCESS DETAILS
Triple Concentrate Tomato Puree
Viscosity up to 150,000cp
From Taper Barrel (Bag in a barrel) to Stainless Tote
PUMP DETAILS
Flotronic Drum Unloading System fitted with follower plate to suit tapered barrel.
FDA conforming PTFE elastomers