There is a huge variation in candy available on the market, each brand with its own taste, texture and appearance. These features are often part of the branding of the major confectionery manufacturers. And therefore, it is important that all candy has the right taste, but also the right colouring and texture. This is the part where flow meters come in the picture.
The importance of dosing additives
OEM equipment for the confectionery industry has to meet strict requirements. Important topics here are:
High-quality confectionery products; As confectionery products, such as candy, represent a specific brand it is important that the colour, texture and taste are always the same. So reproducibility in this process is essential. Good reproducibility will result in high-quality confectionery products.
Efficient use of raw materials (colourings, acid and flavourings); Coulouring and flavourings are very costly agents, especially the natural variant. Therefore, a controlled and efficient use of these substances is very much desired. Candy manufacturers will save on raw materials and it will also add to a better quality as well.
Sanitary design, suitable for food applications; for devices in food applications it is important to have a hygienic design, meaning a surface roughness ≤ 0.8 µm and no dead volume.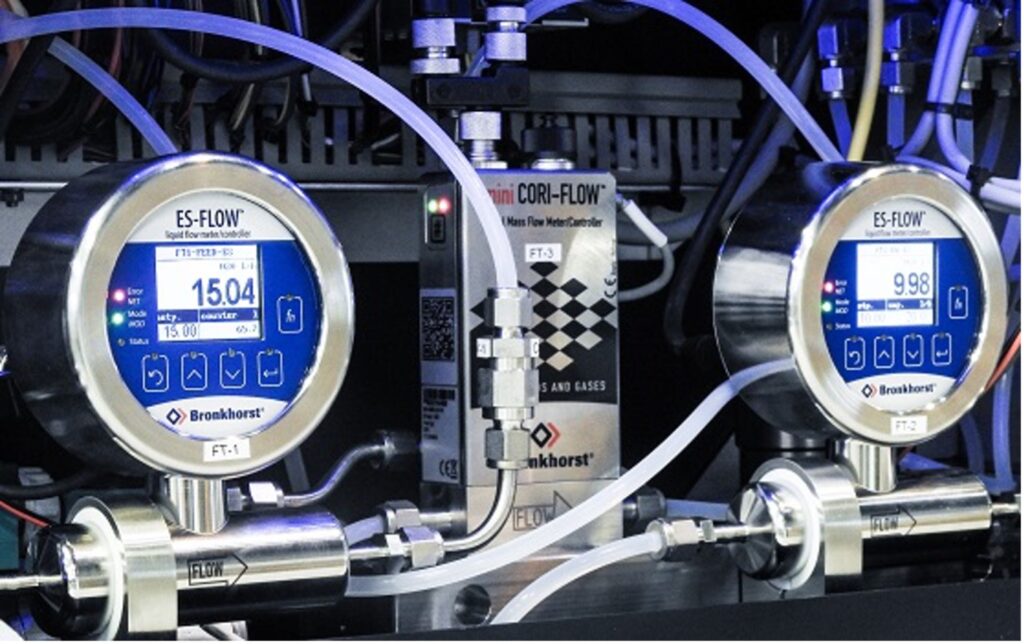 Ultrasonic flow meters for liquid additive dosing
In the old days, if something went wrong in the candy manufacturing process, poor quality was observed by looking at the candy at a rather late stage, resulting in entire batches of candy that had to be defined as 'second choice'.

Together with a leading manufacturer in confectionery machinery, Bronkhorst succeeded in finding a solution to design even more efficient equipment for aerating, depositing, forming and mixing of fat creams, chocolate and other masses.
During a test, multiple ultrasonic flow meters (Bronkhorst's ES-FLOW series) were used to measure the amount of additives – flavourings, colourings and acids – that were added to the main stream of the production process. As these fluids are highly concentrated, only small amounts have to be added. This can be measured with the ultrasonic flow meter, with a flow range up to 1500 ml/min and a precision of +/- 1% of reading. Depending on the type of candy to be produced, the colourings, flavourings and acids will vary. Since ES-FLOW flow meters are fluid independent, they can, after rinsing, be used for other liquid additives. In the current process, the ultrasonic flow meter sends the measurement values to the PLC for continuous montitoring. The instruments could also be close-coupled to a pump, of which the rotation speed can be controlled via the PID control function of the flow meter.
Ultrasonic wave technology