Safe, cost-efficient transportation of product and water is critical for the survival of the hydrocarbon industry—but this is no easy task. Infrastructure owners must operate with a sharp focus on the bottom line while also complying with governmental oversite, maintaining production throughput, and ensuring worker security. One way to stay ahead of these ever-evolving challenges is to optimize flow monitoring by investing in digital flow technology. Flow meters can play a crucial role in increasing performance, reliability and safety while keeping costs down.
The latest flow sensors offer enhanced digital features for easier setup, field support and troubleshooting, predictive maintenance capabilities, and higher accuracy and reliability—all of which add up to operational and capital savings in materials and personnel.
Challenges in the hydrocarbon industry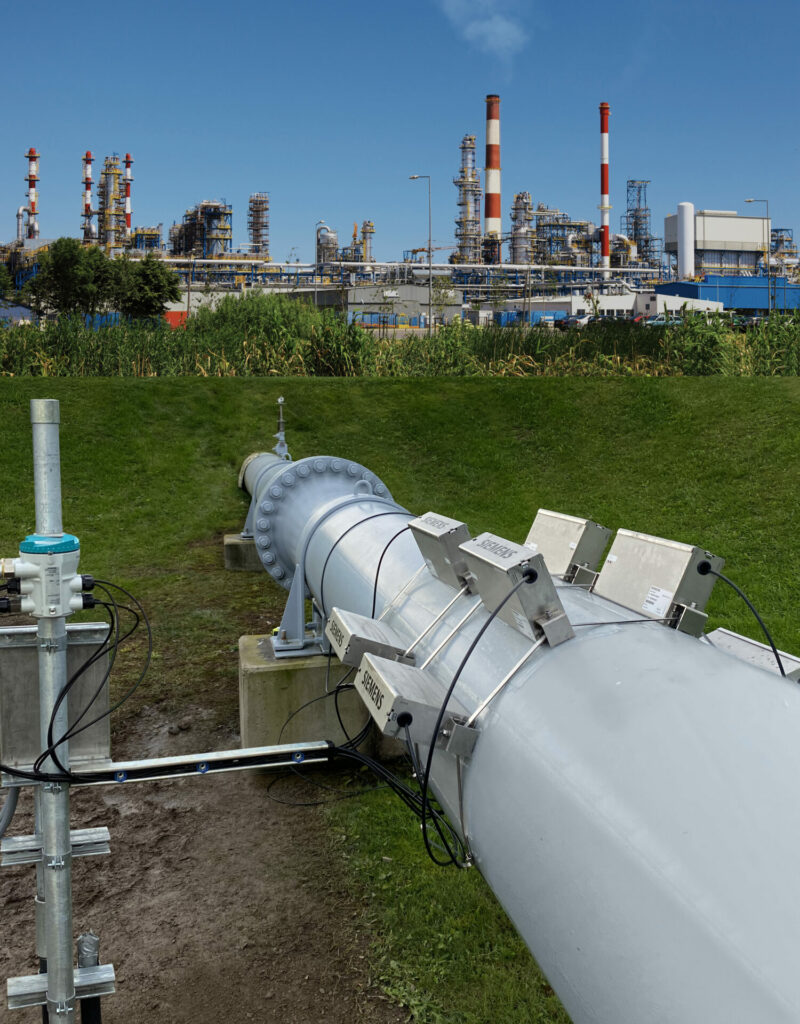 The oil and gas industry has always been in search of flow measurement solutions offering high performance, high accuracy, durability, and a low cost of ownership. Traditional systems worked quite well in their time—but with today's increased governance leading to higher operational costs, there is a continued drive for more advanced, flexible, and versatile solutions.
O&G installations are rugged applications in harsh environments and these conditions like varying temperatures, humidity levels and pressures can tax flow meter performance to the breaking point. As a result, any flow device used by the O&G processing industry must be constructed of robust materials and designed to take a beating.
The oil and gas industries were early adopters of ultrasonic flow measurement for these reasons. Ultrasonic flow provides an extremely robust platform for the accurate flow measurement of both oil and gas in pipelines with the ability to compensate for both pressure and temperature. For years, the primary ultrasonic flow measurement was an inline wetted system where the transducers were in contact with the flow. With the onset of recent technologies other ultrasonic flow measurement technologies such as clamp-on ultrasonic flow began to grow in popularity. Today both types of ultrasonic flow technology exist side by side, and here is why.
Intrusive vs. non-intrusive ultrasonic meters
Inline (or wetted) ultrasonic flow meters (UFM) send an ultrasonic signal across the pipe in a configuration referred to as chordal. Multiple chordal beams are used to gather data for velocity averaging and developing flow profile information. One of the advantages of the inline UFMs is that the chordal design provides a unique perspective of the gas flow profile. Each chordal beam measures a section of gas and when all the beams are combined, a picture of the gas flow velocity profile is developed with a high degree of precision.
Although most inline UFMs are commonly referred to as "wetted," there is often a barrier between the transducer and flow medium to allow for removal and replacement of the transducer for service and repair in-situ, these barriers are set back in the spool. Typically, these inline UFMs are used as a flanged spool section to be inserted into a pipe. One challenge is that the transducer cavities with or without the barriers can become clogged with contaminates like paraffin or other deposits, which can lead to reduced performance and increased maintenance requirements. Higher pressures can also over task inline UFMs due to the pressure rating limitations on their flanges or transducer barriers or ports, which risk leaking if damaged.
Non-intrusive UFMs, also known as clamp-on ultrasonic flow meters, feature transducers mounted to the external pipe wall. The transducers inject an ultrasonic signal into the pipe, which uses the pipe wall as a carrier or sound waveguide, into the flow stream. Clamp-on meters offer flexibility and cost savings by allowing the operator to mount the sensors virtually anywhere on the pipeline with little effort and without significant piping configuration concerns. This improves the operator's ability to install and service the flow measurement system, where it is needed. Never needing to cut or alter the pipe alleviates concerns about leaking flanges or transducer seals. If maintenance is ever required on a clamp-on flow system, there is no need to shut down the flow, so processing or critical transport can continue unabated. The work can be conducted with a minimum of personnel, parts, and time—saving money and optimizing work hours.
Clamp-on ultrasonic flow technologies have enjoyed growing market acceptance by the oil and gas industry over the years and the technology continues to see significant expansion today, replacing older, more capital-intensive systems. Their simplified mounting eliminates the chance of leaks and lost production or LAUF (lost and unaccounted for) flow at the installation site, keeping in line with current governmental regulations. Clamp-on flow measurement reduces the risk of oil spills and leaks and supports the goal of zero VOC emissions for gas.
Clamp-on also easily conforms to the PHSMA regulations requiring internal pipe assessment on a regular basis. As this type of system is external to the pipe, there is nothing to remove when sending a pig down the line for inspection. In fact, the clamp-on ultrasonic flow measurement system can be used to identify when a pig passes the meter's installation site, aiding in monitoring the operation. This offers yet another operator benefit.
Easy-to-use clamp-on liquid meters
Siemens SITRANS FS230 clamp-on ultrasonic hydrocarbon flow meters are specifically designed for oil applications such as ship, rail or truck loading and offloading, oil pipelines, water transportation, process control metering, leak detection, and liquid interface detection, among others. These volume/mass meters offer the ability to compensate the volume to a standard temperature as defined by the user. They are also capable of accurately inferring mass flow through a patented method of determining viscosity and density using the measured sonic velocity combined with the system's temperature measurement.
The FS230 clamp-on ultrasonic flow meter is a perfect fit for liquid mass leak detection. Mass flow leak detection is preferred over conventional leak monitoring since the mass of liquid entering the pipeline is compared to the mass of liquid leaving the pipeline, providing a direct approach to line balance leak detection.
Easy-to-use clamp-on gas meters
The SITRANS FS230 clamp-on gas flow meter is also a perfect fit for natural gas applications, including check metering, lost and unaccounted for flow, analysis, allocation, flow survey verification, production, and storage. The FS230 includes easy-to-use "data view" software that provides diagnostics, assuring calibration and operational integrity. Another standard feature is a speed of sound calculation that complies with the AGA-10 standard, which is incorporated into the software for verification purposes. An internal AGA-8 compliant table for fixed gas composition is also available for standard volume computation. As a distinctive feature, the FS230 can be mounted on the wellhead of a gas well to measure the amount of gas coming directly from the well. No separator is needed, making it a very cost-effective solution.
Digital Sensor Link saves time, money, and process integrity
The newest innovation in clamp-on gas flow measurement is a fully digital measurement system that integrates seamlessly with existing remote terminal systems, The Siemens SITRANS FS-DSL gas flow system is a game-changer in digital non-intrusive ultrasonic gas flow measurement—delivering industry-leading performance where power availability and/or space are at a premium, with three special advantages. First, the system sells for a fraction of the price of a standard system. Second, the power requirement is a mere 500-750 mW, meaning that solar arrays will not be overtaxed even if they run 24/7/365. Finally, it is small—about the size of a coffee can—and can be mounted almost anywhere. Even if the nearest remote terminal unit (RTU) is 500 ft away, the Modbus interface cable can manage it easily without the fear of RF interference.
The innovative design concept offers a robust Class I Division 1 XP design at a price point that allows the rapidly expanding natural gas marketplace to apply high-accuracy gas flow measurement wherever it is desired, without excessive capital expenditures or taxing the available electrical infrastructure.
Flow meters of the future
As the oil and gas pipeline industry continues to expand, it is important that end users examine all the factors involved to determine the right flow measurement fit for their application needs. With the regulations already well-defined for the industry, it is simply a matter of finding the most practical option among the available flow meter technologies. Ultrasonic flow checks off virtually all the boxes.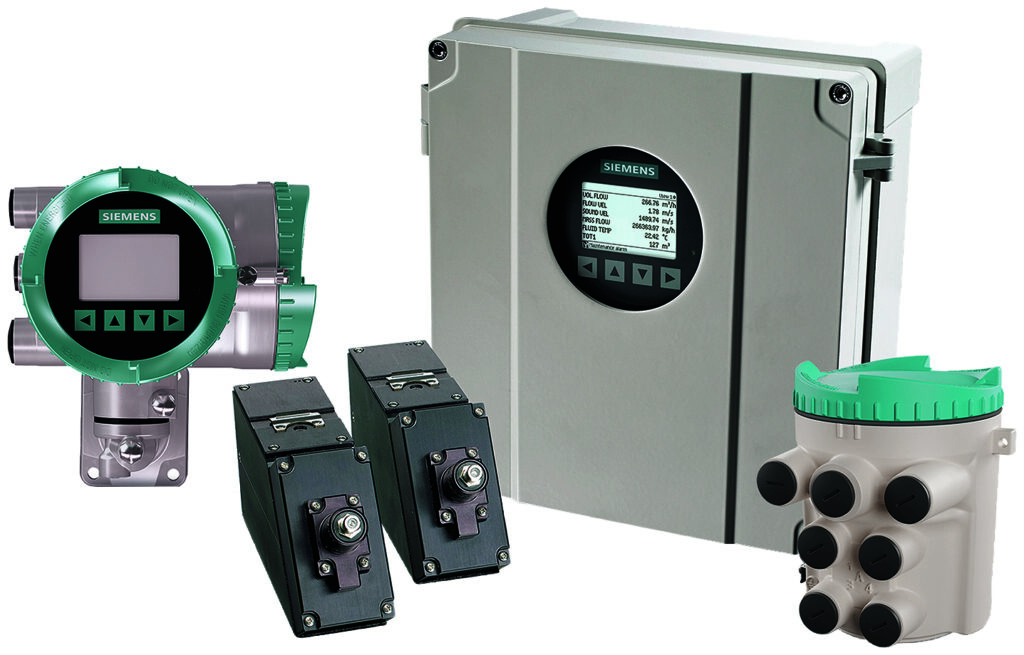 Over the past five decades, clamp-on flow meters have developed into a well-rounded option for measuring liquid and gas flow in industrial applications. They perform with required levels of accuracy and repeatability, require almost no maintenance, and are versatile enough for use with a variety of hydrocarbon-based fluids. Most importantly, they offer the flexibility for installation in most any location at any time. Designed with the customer in mind, these next-generation systems are simplifying complexities, reducing startup times, and making clamp-on ultrasonic flow technology a wise, safe, and compliant investment.
Siemens is well known in the oil and liquid petroleum gas industry, with years of experience and a broad range of installations. Siemens clamp-on flow meters are designed to provide long-term reliability and sustained quality of measurement values—guaranteeing safe, more profitable operations for the business of hydrocarbon delivery.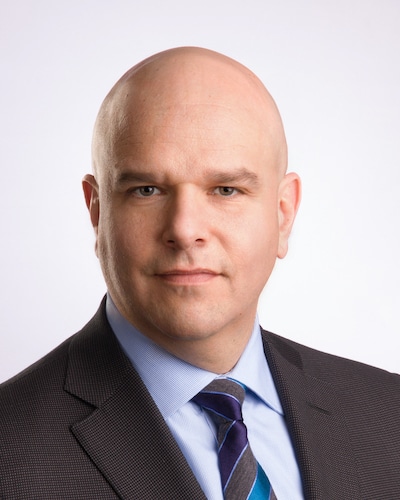 Eric Heilveil is the Flow Marketing Manager for Siemens Industry, Inc. Based in Harleysville, PA, Eric is responsible for business development and product management of process instrumentation products for the oil and gas industry. He has over 25 years of experience in flow measurement, working in the industry as an Application Engineer, Account Manager, Product Manager, and Industry Manager.