Quickits Limited is a market leading, manufacturing company operating within the valve and actuator industry supplying products on a global scale.
Occupying over 17,000 sq. ft of dedicated office, manufacturing and warehouse space based in Nottinghamshire, United Kingdom Quickits has built and maintained a solid reputation for quality and service within the industry.
As an ISO 9001:2008 approved supplier Quickits' products are designed, manufactured and inspected using the latest state of the art computerised technology ensuring a first class, professional service with complete consistency.
We can offer a comprehensive range of products from stock including cast iron or stainless steel quarter turn gearboxes, multi turn gearboxes, switchboxes, spring return levers, ISO mounting kits, extensions and locking devices.
Our same day dispatch service allows our customers the flexibility to service shut down situations at very short notice.
All our manufactured products are designed using the latest 3D Solid Works technology and with the ability to offer full 3 dimensional views the customer can be confident that what they will receive will be correct the first time, every time.
Our experienced manufacturing and inspection personnel utilise the latest state of the art CNC machinery including 4th axis technology teamed with full 3 dimensional computerised measuring equipment resulting in optimum accuracy and efficiency.
Quickits products are designed to withstand the harshest of environments, utilising a wide range of materials and finishes tailored to suit the customers' needs.
In addition to our highly skilled manufacturing team Quickits are also able to offer in house welding to ASME IX standards.
Our experienced personnel have amassed more than 100 years of combined experience within the valve and actuator industry and are able to offer advice and solutions to solve the most demanding problems.
Our website will allow you a brief insight into some of the products and services that Quickits are able to offer and we welcome you to contact our sales team today should you require any further information.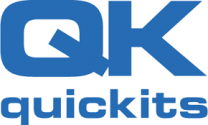 Company name:
Quickits Limited
Phone number:
+44 0 1623 515546