Electrical equipment and electronic component manufacturing plant wastewater treatment effluent is regulated by the U.S. Environmental Protection Agency (EPA) to prevent water pollution that endangers the environment. The agency issued its Electrical and Electronic Components (E&EC) Effluent Guidelines and Standards (40 CFR Part 469) in 1983.
All electronics manufacturers must comply with these clean water environmental regulations. Their production processes typically require stringent cleaning, rinsing, and degreasing. These cleaning processes ensure the removal of etchants, photoresist material, stripping solutions, and acid and alkaline solutions utilized either to produce the product and/or to clean manufacturing equipment used during the production process.
In response, ECD has developed a Family of Electronics Plant Effluent Analyzers that meets the unique requirements of the electrical equipment and electronic component manufacturing industries. Typical industry wastewater streams include hydrofluoric acid (HF), copper, and more, which are treated in large waste neutralization tanks that are monitored by liquid analyzers to ensure an effective treatment that neutralizes harsh chemicals.
For example, ECD's S80-T80 Fluoride Analyzer monitors HF acid in the treated effluent. The S80 Fluoride Sensor converts the analog signals from its electrode cartridge into a digital protocol that allows two-way communications with the intelligent T80 Transmitter. The identity of the sensor, measurement type, and serial number, are stored in the sensor's memory along with three calibration registers.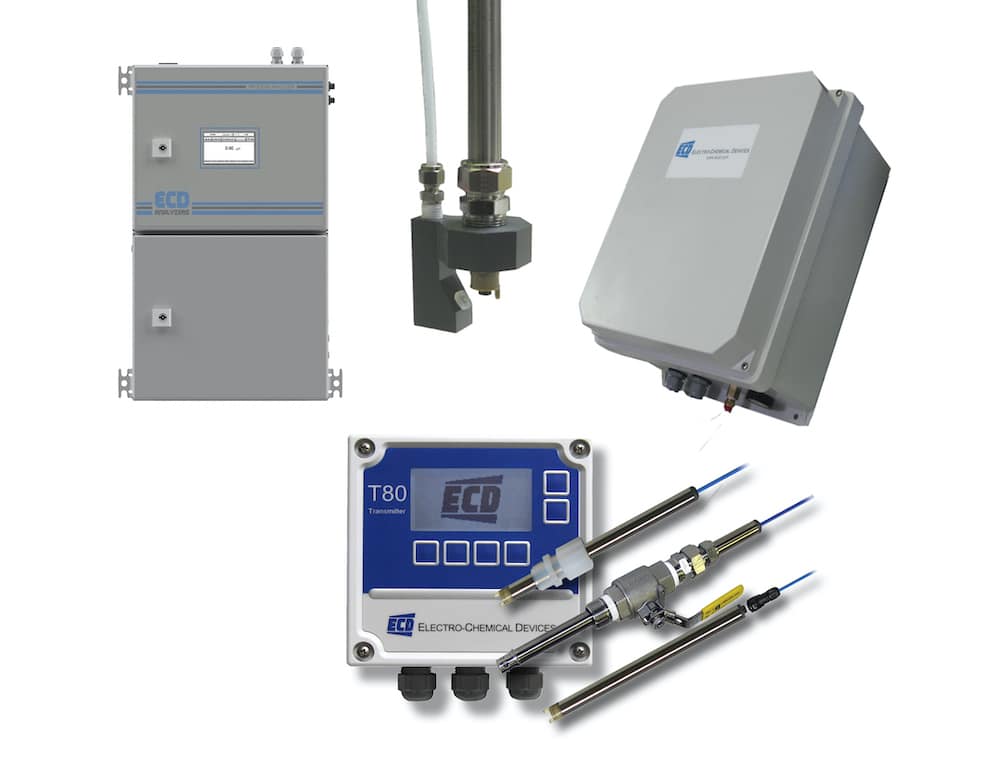 When the S80 fluoride sensor is connected to the T80 Analyzer, the sensor's information is uploaded to the analyzer. It then configures the displays and outputs of the transmitter to the values appropriate to the sensor's measurement parameters. The S80-T80 Analyzer measures free fluoride ions from 0.02 to 2,000 ppm in the optimum pH range of 5-8 pH. Outside this range, a pH sensor is available that compensates for readings outside the standard pH range to ensure optimal fluoride measurement accuracy.
For copper removal, ECD's CA6 Copper Analyzer monitors effluent to ensure effective treatment. The CA-6 Series Analyzers are a family of on-line sequential sampling analyzers that use colorimetric technology to perform their analysis. The analyzers can be configured to perform most colorimetric analyses that use up to four reagents.
The highly sensitive and reliable CA6 Copper Analyzer measures copper levels from trace amounts of 0.05 to 1 mg/L (26 mm cell), 0.1 to 3 mg/L (16mm cell), and up to 150 mg/L with internal dilution. It features an intuitive graphic touchscreen interface showing measured values and status information. The touchscreen interface includes easy access to menus with a choice of multiple languages. A built-in data logger provides USB download capability.
In this harsh chemical environment, the build-up of calcium carbonate and other substances can impact sensor accuracy. For this reason, ECD's AC10 Nozzle Spray Cleaner is available. The AC10 is a self-contained, relay activated air compressor. The AC10 combined with a sensor spray head uses pressurized air to generate an area of high turbulence in the water surrounding the measurement end of the sensor to remove soft coatings and biofilms.