The new blender is used to add solids such as sugar or thickeners into a viscous liquid, such as a fruit concentrate. However, it can also be used to blend solids into a low viscosity liquid, when adding the solids leads to a higher viscosity than a conventional blender with a centrifugal pump can handle.
In contrast to other blender models, the PB comes with a progressive cavity pump after the mixer, which is ideal for mixing highly viscous products and difficult mixtures that a traditional blender cannot handle.
Thickeners in general, and pectin in particular, are often very difficult ingredients to add to liquids because clumping occurs extremely quickly. The clumps tend to float on the surface inside the tank and don't blend into the product. The end product does not have a smooth consistency if this happens and, therefore, will be less than ideal from a consumer's point of view.
In order to prevent the problem, INOXPA has standardised the PB blender, with models PB-60 and PB-80, depending on the size of the Kiber progressive cavity pump used. The equipment also comes with an in-line mixer with a venturi system for suction, and a hopper with a butterfly valve for adding solids.
The venturi system creates negative pressure at the base of the hopper, and when the hopper valve opens, the solids in the hopper are sucked directly into the mixer by the Kiber progressive cavity pump installed after the mixer.
This means the product is sheared, broken up and dissolved when it comes into contact with the liquid, preventing clumping from occurring and ensuring the product is smooth and homogeneous.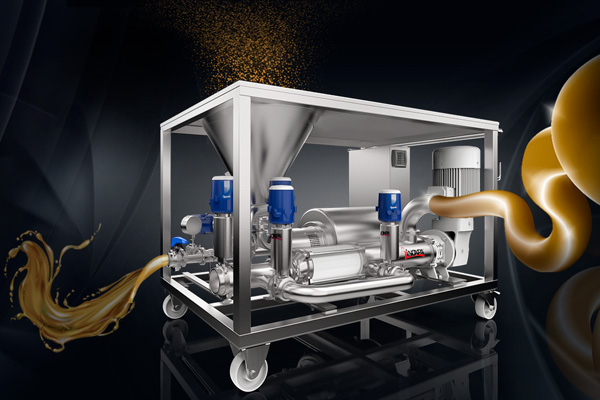 Main features:
Skid mounted on wheels, compact and versatile, for a fast and homogeneous mixing of a wide variety of solids.
Hygienic design, easy to assemble and disassemble.
Cleaning and disinfection without disassembling the unit.
Butterfly valves in the hopper, mixer, pump.
The by-pass of the pump enables operation using only the mixer and cleaning the unit with a high flow rate.
Hopper welded to the table. Grid for the hopper.
Vacuum manometer.
Stainless steel panel with controls for the vibrator, solid level sensors and automatic valves.
Option of a cooled mechanical seal and gaskets made from different materials.
DIN, SMS connections.