With its adjustable cycle time that minimizes costly reagent use and low maintenance, the CA-6 Colorimetric Analyzer is the ideal solution to iron or other undesirable minerals. Iron ores are among the earth's most common elements.  The human body requires iron for good health, but too much iron causes health problems as well.  While for industrial plant applications, too much iron can be a sign of process impurities, pipe corrosion, or discharge effluent issues.
The U.S. Environmental Protection Agency (EPA) through its National Secondary Drinking Water Regulations (NSDWRs) recommends that Fe levels not exceed 0.3 mg/L.  The EPA's NSDWRs are non-enforceable guidelines for contaminants that may cause cosmetic effects (skin or tooth discoloration) or aesthetic effects (taste, odor, or color).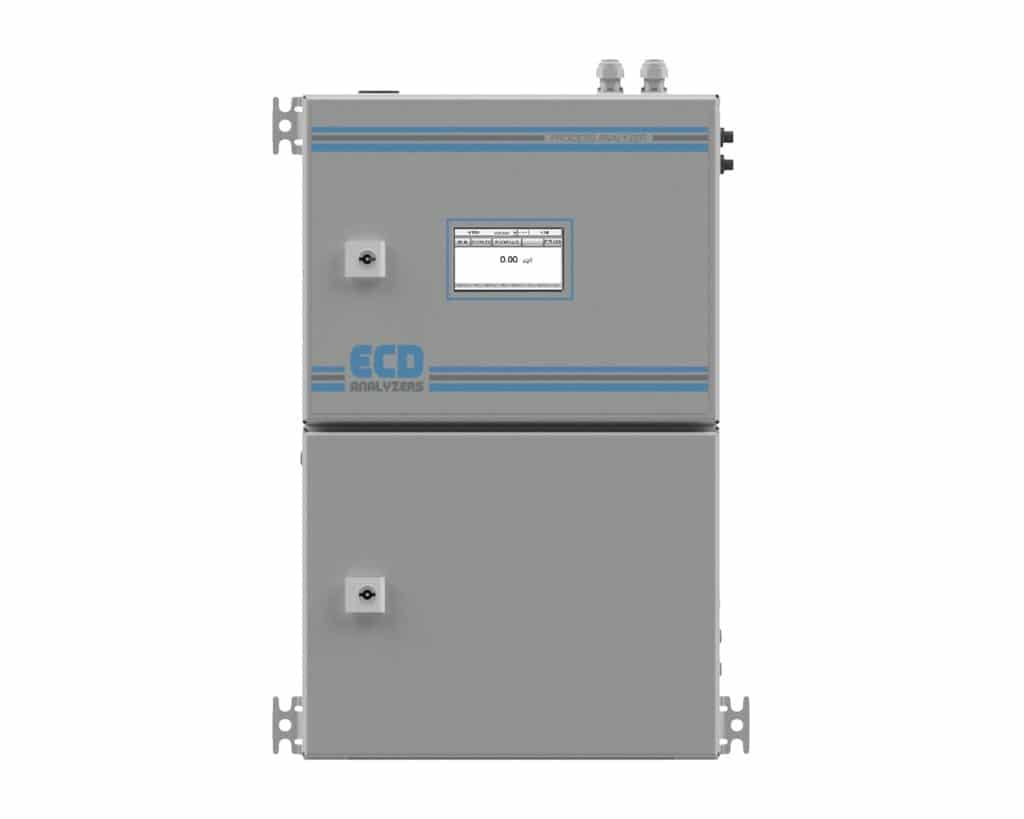 ECD's CA-6 Iron Analyzer is an on-line sequential sampling analyzer. It automatically performs a controlled sequence of sampling, analysis, and then results in processing is performed and repeated using colorimetric methods with a ferrozine reagent. The colorimetric method of water analysis relies on an LED light source and a heated colorimetric cell, which has been designed for measuring trace amounts of Fe in water.
 The CA-6 Colorimetric Analyzer measures Fe using the differential photometric absorbance method.  In an acid buffered solution, ferrozine and iron react to form a purple-colored complex measured at 572 nm.  The light absorption intensity is proportional to the iron concentration level in the water sample.
he versatile CA-6 Colorimetric Analyzer can be configured to measure iron or a wide range of other substances with a choice of multiple parameters:  ppb, ppm, and mg/L.  It measures iron over a wide range from trace ug/L to 10 mg/L.  Three separate measurement ranges are available depending on the chosen cell size: 2 to 250 ppb (26 mm cell), 9 to 500 ppb (16 mm cell), and up to 10 mg/L with an internal dilution module.      
Highly efficient from a cost of ownership perspective, the CA-6 Analyzer features low reagent consumption, which also reduces special storage needs and reagent disposal costs and minimizes technician maintenance labor time.  The CA-6 Iron Analyzer consumes its ferrozine reagent at only 2.5L (0.66 US.gal) for the 16 mm cell and 5L (1.32 US gal) for the 26 mm cell.
The CA-6 Colorimetric Analyzer is equipped with a graphic touchscreen interface showing measured values and status information. It provides users with easy access to menus and functions in multiple languages. There is an integrated data logger onboard with USB download capability for history tracking.
Outputs provided with the CA-6 Analyzer include two 4-20 mA outputs for measured data, and it also includes a Modbus compatible RS485 RTU.  Four programmable SPDT relays are available to provide alarm capability.
 The CA-6 Colorimetric Analyzers is designed with two compartments that separate critical electronics from the wet process.  The standard model is recommended for indoor use and rated NEMA IP54 for dust and water ingress.  The operating temperature range of the CA-6 Analyzer is 41 to 113 °F (5 to 45 °C).