Settling is a solid-liquid separation process commonly used in water treatment. The Static Clarifiers are designed especially for biological processes like secondary sedimentation. However, lamellar clarifiers are designed for the separation of inorganic solids, usually in primary sedimentation.
The prefabricated Clarifiers are made in Inox, steel, or GRP in one single piece, reason which their diameter is limited to 4 meters, as this is the maximum size that can be transported. As of that diameter, the clarifiers are manufactured in pieces or in different parts on-site assembly.
The prefabricated Circular Clarifier is mainly defined because of its conicity. For a correct application in wastewater a cone higher than 45º is needed in order to make the sludge fall away.
Even though to make a cone or a pyramid of this kind in civil works is expensive and making it for diameters of big Clarifiers has another issue; they need to be very deep or make a multi pyramid background, which complicates the purge systems.
Emerged the idea of the Scraper Bridge, created at the beginning of the XX century. In the beginning, they were used in mines and quarries, afterwards, they are applied to the purge of wastewater in biological processes. We could distinguish between two types of Scrapers Bridges: Central traction (mining and aggregates) and peripheral traction, more modern; These ones require conducting electrical connections to the center of the shaft through a friction gauge device. To install them we need a slab bottom with 15º of inclination and a Scraper Bridge to help the sludge to reach the center and be purged.
W-TANK® STATIC CIRCULAR CLARIFIER
Toro Equipment has developed a conventional static circular clarifier up to 10 metres of diameter. The Toro Equipment circular static clarifiers are made on-site assembly, so that, the conoid bottom slab is not required. These Clarifiers have a settling surface between 15 and 80 m2.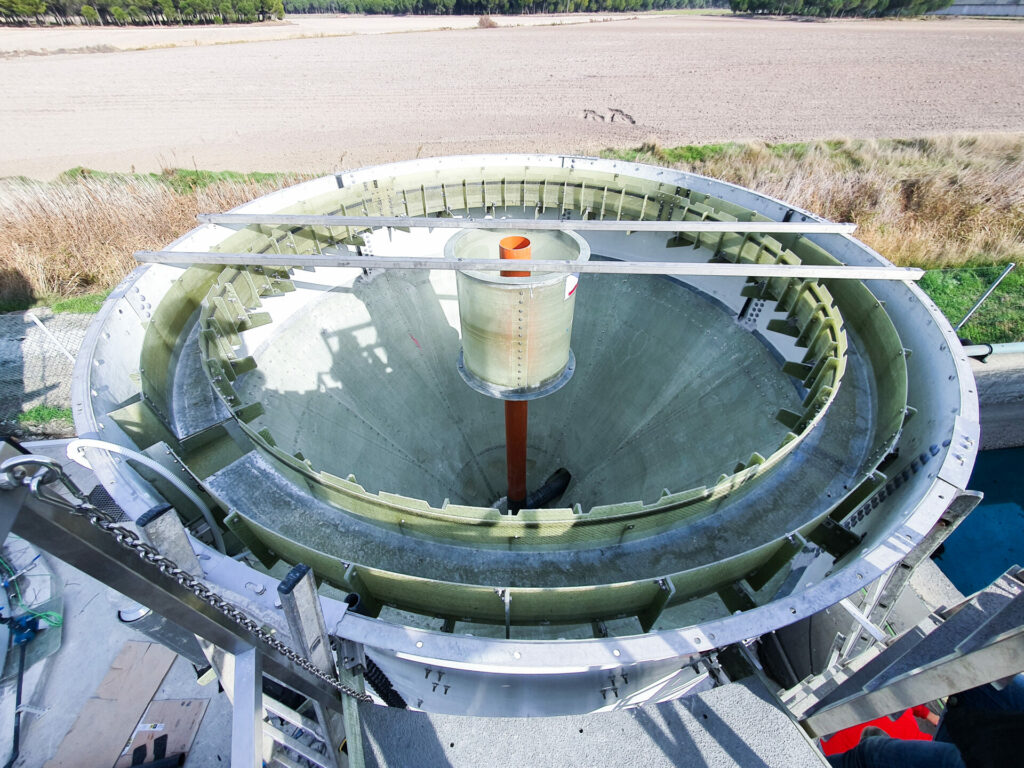 Advantages of the circular static clarifier compared with a perimeter traction Clarifier
Isn´t necessary to build the central tower in concrete
Don´t have electricity and mechanical elements, so that, the cost of maintenance is lower
Faster installment
No need for a circulation tower and purges; The space between the settling cone and the external W-Tank performs the function
More economical
Toro Equipment offers an interesting and advantageous alternative, especially for small Clarifiers. It is worth noting that their Clarifiers are created in GRP a material that provides a higher resistance against rust.