The Reliable TBM Thermometers of Winters Instruments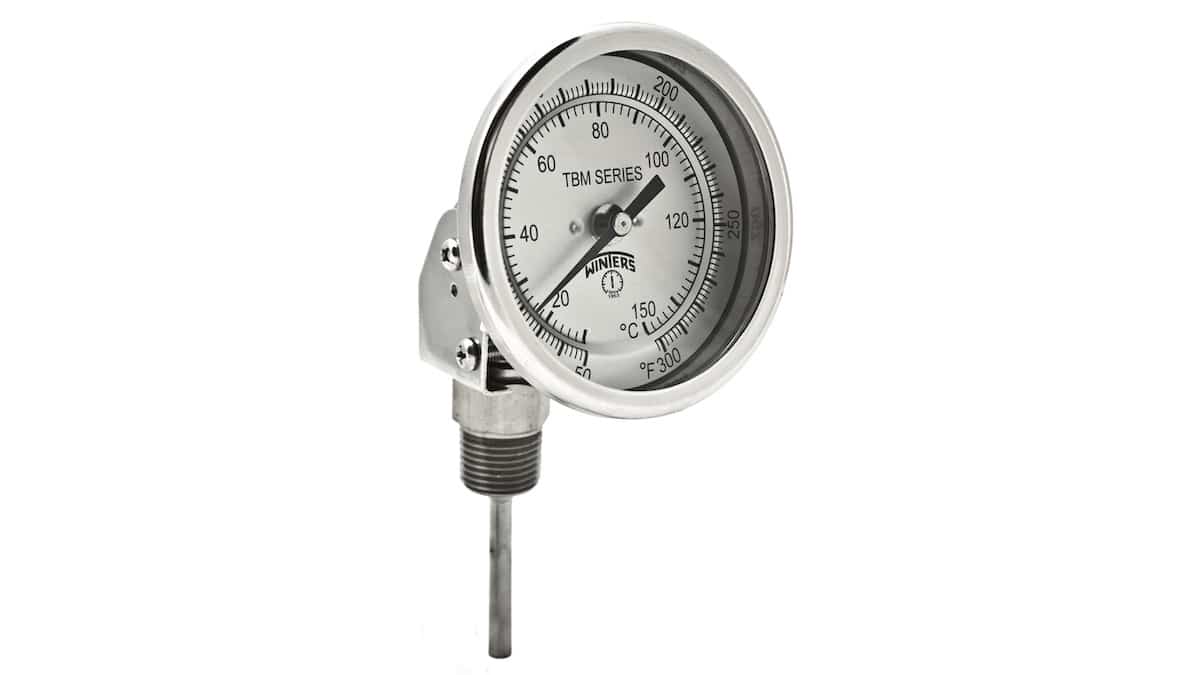 The bimetal thermometer has been a reliable source of temperature measurement for more than 100 years.
Still actively used in many critical process applications, the bimetal thermometer is easy to read, self-energizing, nontoxic, economical and, under the right operating conditions, can have a long-life span.
Bimetal thermometers are used in many industries, including oil, gas, and petrochemical refining; food and beverage processing; pulp and paper; pharmaceutical; and a host of OEM applications including boilers, compressors, pumps, and brewing equipment. When specifying bimetal thermometers, four general specifications must be considered: Model type, Stem length, Temperature range and Mounting thread.
Winters instruments offers a wide variety of bimetal TBM Series thermometers. The TBM thermometer is best utilized in Industrial and Commercial processes, including heating and air conditioning, ventilation, water and piping systems. Their use is also extended to residential applications such as barbeques, home brewing systems and other cooking devices. Available in dial sizes from 1" to 6", the TBM is highly accurate at ±1% and comes equipped with an external recalibration screw. Additional features include an anti-parallax dial that reduces operator reading error and is hermetically sealed to safeguard against moisture build-up. The TBM comes in back, bottom or adjustable angle connections. The adjustable angle connection allows for the dial to pivot up to 90° for full visibility.
Bimetallic thermometers operate on the principle of two dissimilar metallic strips which are fused together. As heat or cold are applied to the thermometer, the metals expand or contract, deflecting the pointer and showing a reading on the dial. One of the metals works on high temperature, and the other on low temperature.
Winters offers TBR Threaded and TWF Flanged thermowells. Thermowells allow for the creation of a sealed system, whereby the thermometer can be removed from the application without the need for shutting down or draining the complete system. Furthermore, the thermowell protects the thermometer from any exposure to damaging process media. Thermowells are also offered in straight, tapered or sanitary styles. Winters TBM, TBR, TWF Series and all other thermowells are backed by a 5 year warranty.
This article is published by
Since 1953, Winters Instruments has been manufacturing quality built instrumentation for all markets that require pressure and temperature measurement. Through the years, the company has grown in size and reputation and is now a leading, global manufacturer of industrial instrumentation. Our comprehensive product lines of pressure gauges, thermometers, ...