When thousands of customers are relying on clean, safe drinking water there's little margin for error. What works today has to work just as efficiently 15 or 20 years from now.
Danny Lassiter knows the importance of reliable water storage. As Project Manager of the Gladeville Utility District in Tennessee, Lassiter continues to marvel at the dependability of Aquastore tanks. Gladeville has five Aquastore tanks and Lassiter says it's impossible to tell the difference between the oldest tank, built in 1992, and one built in 2007. Both are used for potable water storage at the plant.
"After we put the second tank online in 2007 we took the old one offline for inspections and cleaning," says Lassiter. "We drained it and the only thing we had to do was clean up some silt on the floor. The glass and bolts were in perfect condition."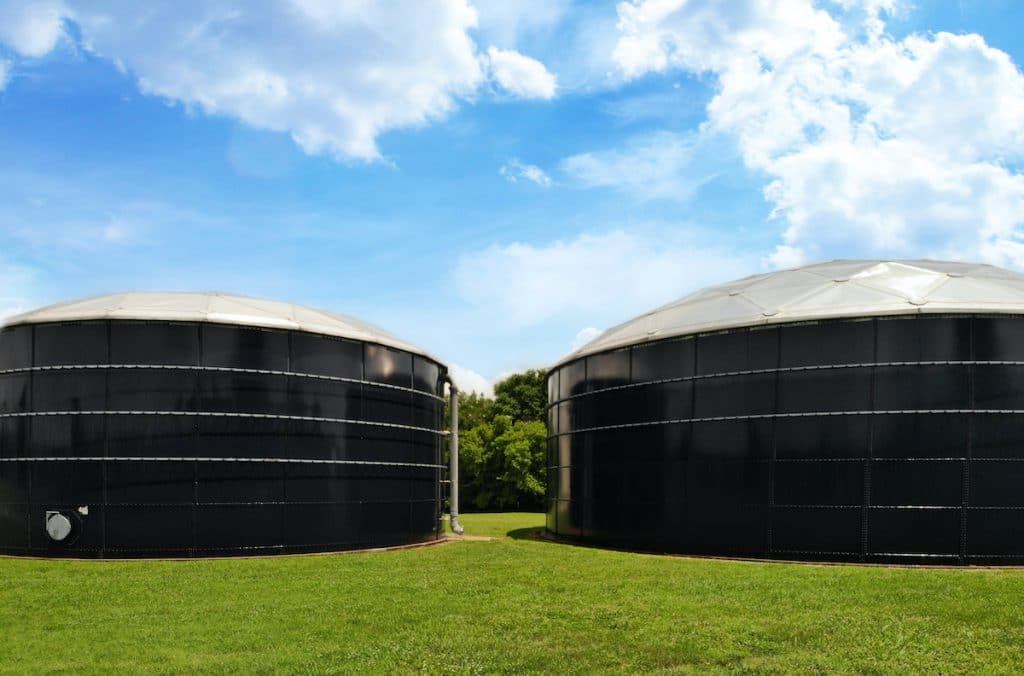 Lassiter has never had any problems with the tanks and figures maintenance on the older Aquastore has cost the district only about $200 over the last 15 years. It's one of the main reasons why Gladeville now employs five Aquastore tanks for storage, with a sixth on the way.
The Gladeville water treatment plant was built in 1992. That's when the district purchased its first Aquastore. Demand has grown steadily and a third well was drilled in 2017. Lassiter points out that the name of the aquifer, Beinshawee, comes from the Shawnee language, which means "big water" or "deep water." The region was a well-known overnight stop for the Shawnee because of the availability of water and shelter. Later, the area was home of the largest tobacco plantations and horse farms in the South, due in large part to the water supply.
It's no surprise then that for generations, residents and businesses have counted on an abundance of water. And Gladeville Utility District delivers, thanks not only to Aquastore but also to the crew at Southeastern Tank, the area's exclusive Aquastore dealer. Lassiter says they go above and beyond and do more than just service existing tanks.
"We have a concrete tank at Nashville Superspeedway which is out of service because the track is closed to competitive events," he says. "Some light bulbs were burned out in a hard-to-access area and I called Shelly at Southeastern and asked if they'd change them out. She said no one had ever asked them to do that before but she'd be happy to."
In fact, Southeastern Tank is located in the district and many employees, including CEO Dustin Dowdy, are customers.
"We are rural water through and through," says Dowdy. "We offer systematic construction that is up to code and delivered on schedule, proactive and preventive care, the right accessory when you need it, and solutions to keep your water at optimal quality. Our goal is to deliver storage solutions that meet the needs of rural water systems at a price that meets their budgets."
Gladeville Utility District serves parts of three counties in Middle Tennessee: Davidson, Rutherford and Wilson. The area is business-friendly and has attracted companies like of Amazon, Nissan and Starbucks, which have opened distribution centers. Lassiter knows as the district's needs grow it can scale up quickly thanks in large part to Aquastore's ease of construction.
Unlike other liquid storage tanks, an Aquastore tank is built with a series of mechanical jacks, which use a smaller footprint than traditional steel or concrete tank erection. First, the top ring of panels is assembled, then lifted up to make room for the next ring, and so on.
Aquastore's glass-fused-to steel technology is the water and liquid storage leader –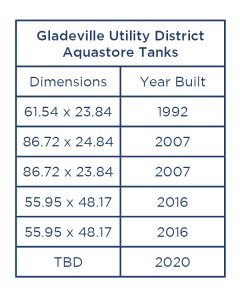 outperforming concrete, steel bolted and elevated tanks. More than 100,000 have been installed for numerous applications in over 70 countries around the world. It's corrosion resistant and built to withstand the hot Florida sun, humidity and salt air, and retains its brilliant luster for decades, which means it doesn't have to be repainted. Lifecycle costs are some of the lowest in the industry, with minimal maintenance required.
Last year Gladeville pumped over 700 million gallons of water to 7,000 customers, and it's good to know that its storage needs will be met for decades to come.