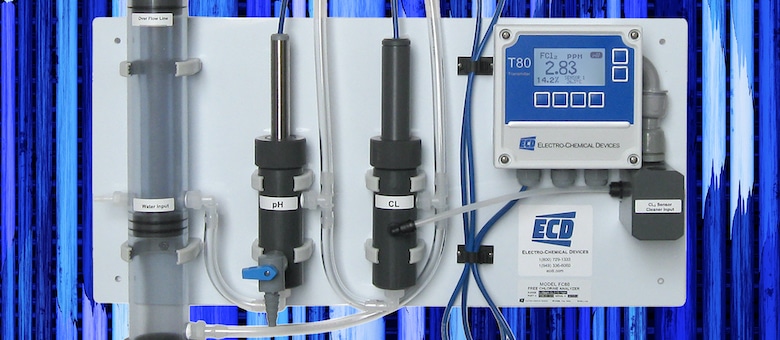 Engineers and technicians working to prevent the spread of viruses and bacteria at municipal as well as industrial water and wastewater treatment plants will want to learn more about the highly accurate, reliable sensing technologies available with the Family of Disinfection Analyzers from Electro-Chemical Devices (ECD).
Relying on reagentless amperometric chlorine, hydrogen peroxide, and peracetic acid-sensing technologies, ECD's panel-mounted disinfection analyzers support a wide range of water purification and treatment applications.  Their highly intelligent, full-featured transmitters are conveniently located on the front panel with plug-and-play capability that takes technicians only minutes to install: simply mount, plumb, plug-in, and turn-on.
The FC80 Free Chlorine, TC80 Total Chlorine, HP80 Hydrogen Peroxide and PA80 Peracetic Acid analyzers all come pre-calibrated from the factory in a choice of multiple ranges. They monitor the effectiveness of water treatment systems and validate that they are doing their job to help prevent the spread of viruses, bacteria and other dangerous pathogens in drinking water, rinse water, wash-down water, cooling water and wastewater effluent.
In addition, their reagentless sensor design reduces the total lifecycle costs of these analyzers. The cost of reagents can be a considerable expense over the life of an analyzer and technicians must also regularly monitor reagent consumption and then refill. The inactive reagents at their end-of-life are toxic materials, which require special handling with higher disposal costs.
The FC80 Free Chlorine Analyzer is designed to monitor free chlorine (residual chlorine) in municipal drinking water, industrial cooling and rinse water, wastewater, or other freshwater samples containing chlorine.  It is available in two optional configurations: either a hi-range of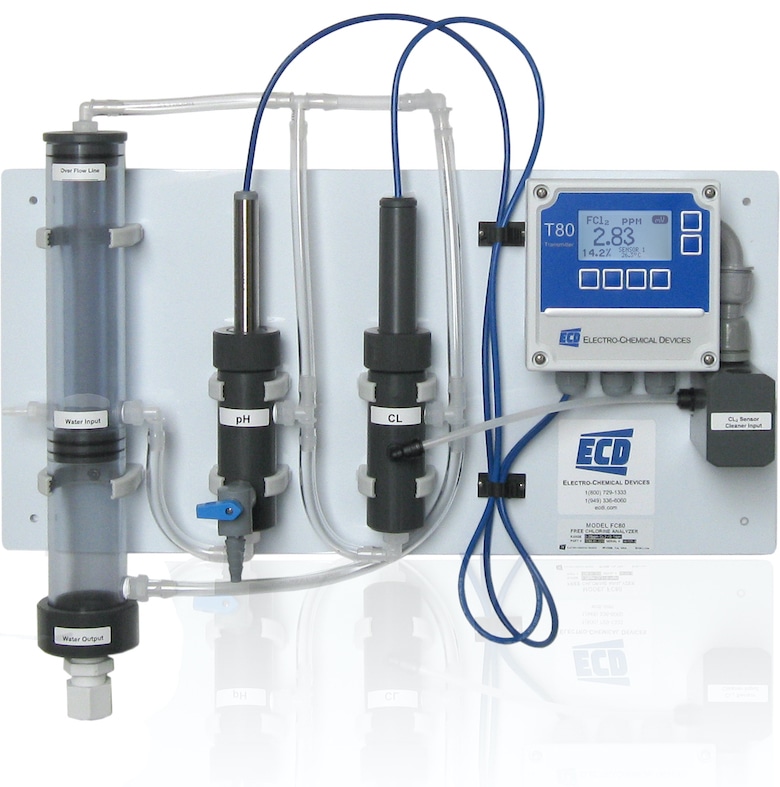 0.05-20 ppm or a low-range of 0.01 to 5.00 ppm unit. It is compliant with EPA Method 334.0
The TC80 Total Chlorine Analyzer monitors total chlorine in drinking water, industrial cooling and rinses water, wastewater, or other fresh water samples containing chlorine in the range of 0-20 ppm.  Its versatile three-electrode amperometric sensor design also can be specified to measure all chlorine species in the water, combining chlorine and free chlorine in a high range of 0.05 to 20 ppm or a low range of 0.005 to 2.000 ppm.
The PA80 Analyzer monitors peracetic acid (PAA) in the food, beverage, medical, and pharmaceutical industries, as well as in industrial process cooling towers and municipal wastewater treatment. Peracetic acid is a colorless liquid with a characteristic pungent odor similar to vinegar. PAA is a strong oxidizer, stronger than either chlorine or chlorine dioxide. It is available in a choice of three ranges: 0 to 20 ppm or 0 to 200 ppm and 0 to 2000 ppm. PAA is
The HP80 Analyzer is designed to monitor hydrogen peroxide (H2O2) in water in two ranges: either 0 to 200 ppm or 0-20.0% H2O2.  HP is widely used in the pulp/paper industry as a bleaching agent, as an oxidizer to remove metals from well water, as a disinfectant for industrial cooling water towers, and in municipal wastewater treatment effluent. HP is a colorless liquid that in high concentrations gives off an irritating acidic odor. It is a strong oxidizer, stronger than either chlorine or chlorine dioxide.
No matter the water treatment or purification application, there is a solution with the ECD family of disinfection analyzers. They're all designed for accuracy, reliability, long-life and low cost of ownership with their reagentless, low-maintenance amperometric sensors and intelligent transmitter with two 4-20 mA outputs, three-alarm relays and MODBUS RTU. 
This article is published by
Electro-Chemical Devices (ECD) is a manufacturer of liquid analytical process instrumentation. Founded in 1977, ECD has been in business for over 40 years and has built its industry leading reputation by its commitment to our customers through this basic approach: Provide quality products, develop technical innovations and provide responsive, knowledgeable ...