A person's pulse rate and body temperature quickly and diagnostically provide information about their state of health. Pressure and volumetric flow in a hydraulic system are the two lead variables that provide an initial overview of the status of a system – or get to the specific root cause of irregularities. Permanently installed pressure gauges are therefore part of the basic equipment of hydraulic power packs, and service technicians carry portable pressure gauges when out on the road. A proven Stauff pipe component forms the ideal interface for this: test couplings enable a pressure gauge to be fitted quickly.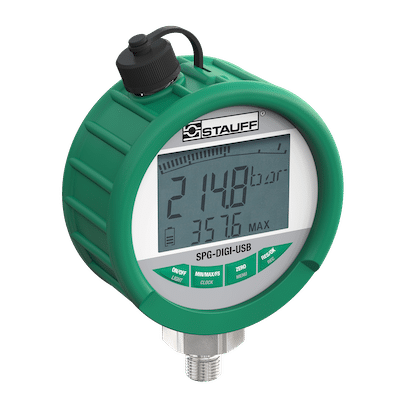 The traditional Bourdon-type or glycerin pressure gauge performs well in these cases – but things can be even better. Many users are employing digital pressure gauges. There are several reasons for this. Among other things, digital pressure gauges are better and easier to read than analogue measuring devices. And, unlike traditional analogue pressure gauges, they are capable of recording and displaying minimal and peak values within the measuring period. The results are therefore more precise when dealing with a system with rapid pressure fluctuations – or for the first time significant measurement becomes possible on the basis of which the hydraulic or lubrication system can be optimised and/or faults rectified.
Digital pressure gauges therefore represent important tools in the repair and optimisation of hydraulic systems – and a fixed element of the Stauff "Diagtronics" product range, which offers hydraulic testers for the key parameters in industrial and mobile hydraulics (pressure, differential pressure, temperature, volumetric flow, contamination).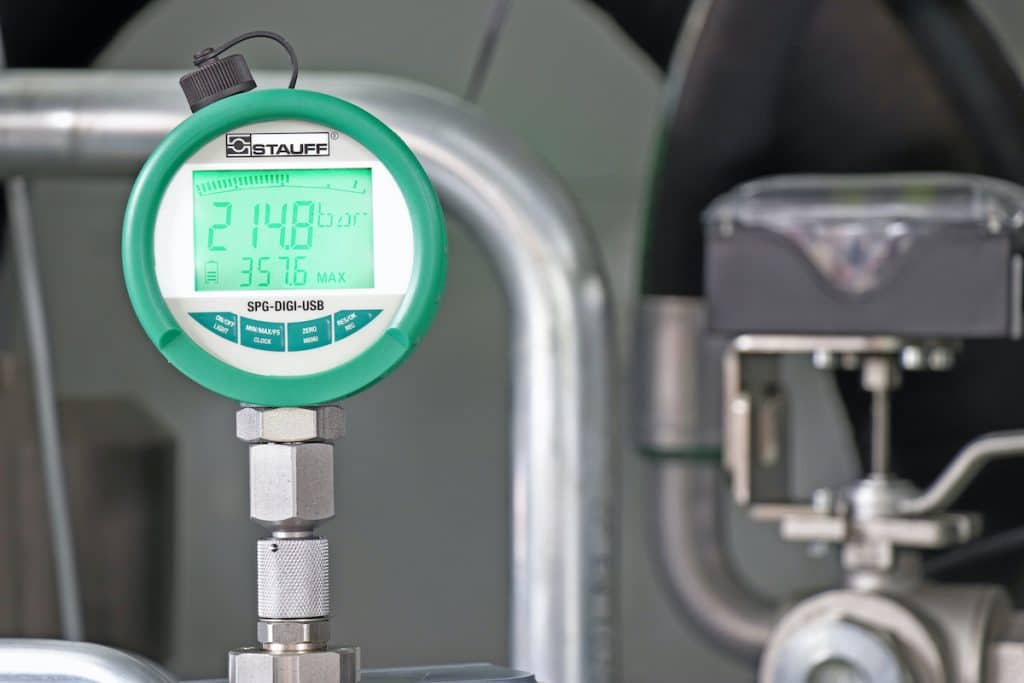 Rapid identification of the causes of faults
A typical application for a pressure gauge such as this: A manufacturer of injection-moulded components identifies quality defects, such as burrs on a series component. The manufacturer assumes that this is caused by too low a closing pressure when the tool halves are closed. However, the machine equipped with closing cylinders with a sensor does not issue an error message. The company's maintenance operative connects up a pressure gauge from the Diagtronics range and establishes that the actual closing pressure is 80 bar and thus below the required 100 bar. This means that the source of the error is rapidly found and the internal pressure sensor is faulty and needs to be replaced.
The Diagtronics product range includes SPG-DIGI series digital pressure gauges in addition to analogue pressure gauges for stationary pressure measurement. They are used, as required, at different measuring points. Large numbers of them have proved themselves in industry and form part of the basic equipment of maintenance personnel in many companies.
The latest generation of the SPG-DIGI range provides a new function, opening up new fields of application. It is capable of recording and displaying pressure peaks and troughs, as well as temporarily storing them as an option. An integral data logger, capable of storing up to ten measurement series with a maximum measuring period of 24 hours, provides the prerequisite for this.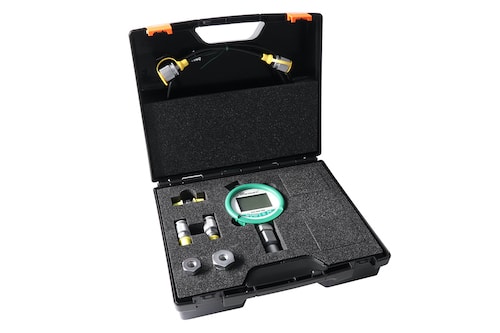 Comprehensively using the measured data
A second function complements this recording function, which essentially makes the first really useful. An optional USB interface is required to enable the recorded values to be subsequently read using a USB interface on any PC or laptop without the need for additional software. Users can use any popular spreadsheet program for analysis purposes. The benefit of storing and transmitting measured values is evident: service personnel can collect measured values in the field and then insert them into documentation at a later stage.
The values can also be stored in software tools for preventative maintenance. The recorded measured values are also therefore very meaningful as the sampling rate is very short at only 10 msec. That means that very short pressure peaks are also registered.
The user can also enable a "tare" function that only displays the pressure development. The improved design of the new SPG-DIGI range also sets it apart. A version for the pressure range of -1 … 5 bar is new and enables the pressure level of low pressure applications to be accurately recorded. The versions offered to date with measuring ranges of -1 … 16 bar, 0 …. 100 bar, 0 … 400 bar and 0 … 600 bar remain in the product range.
The measuring accuracy of all versions is a maximum of 0.5 % (typically 0.25 %, always based on the end value of the measuring range).
The multi-line and backlit display enables actual, MIN and MAX values to be displayed in bar, PSI, Mpa, kPa and mbar. Other design features of the new series include its robust aluminium die-cast housing and power supply by a standard AA battery.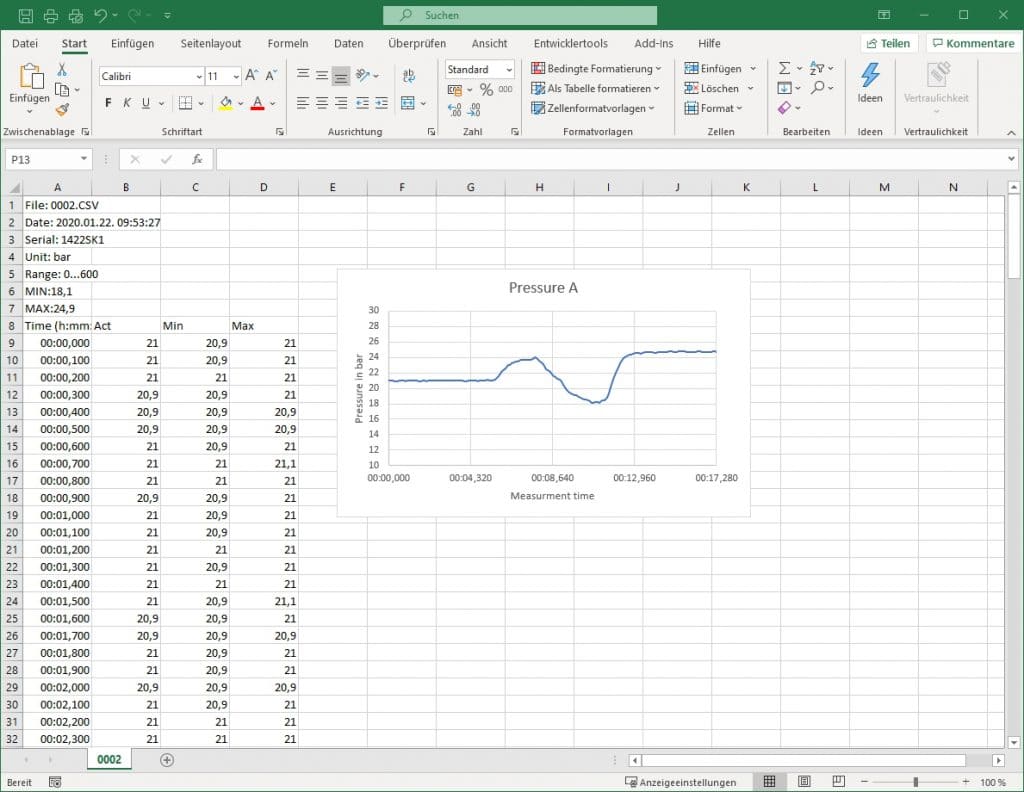 The new functions transform the SPG-DIGI series devices from flexible hydraulic testers to data loggers, enabling further improved rapid error analysis and integration into higher-level software. The new model generation can be supplied with different adapters – for instance, for connection to "Stauff Test" hydraulic test couplings. Typical users of these hydraulic testers include manufacturers of sophisticated machines and systems that use the pressure gauges to test the hydraulic systems of new machines. However, the main fields of application include maintenance companies in industry as well as in mining and extraction companies. They manage large fleets of mobile operating machinery that need to meet exacting requirements in terms of availability. The pressure gauges enable quick checks to be carried out in situ to identify the cause of malfunctions or failures and, in simple terms, take the pulse of hydraulic systems.
Stauff Diagtronics: Deep insights into the hydraulic system
■ Stauff uses the term Diagtronics, a compound word from diagnostics and electronics, to offer plant operators, maintenance companies and service specialists the possibility of recording and monitoring the key parameters of hydraulic systems. The parameters include operating pressure, peak pressure, differential pressure, media temperature, flow volume, speed and contamination.
■ The range extends from analogue and digital pressure gauges, which can either be supplied individually or in the form of practical pressure test kits with the requisite connecting accessories, to high-performance manual PPC hydraulic testers. The latter have been specifically developed to meet constantly increasing industrial requirements and are capable of recording many parameters in conjunction with the appropriate sensors: pressure, temperature, flow, speed, voltage
■ The pressure transmitters and readers of the PT-RF series, like the SPG-DIGI digital pressure gauges, provide manufacturers with the material they need to prepare for digital documentation. Contactless RFID technology allows users to initiate and process-reliably document a pressure measurement within seconds at the press of a button without extensive training – and without the need to temporarily open the system. This literally eliminates potential hazards and the ingress of dirt into the system.
■ A further application of Diagtronics includes an analysis of the contamination of hydraulic fluid (including moisture) without the need to open the system. Early identification of contamination of a system avoids expensive repairs and failures.