To meet this growing demand, Fox Thermal has unveiled the 3D Product Viewer on the Fox Thermal website.
All Fox Thermal flow meter models are available in the 3D Product Viewer, but styles may vary per model. Visitors can choose the meter model and style with easy drop-down menus. Insertion probes, retractors, inline flow bodies (NPT, 150# flanges, and/or 300# flanges), local, and remote electronics are some of the available styles. The 3D Product Viewer will automatically load the style as you customize it.
Once the desired model and style has been set, the visitor can rotate the view to see the product from every angle.
Other great features of the online 3D product viewer for the model and style displayed:
View available sizes
Download a CAD, STEP, or other file type
View and print a 2D dimensional drawing
The benefits of having access to 3D views and files of our products are:
Visualize space requirements alongside real world scales
Forecast wiring and other installation requirements
Realistic rendering in the planning of complex systems
As the leader in thermal mass flow meters to industrial markets today, Fox Thermal is dedicated to innovating our products, our processes, and our services to customers. This 3D Product Viewer is another key step in Fox Thermal's commitment to quality and continual improvement that our customers have grown to expect from us.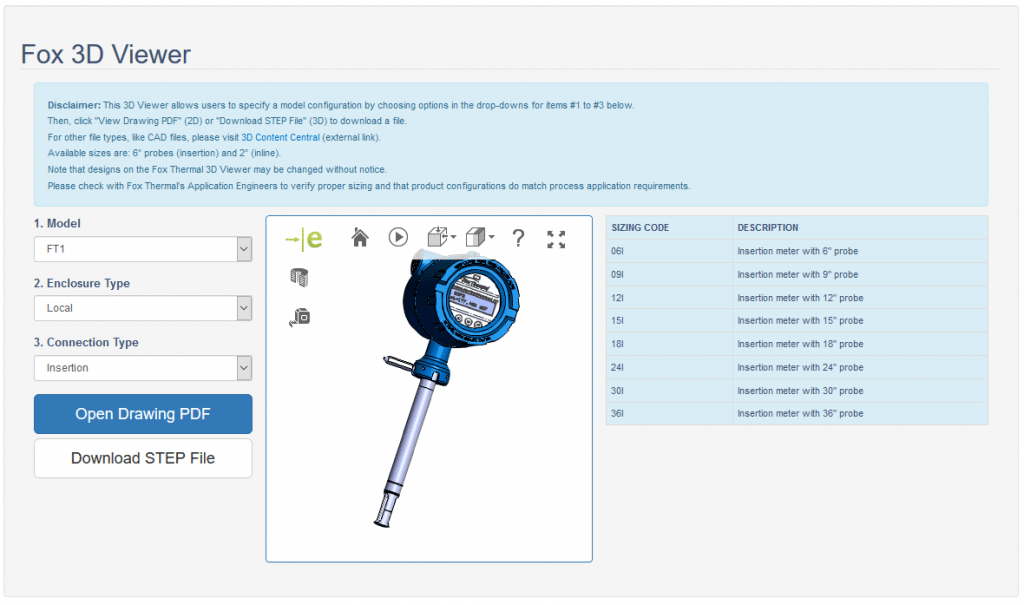 Fox thermal mass flow meters provide the real-time measurement required for critical flow measurement applications. These include compressed air metering, wastewater aeration, hydrogen monitoring, landfill gas monitoring, purge monitoring, and the measurement of air, flare, combustor, vent, and natural gases.