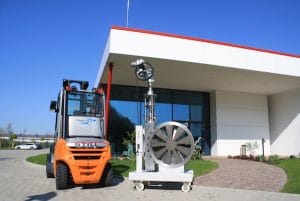 A moving disc is placed upon a rotationally fixed segmented disc, the geometry of which determines the flow capacity and the characteristic curve. These two discs have the same number of segments and the moving disc is rotated via a push rod which is tangentially inserted in such a manner that the free sectional surface of the segments can be precisely and continuously adapted to the required flow volume. Irrespective of the pending difference in pressure, the moving segmented disc is constantly pushed on to the fixed disc via a spring package. This ensures that the direction of flow is reversible and that the valve can be installed in any desired location.
With this special design, segmented disc valves represent one of the few valves that are able to combine control precision and a high level of tightness, even in extreme conditions and are also barely exposed to wear. Thanks to the robust design and alternating directions of flow, segmented disc valbeves are equally suitable for liquids as well as for vapours, even if they are contaminated by particles. The wide range of applications include the chemical and petrochemical industry, power generation and district heating facilities, water supply and disposal, construction material and other process industries.
High control precision combined with low space requirements
Even the DN 800 version of the segmented disc valve, which will be presented at Achema 2018 for the very first time, is manufactured in a space-saving intermediate flange design for flanges according to DIN EN 1092-1 Type B. The pressure class of the DN 800 version is PN16 and the maximum differential pressure is also 16 bar.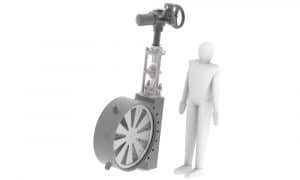 These control valves are suitable for media in the temperature range of – 60 °C to + 120 °C (optional with PTFE seals up to + 220 °C). The segmented disc valve provides a Kvs/Kvmin control ratio of 60:1 with a modified linear characteristic curve. The leakage rate is < 0.001 % of the Kvs value.
The valve housing is manufactured from carbon steel 1.0570, the valve discs from hardened carbon steel 1.7131 and the gear rack to the valve actuator from stainless steel 1.4112. The seal to the control actuator is implemented by a preloaded PTFE V-ring set.