Quality, experience, innovation
Argal has got a thirty-year activity in the chemical pumps manufacturing in thermoplastic chemical-resistant materials.
In the last decade huge efforts have been focused on the research and develop of the entire production bringing to a new ranges of pumps completely new and definitely renewed both in the mechanical structure and in the hydraulic part.
The principal characterization of "Argal" and his "mission" is meant to be the innovation and the introduction of more technical-engineering details with the scope to obtain a pump "product" as well as performances adequate to the market needs with a realization of quality of the product itself in all his phases.
In 2011 began the production of air driven double diaphragm pumps of the Astra range.
Since 2012 has added SATURN: range of centrifugal pumps in thermosetting resins (fiberglass).
Therefore the Company delivers a large choice of pumps in different construction to address industrial applications where temperature ranges from –30° C to 120° C, flow up to 1600 m3/h and head up to 150 meters.
The Vision ISO 9001:2000 compliance obtained in 2002 certifies sound organisational procedures, the adequacy of the operative instruments available as the parametric CAD and the FEM analysis adopted by our engineering department, the numerical control machinery, the fully equipped assembly department featuring modern test room, the constant support provided to a permanent staff of professionals constantly informed and trained.
We are able to offer a wide range of pumps of excellent quality and with real competitive prices.
5 technical and commercial reasons to buy ARGAL
ranges of pumps (completeness, application fields)
constant research and innovation (with each range of plus)
the experience and know-how (patents, r & d)
guaranteed quality (certification, suppliers)
production entirely in Italy (check-up continuously, organizational development, best production techniques)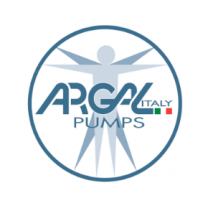 Company name:
Argal s.r.l.
Address:
Via Labirinto, 159
Phone number:
+030 3507011