CPC (Colder Products Company) is the leading provider of quick disconnect couplings, fittings and connectors for plastic tubing. At CPC, we believe that fluid handling should be safe and easy, period. We engineer our connection solutions to improve the overall functionality and design of your equipment and processes. Special features of our products include precise hose barbs for superior grip, built-in shutoff valves for preventing spills, and easy-to-use, push-button thumb latches for quick connecting and disconnecting.
Quick connect and disconnect fittings and couplings
For medical, biopharmaceutical, chemical handling, industrial, food processing and hundreds of other applications, CPC provides a full line of quick connects and disconnects. We use high quality thermoplastics and fluoropolymers to create plastic tubing couplings and fittings for a broad range of uses. Our metal couplings are built tough to deliver outstanding performance in high temperatures or under high pressure.  Designed for both quality and economy, our couplings and fittings are ideal for any plastic tubing application that needs quick and safe connection and disconnection. CPC products are easy to operate and maintain and we offer unique connection options to meet your specific needs.
A manufacturer that will customize for you
CPC innovates on the leading edge of what is possible and collaborates to develop the best solution for you. Many of CPC's standard couplings and fittings began as custom-engineered solutions that found broader use in applicable markets. To date, we've produced over 10,500 custom and standard products to meet the fluid handling challenges of industries around the world. If you do not see a connector that suits your needs, contact us to discuss a possible custom solution.
35+ years and growing
Founded in St. Paul, Minnesota in 1978, CPC now has operations in St. Paul, Germany and China, sales offices in 10 countries, and more than 300 employees and 200 distributor partners around the globe. CPC is a Dover Company.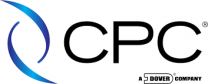 Company name:
Colder Products Company
Address:
1001 Westgate Drive
Phone number:
+651 645 0091