Dixon Group Canada Limited
Dixon, founded in 1916, is a premier manufacturer and supplier of hose couplings, valves, dry-disconnects, swivels, and other fluid transfer and control products. Our global reach includes a wide range of products for numerous industries including petroleum exploration, refining, transportation, chemical processing, food & beverage, steel, fire protection, construction, mining and manufacturing.
Dixon's vision is to provide quality products, rapid delivery and superior customer services worldwide.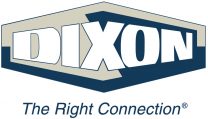 Company name:
Dixon Group Canada Limited
Address:
2200 Logan Avenue
Phone number:
+1 877 963 4966