EDUR-Pumpenfabrik Eduard Redlien GmbH & Co. KG
We don't have to be good at everything, but when we do something we want be very good at it. Ideally even better than others. – EDUR are specialists for customized centrifugal pumps and manufacture liquid and multiphase pumps of excellent quality.
Our objectives for our customers
The success of EDUR is based on the concept of supplying customers with the best pump solution for their specific delivery task. A pump solution that is perfectly matched to their plant, pumps the medium in the best possible way, uses only as much electricity as absolutely required and all this over an impressively long service life.
Competent advice, short reaction times and professional customer dialogue in everyday business life are welcome features of our flexible, medium-sized company.
Our team concept
As a company with around 120 qualified employees we possess all the qualities for which a medium-sized mechanical engineering business from Germany gains worldwide recognition. All our employees know each other. The manageable size of the company allows unbureaucratic, fast development of better solutions, direct process control and competent customer consultation. Employees innovations are encouraged at EDUR and have very good chances of being implemented.
The EDUR company sports programme shows that people who work together in an ambitious atmosphere also appreciate joint athletic activities. High qualifications and willingness to work are prerequisites at EDUR. We all see further education and daily commitment to our work as an obligation.
Our image as a company in the city of Kiel. EDUR employees enjoy being citizens of a company in Kiel. And for those who enjoy sailing there is simply no better city.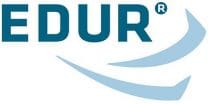 Company name:
EDUR-Pumpenfabrik Eduard Redlien GmbH & Co. KG
Phone number:
+49 431 6898 68