KENCO International, Inc.
Since our beginning in 1958, KENCO International, Inc., an ISO 9001:2008 Certified Manufacturing Company has been recognized as a key supplier of instrumentation for various industries, including oil and gas, petrochemical, power, pulp and paper, water and waste treatment. KENCO enjoys worldwide recognition and leadership with its line of Liquid Level Gauges, which are used as visual measurement devices in various tank gauging applications. KENCO's Oil Level Controllers are the standard device worldwide for measuring and controlling the amount of lube oil consumed in stationary engines and compressors. An outgrowth of our position of leadership in this market are the rest of our Gas Compression Components.
KENCO's main facility is located in Tulsa, Oklahoma. KENCO also has a sales and warehousing facility in Baton Rouge, Louisiana, which serves its customer base in the state of Louisiana.
KENCO was founded by Kenneth N. Mills, one of the first registered professional engineers in the state of Texas. He graduated from Rice University in 1933 and in the next few years derived many of the mathematical formulas used universally in petroleum equipment sizing. His work in the design of heavy oil field equipment brought him to Tulsa where he was the Chief Engineer for an oil equipment manufacturer. During World War II, he served as the plant manager in a munitions plant. After the war, he continued to work in the oilfield equipment industry in a sales capacity. His frustration with trying to assure quality in the equipment he sold led him to "build it himself." KENCO was born.
KENCO's level of success since its inception is a testament to Mr. Mills' dedication to quality. KENCO's mission is to provide products that conform to our customer's requirements and deliver them on time at a competitive price. KENCO's name represents quality to our vendors, ourselves, and our valued customers. Quality improvement is the most important job of every KENCO employee.
Mr. Mills ran the company until his death in 1976, when his son, Steve Mills, assumed the role of President of KENCO. Steve, under the guidance of his father, had begun to work at KENCO several years earlier when he was completing his college degree at the University of Tulsa. In 1976, under the new leadership of Steve Mills, the company, with just 6 employees, was about to undergo a significant upturn. With the oil boom of the 70's, Steve began introducing products that would make KENCO a key supplier to oil companies and OEM's, who needed devices to monitor chemical injection packages in the oil field. In addition, the entire line of Liquid Level Gauges was introduced and gave KENCO a worldwide presence. KENCO thrived under Steve's leadership and became an important Tulsa manufacturing company, with a reputation as a trusted and reliable manufacturer of engineered products.
The third generation of family leadership began in the mid-1990's, when Steve's daughter, Kristin Ragland, and her husband, David Ragland, were introduced into the company. Steve continued to serve as President of KENCO until 2000, when he officially turned over the reins to this aspiring leadership team. Ken Mills, Steve's son, also began serving the company in 2002. Steve continued to maintain a presence at KENCO as Chairman of the Board until his death in December, 2007.
In 2006, KENCO completed a major expansion, when it moved from its 36 year old, 37,000 square foot facility into a new facility with 111,000 square feet. The new facility ensures that the management team has adequate space and resources to accomplish its current and future goals.
Today, KENCO has 3 family members that represent the family of its founder, Kenneth Mills. David Ragland serves as President of the company, Ken Mills serves as International Sales/Marketing Manager, and Chris Nelson serves as Purchasing Manager.
The company has grown to employ over 85 people and continues to introduce new products. KENCO is celebrating its 55th anniversary and its priorities have not changed. KENCO's standard of excellence and commitment to quality engineering and manufacturing practices assures our customers of dependable equipment. We intend to maintain a strong family legacy, one in which Kenneth, Steve, and Kristin would be proud.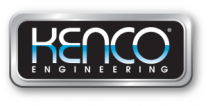 Company name:
KENCO International, Inc.
Phone number:
+918 663 4406