Ball Valves are an essential part of every piping system and come in a variety of sizes, materials, and actuation technologies. They are used for mixing and distribution applications ranging from water treatment and desalination all the way to complex chemical and pharmaceutical processes. However, in order to meet increasingly high standards regarding quality, sustainability, and functionality, ball valves require a number of key features.
Flexibility is imperative
Operators expect ball valves to be fully modular. On the one hand, this includes the availability of various sizes and materials. At the same time, a simple construction and consistent installation lengths are equally important to keep downtimes and maintenance to a minimum. Additional equipment such as position feedback indicators, positioners and actuators, as well as smart features can be configured or retrofitted. Ideally, these components cover all operational requirements, from all-electric to pneumatic or manual actuation.
Finding the right material for the job
Depending on the application and types of media that need to be transported, the choice of material is essential for a safe operation. Especially in the chemical process industry, many plastics have established themselves as the ideal material. Plastics are lightweight which simplifies everything from logistics to the handling and installation on-site. Thanks to their corrosion-resistant material properties, they are a durable option with low maintenance requirements. As a result, plastic ball valves are cost-effective solution for many applications.
Digitalization is the way forward
As an increasing number of operators is looking to digitalize their production plants and piping systems, smart actuation is a particularly important feature for ball valves. This approach provides operators with a wide range of opportunities such as a better overview and control of the system, remote diagnosis, and pre-planned maintenance. In addition, remote access to process and component data can be used to optimize piping systems.
Agtech company Kilter relies on the Ball Valve 543 Pro by GF Piping Systems
Feeding 10 billion people while simultaneously becoming more sustainable requires big changes to the current agricultural industry. This means that the entire sector must protect the environment by maximizing the yield on smaller fields. To meet these challenges, Norwegian company Kilter has created a solution: Their AX-1 weeding robot is the first fully autonomous robot to use a Deep Learning Neural Network to ensure healthy plants and enable a more sustainable food production. For optimal results, the AX-1 relies on ball valves by Swiss flow solutions provider GF Piping Systems to operate the tank system.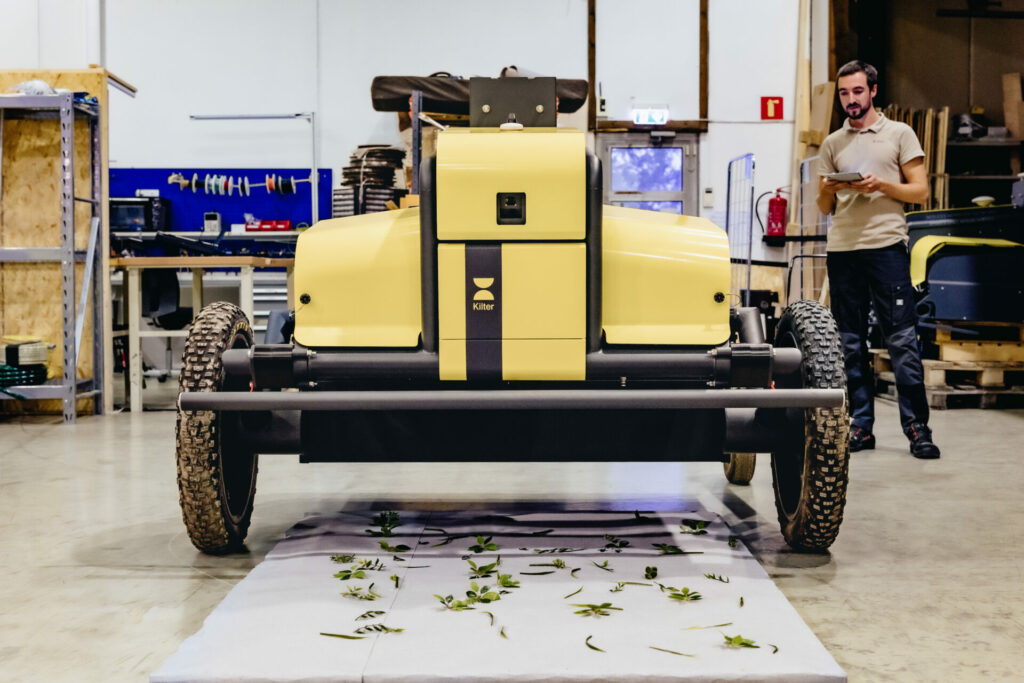 Thanks to its Neural Network, the farming robot is capable of accurately navigating fields and applying a precise amount of herbicide to weeds without coming into contact with crops or the soil. This dramatically increases efficiency which means that farmers can reduce their herbicide usage by 95%. But in order to enable the reliable delivery of herbicide while also ensuring that only the necessary number of micro-droplets is released, Kilter requires a high-performance valve system within the AX-1. Here, the company selects the two-way Ball Valve 546 Pro and three-way Ball Valve 543 Pro by GF Piping Systems.
The lineup of the Ball Valve 546 Pro and 543 Pro is the newest generation introduced by the Swiss flow solutions provider. They feature two and three outlets respectively and have been developed for industrial use. Made from a variety of polymers depending on the application, the ball valves are corrosion-free and require very little maintenance. And, due to their modular design, the 546 Pro and 543 Pro can be adapted to fulfill specific needs. In addition to a wide range of materials and dimensions, options include LED position feedback sensors, electric, pneumatic and smart actuators, as well as a spring return unit ("dead man's lever") for added safety.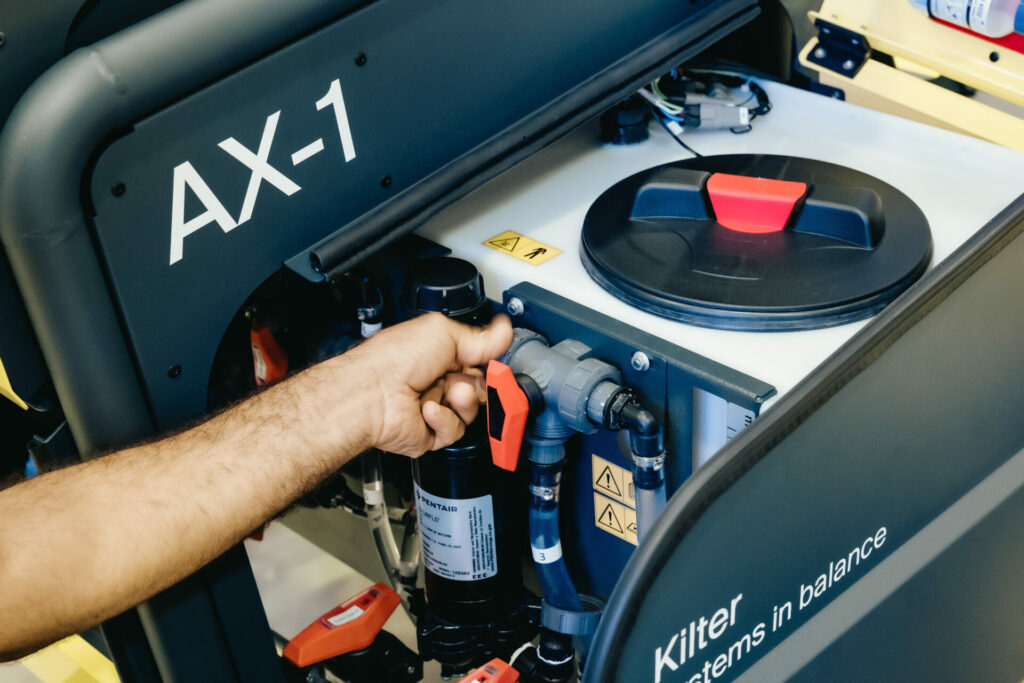 As part of the 50-liter tank system, the reliable and precise operation of the seven ball valves ensures that the AX-1 can fulfill its task of applying the perfect amount of herbicide. At the same time, they also help to meet safety requirements: The two valves [PH1] [BF2] used to empty the tank system are fitted with a spring return unit (a mandatory feature in Norway) which prevents unintentional drainage. Throughout their implementation, GF Piping Systems offered support and was able to modify the valves with a larger lever that reduces the physical effort during operation. Finally, the ball valves also contribute to Kilter's sustainability efforts as they contain 20% bio-attributed PVC. As a result, the AX-1 farming robot benefits farmers, the environment, and ultimately consumers.