The new, versatile Triton TR80 Turbidity Analyzer features a highly-effective nephelometric turbidity sensor designed for use in water and wastewater. Turbidity, the cloudiness or haziness of a water sample, is caused by particles or solids suspended in the water, typically clay and silt, or fecal matter, or various industrial wastes. As bacteria and viruses can be attached to these particles and solids, turbidity analysis has become a critical indicator of overall water quality.
The advanced Triton TR80 Analyzer relies on the proven optical method with digital communications for determining turbidity and/or suspended solids. A light beam provided by the LED is directed into the sample where it is scattered by the particles or suspended particles in the water. The amount of scattering depends on the amount of impure material in the water, the wavelength of the light used and the size and composition of the particles or suspended solids.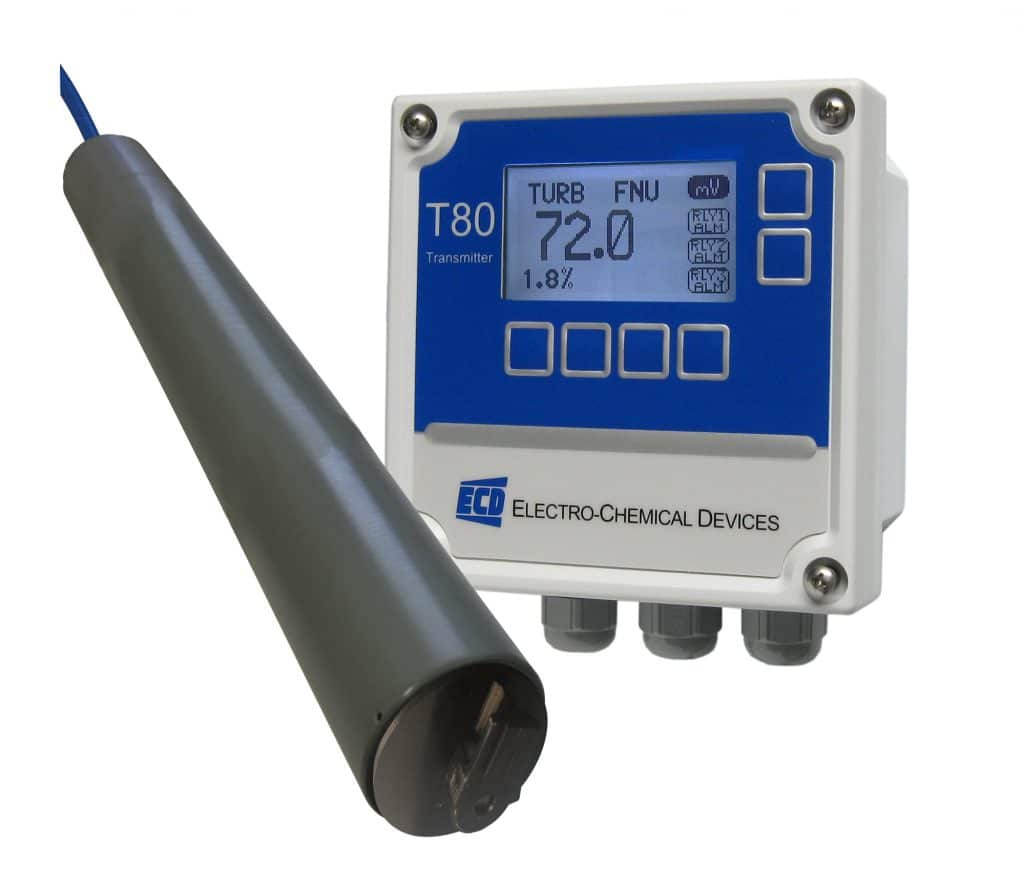 Employing a long-life near infrared LED light source and the 90-degree scattered light method of detection in accordance with ISO 7027/EN 27027, assures users of highly accurate turbidity measurement values under standardized and comparable conditions. The 90-degree scattered light detection method is the industry's most common sensor design for turbidity. ECD's powerful sensor design is advantageous in that it provide high sensitivity for turbid conditions over the entire measurement sample range.
The versatile TR80 Sensor can be configured for both turbidity and/or Suspended Solids and connects via digital communications with the ECD T80 Transmitter or the ECD LQ800 Multi-Channel Controller for plug-n-play operation. Multiple standard factory pre-calibrated sensor ranges, as well as custom ranges upon request, are available including: 1 senor at 0.00-1000 mg/l or 0-1000 NTU, FNU; 3 sensors at 0.00-5000 or greater mg/l or 0-4000 NTU, FNU, ppm, mg/L; and 4 sensors at 0.00-30 mg/l or 0-30 NTU, FNU.
For ease of use and low life-cycle maintenance costs, The TR80 Turbidity Analyzer includes a simple optical configuration with an automated cleaning wiper to prevent the build-up of algae, oils and other contaminants. The wiper is pre-set at the factory to clean the sensor lens at regular intervals frequent enough to assure accurate measurement and reduce the need for technician manual inspection and cleaning, which over this instrument's long life can add up to a significant operational cost savings.
The rugged TR80 Analyzer is available in four configurations: flow-through-cell, de-bubbler flow cell, immersion assembly and valve-retractable unit. Three choices of standard six-wire electrical connections are available with cable assemblies of either 10-ft (3.0 m), 20-ft (6.1 m) or 30-ft (9.1 m). It is designed for freezing to frying conditions operating from 23 to 122°F (5 to 50°C). It can take the pressure too, with a choice of multiple flow cell configurations available that withstand a range of up to 50 psi (3.5 bar maximum). The sensor body features wetted materials of CPVC or optionally POLYPRO® polypropylene material.