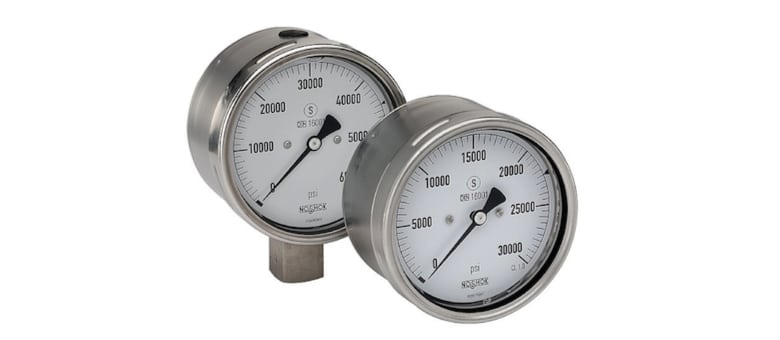 BEREA, OH - NOSHOK's new generation 402/502 Series Extreme High Pressure Gauges are in compliance with the new DIN 16001 standard, which specifically addresses extreme high pressure ranges starting at 30,000 psi.
NOSHOK's Extreme High Pressure Gauges exceeded the minimum requirements of the specification by more than 20 times in our qualification cycle testing. These gauges are backed by our extended warranty.
Features include:
Solid front design with a blow out back in accordance to EN837, S3 Safety Pattern
Safety glass lens
Ranges from 0 psi to 30,000 psi through 0 psi to 85,000 psi
Most ranges available from stock for quick delivery
Multiple scales are available
Benefits include:
Improved load cycle stability
Improved calibration stability
Significantly longer service life
Reduced down time
These features combine to provide higher safety levels, improved reliability and reduced maintenance costs, resulting in a lower total cost of ownership.
This article is published by
For nearly half a century NOSHOK has been a pioneer in our industry by continually providing innovative solutions, unparalleled customer support, outstanding value and a broad offering of premium quality product lines. Established in 1967, NOSHOK, Inc. was one of the first companies to offer a liquid filled pressure gauge. This leading-edge feature ...