Tooth extraction or drilling becomes a little less scary when topical anesthetics are used. One of the most common choices is lidocaine, a potent injectable narcotic. In such high-pressure scenarios, it might come as no surprise that the product itself is slightly sensitive. Since it is usually administered via syringes, utmost care is required during siliconization, filling and closing of lidocaine cartridges. As a leading lidocaine manufacturer, Korean pharmaceutical company Huons Global relied on equipment from its long-standing partner Syntegon.
For many patients around the globe, lidocaine offers welcome relief during visits to the dentist. For Huons Global, it is much more. Besides probiotics, functional cosmetics and eyecare products, the liquid anesthetic has been a major pillar of Huons' success: lidocaine, originally intended for the national Korean market, today is shipped to countries all over the world, including Japan, Vietnam, Thailand, and Pakistan. And there is still room for growth: the US is another major market the company wants to serve – but not without having ramped up operations first.
Complex interplay of components
As a liquid drug, lidocaine is marketed in cartridges for direct injection into the respective tissue, e. g. via syringes into the gums or oral mucous membranes. The filling of the drug requires the smooth interplay of several elements, including the cartridge itself, its silicone layer and stopper. At Huons Global, state-of-the-art filling equipment from Syntegon makes sure all components ensure optimum delivery: a line with an RRU washer for cartridge cleaning, an HQL sterilization tunnel for drying, decontamination and silicone fixation, and an MLD 3081 filling machine had been used to process 1.8 ml lidocaine cartridges for decades.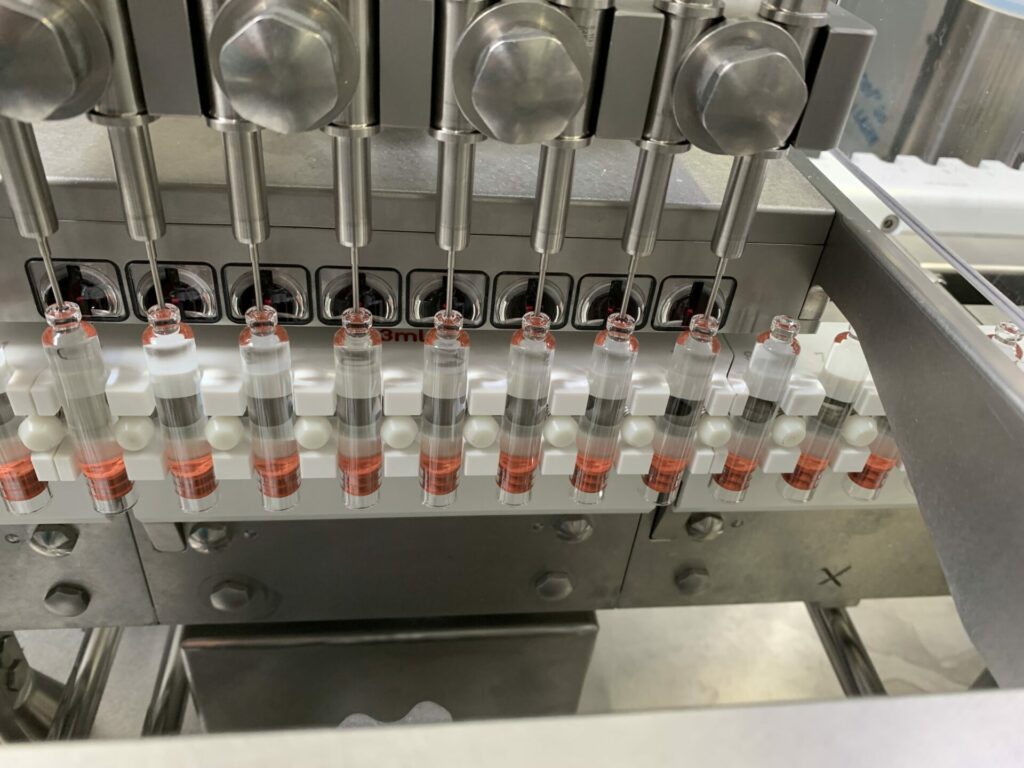 The company required a second line. But what sounded perfectly sensible at first turned out to be a daunting challenge: not only did Huons' facility layout require a space-saving line set-up; the COVID-19 pandemic also moved the company to rely on remote consultation and planning to get its second line up and running. "We knew from the start this was going to be a tough nut to crack," says Jong Dae Lee, engineering manager at Huons Global. "But we already had an idea who to contact – and were happy to entrust Syntegon again with this special task."
The filling and capping experts from Syntegon had worked with Huons Global before and knew the company's cartridge filling requirements. They were also willing to build a second line that would fit in the limited space of a class A cleanroom, requiring an L-shaped set-up instead of the customary straight line. But especially in COVID-19 times, one aspect tipped the scales for Syntegon: a well-balanced approach combining fully virtual kick-off meetings and factory acceptance tests (FATs) with the strong support of local sales agent Hakoplan.
A remote look at things
Planning took place remotely, but with a great level of passion for challenging aspects, such as precise siliconization, filling and cartridge handling. The thin silicone layer inside the cartridges greatly influences the speed of the stopper inside – and thus the pressure of the administered lidocaine. This calls for reliable sterilizers that are used to fixate the cartridges' silicone layer at the right speed, without evaporating the crucial material.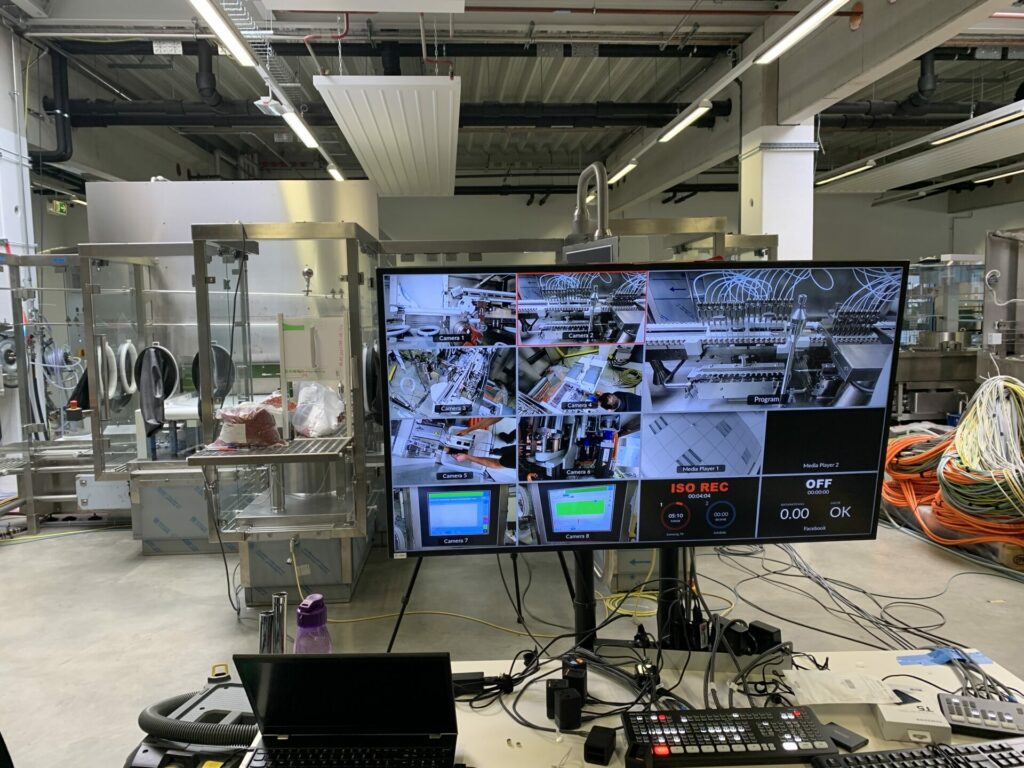 The HQL tunnel from Syntegon, which the cartridges enter after cleaning in the RRU, optimally fixates the silicone. Moreover, filling itself has to be as precise as possible given the small opening of the 1.8 ml cartridges. Just like the first line, the second includes an MLD 3081 with a time-pressure filling system. Pre-filling occurs at two separate stations. Subsequent sensor filling helps achieve the optimum filling level and avoid any air bubbles inside the liquid, reducing costly rejects. The efficient time-pressure system can process up to 400 cartridges per minute.
Delicate containers
However, cartridge filling wouldn't be complete without a system for gentle handling. Unlike vials, cartridges do not stand as firmly on conveyor belts and are prone to glass breakage on the rim. As a result, manufacturers must avoid container collisions or jarring motions during transport at all costs. Syntegon met these challenges with a scroll-based system for gentle singularization at the line's infeed, and special carrier systems that hold the cartridges via a customized click system during stopper insertion, filling and capping.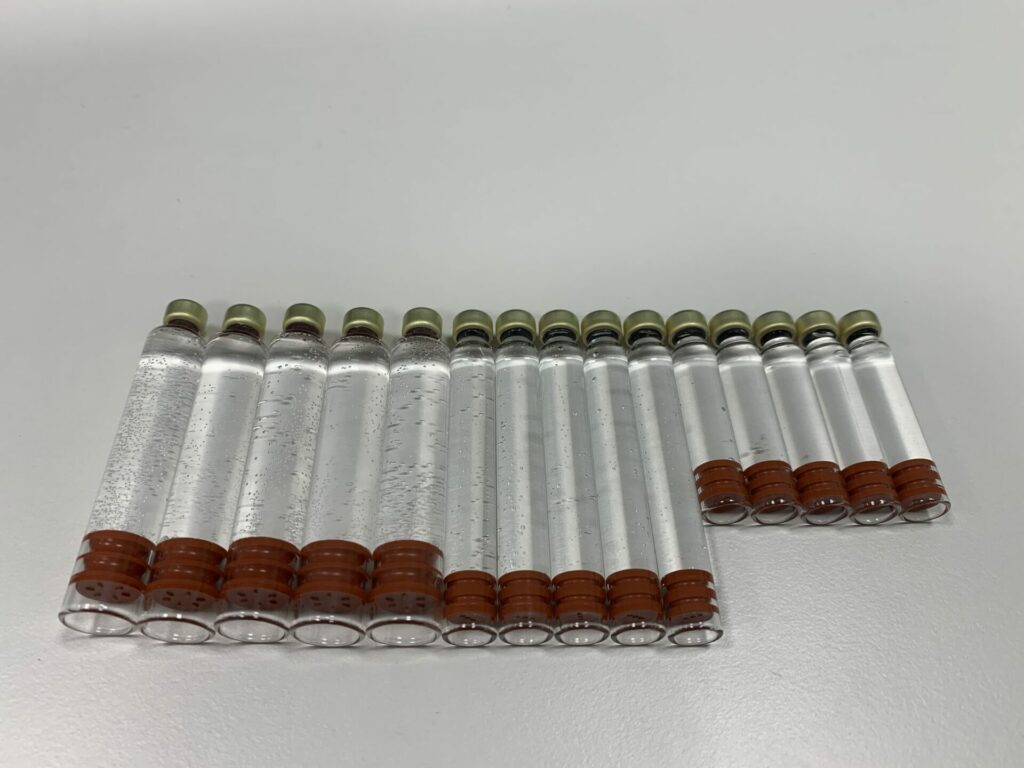 To date, the latest MLD line has helped Huons to effectively fill 600-liter batches of lidocaine at a rate of one batch per day and five days a week. "In this way, we can significantly increase our throughput while operating a line with a particularly small footprint." The company, as it seems, has now made the right move to tap additional markets – and take the stress out of dentist's appointments for many more patients to come.