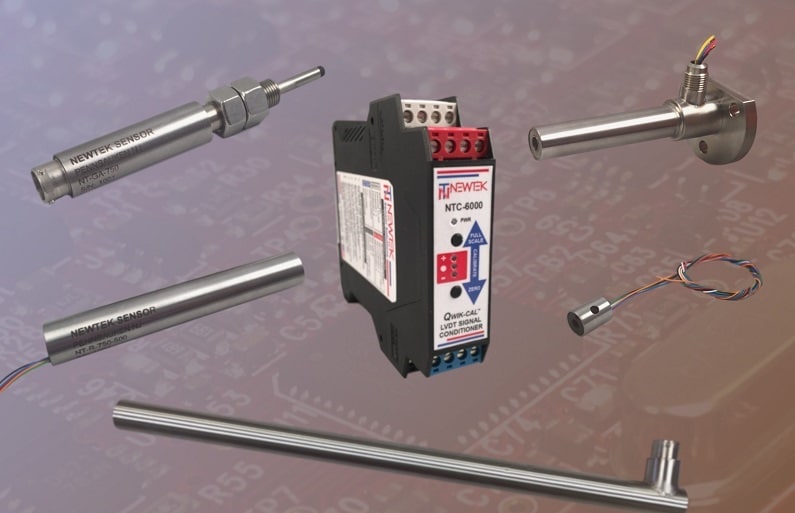 PENNSAUKEN, NJ - NewTek Sensor Solutions introduces the NT-C-6000 Quik-Cal™ LVDT Signal Conditioner that offers an intuitive AC LVDT set-up for quick configuration by non-technical personnel. Workers can set zero and full scale output using front panel push buttons while LED indicators provide prompts for the calibration process. Color-coded plug-in screw terminals further simplify equipment set-up. These smart signal conditioners even self-diagnose and indicate LVDT failure while providing cybersecurity lockout and tamper detection.
Compatible with a wide range of AC-operated LVDTs and inductive half-bridge LVRTs, the NT-C-6000 Quik-Cal™ establishes digital communications via a RS-485 two-wire multidrop bus. The RS-485 port also supports hot swapability of units by saving set-up parameters. Units offer several user-selectable fields including:
Primary Voltage (1.5 Vrms or 3 Vrms)
Excitation Frequency (3.5 kHz, 5 kHz, 7.5 kHz and 10 kHz)
DC Output (0-10V DC, 0-5VDC, 0.5 to 4.5VDC, +5VDC, +10VDC or 4-20mA)
Digital Address for RS-485 Communication
Addressing the needs of today's process control systems, the DIN-Rail mountable unit is ideal for use in a variety of industrial applications including factory automation, materials testing, turbine control systems, steam valve positioning, packaging equipment and gaging. Units are RoHS compliant and CE-certified for use in Europe. Performing with low floor noise, the LVDT Signal Conditioners provide high resolution measurement. NewTek offers the NT-C-6000 Signal Conditioner with a two-year warranty. The company accepts small- to large-sized orders and guarantees on-time delivery of units.
About NewTek Sensor Solutions
NewTek Sensor Solutions designs and manufactures standard, custom, and harsh environment LVDT-based linear position sensors for a variety of industries including power generation, factory automation, oil and gas exploration, aerospace/mil, chemical processing, subsea oil drilling and automotive testing. Incorporated in 2016, NewTek Sensors offers more than 200 years of cumulative LVDT design and manufacturing experience by its key staff in serving an OEM and end-user customer base. The company differentiates itself in the market by delivering high-quality, made-in-the-USA LVDTs at cost-effective price points in short timelines.
This article is published by
Our mission at NewTek is to provide high performance, extremely reliable and economical position sensors, accessories and associated electronics to a diverse range of industries. We feature the ability to design and manufacture custom solutions in collaboration with the customer's engineering resources. Our product line includes devices capable of ...