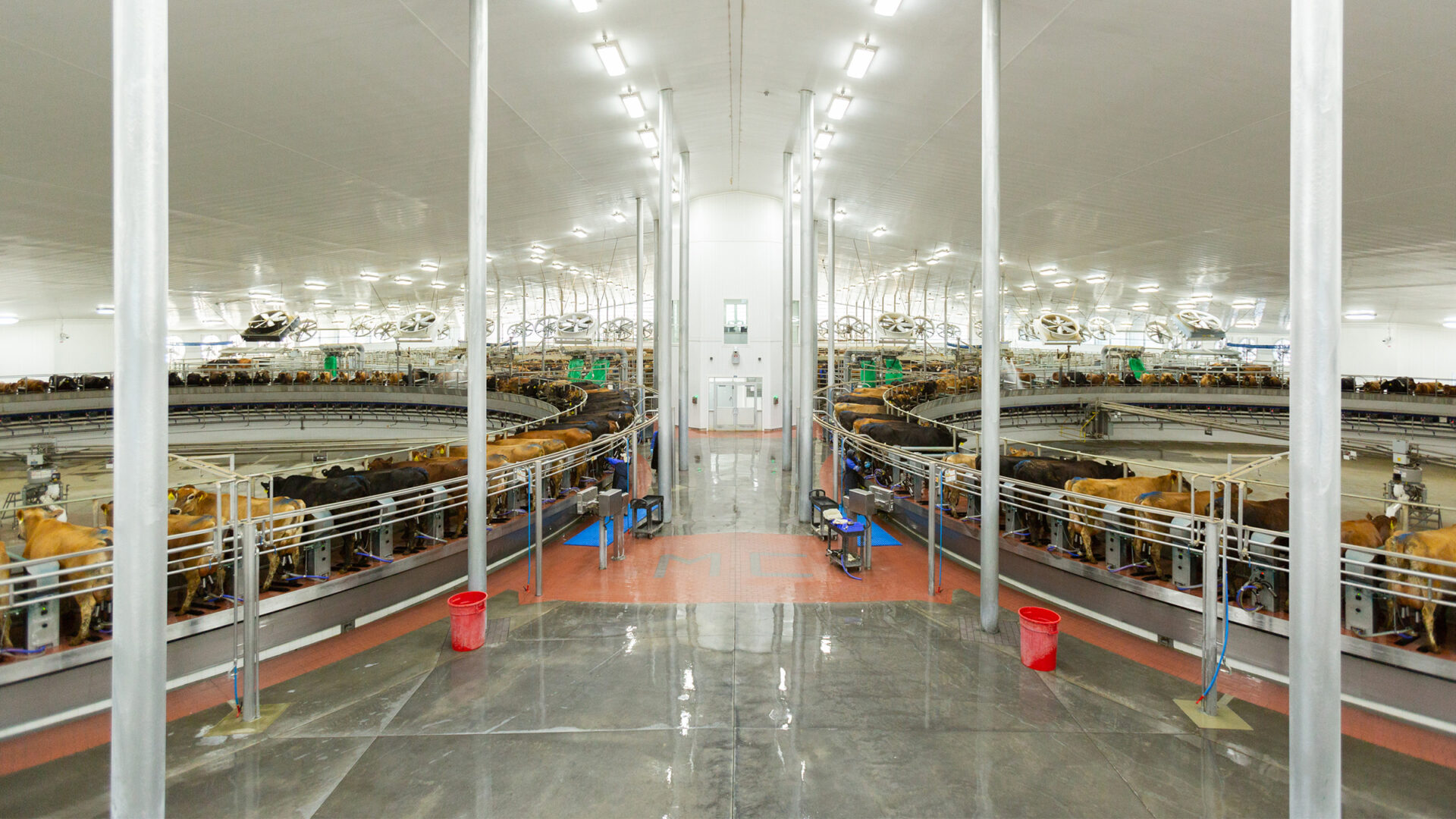 Idaho Jersey Girls Dairy makes their vision of integrated milking operations a reality, thanks to system integrator Automation Werx – and PlantPAx DCS.
For Bill and Susie Millenkamp, success in agribusiness is built on a passion for optimal animal care, cleanliness, strict protocols, staff training – and technology. What began as a calf ranch in the mid-1990s has grown to a vertically integrated business that encompasses the ranch, farm, feedlot and cow-calf operation – and the Idaho Jersey Girls Dairy.
"At any given time, there are about 36,000 calves at the Jerome, Idaho operation, and at the Idaho Jersey Girls dairy they are milking approximately 30,000 cows," said Mark Harrison, operations manager, Millenkamp Cattle, Inc.
Not Your Grandfather's Milking Parlor
As milking operations ramped up in 2015 with the completion of Milk Barn #1, the Millenkamps called on local system integrator, Automation Werx, for network, communication and technology support. Automation Werx is part of the Rockwell Automation® System Integrator PartnerNetwork™.
Milk Barn #1 features two 106-stall rotary milking parlors designed to harvest milk from about 15,000 cows. Each parlor features three robots that provide the pre-milking sanitizing, udder stimulation and post-milking teat sanitizing. The milking operation also includes ventilation, pumping, chilling and clean-in-place (CIP) systems – as well as solutions that offload the milk to tanker trucks.
"There was a lot of standalone, third-party equipment in Barn #1," said Trevor Steffler, co-owner, Automation Werx. "Our goal was to provide the dairy with an integrated system that would enable their team to monitor equipment from a centralized location."
To meet objectives, Automation Werx delivered a networked supervisory control and data acquisition (SCADA) solution featuring FactoryTalk® View Supervisory Edition (SE) HMI software from Rockwell Automation.
When the dairy planned to more than double their milking operation five years later, they again called on Automation Werx for a solution.
A Unified Solution for Disparate Equipment
For Milk Barn #2, Idaho Jersey Girls installed four 106-stall rotary parlors, with associated robotics and auxiliary systems. Automation Werx was tasked to work with multiple vendors – and deliver a state-of-the-art system that would largely replace third-party controls with a unified Rockwell Automation platform. Minimizing downtime was a critical project objective.
"We are milking 22 hours a day and are down one hour for equipment sanitizing," said Harrison. "In addition, cattle are creatures of habit and require a consistent milking schedule. We can't afford downtime."
Automation Werx designed an integrated solution built on a PlantPAx® distributed control system (DCS). The solution features Allen-Bradley® programmable controllers, PowerFlex® AC drives, Stratix® Ethernet managed switches and FactoryTalk View SE.
"We've added multiple levels of redundancy at various points in the system," said Nick Reichelt, co-owner, Automation Werx. "For example, we used seven drives on each carousel although only five are required – so there's no interruption for drive maintenance."
Most important, PlantPAx DCS delivers data, analytics and insights through easy-to-understand dashboards that enable workers to quickly respond to abnormal situations like alarm logs and unexpected downtime events.
Keeping It Sustainable
Automation Werx also aligned control system capabilities with the dairy's sustainability goals.
"We're farming over 14,000 acres for feed and compost all our manure for fertilizer," said Harrison. "And this is probably the cleanest dairy you'll ever see. We take great pride in that."
Idaho Jersey Girls Dairy is also focused on reducing their use of chemicals to clean and sanitize equipment. Chemicals have an environmental impact – and also represent the single largest cost to the dairy. The Automation Werx solution manages all chemical batching – from udder sanitation and cattle foot baths – to the CIP system.
"The CIP system includes conductivity sensors to measure the level of chemicals in the cleaning solution," explained Reichelt. "To save on chemicals, the system captures the final rinse in the first batch and reuses it for the first wash of the next batch."
Water used in the chillers is also recaptured – and reused for floor flushing and other cleaning tasks.
Building on Success
The dairy estimates that CIP cleaning solution recapture decreased chemical usage by more than 50 percent, when compared to a conventional barn. And because the batch solution maintains a constant water and chemical temperature, CIP cycle time was reduced by about 30 minutes.
"When we started to move toward automation, we thought we were going to have to learn 10 different control systems to manage all equipment," Harrison said. "But with the new system, we can monitor everything from a central location – and see exactly where a downtime event has occurred."
"The troubleshooting time you save? I can't even put a number on that – it's huge," Harrison added.
Automation Werx continues its work with Idaho Jersey Girls dairy – and looks forward to future enhancements that align with the operation's vision.
"Our goal is to migrate Barn #1 to the PlantPAx system," said Steffler. "Ultimately, we plan to build a unified system incorporating both barns – all controlled and monitored from one central location."
Learn more about solutions deployed by our System Integrator Partners.
This article is published by
Consumers continually seek the new and different, and prioritize taste and nutritional value. That means you must get new, high-quality products through your facility quickly, and keep prices low and food safer. Through The Connected Enterprise, we help food and beverage manufacturers develop a more agile response to changing consumer tastes. The Connected ...