With standard outlet pressure options that range from 5–100 PSIG and customizability that extends on both sides of that range, the 436 Seawater Pressure Regulator is suitable for a wide range of marine applications including desalination, cooling, flushing, and more.
Useful in any shipboard seawater pressure reducing application, the Warren Controls 436 Seawater Pressure Regulator is a fail-open regulator shock qualified to MIL-S-901, vibration qualified to MILSTD-167, and in conformance with MIL-V-2042 and ASTM F1370 Type I and II.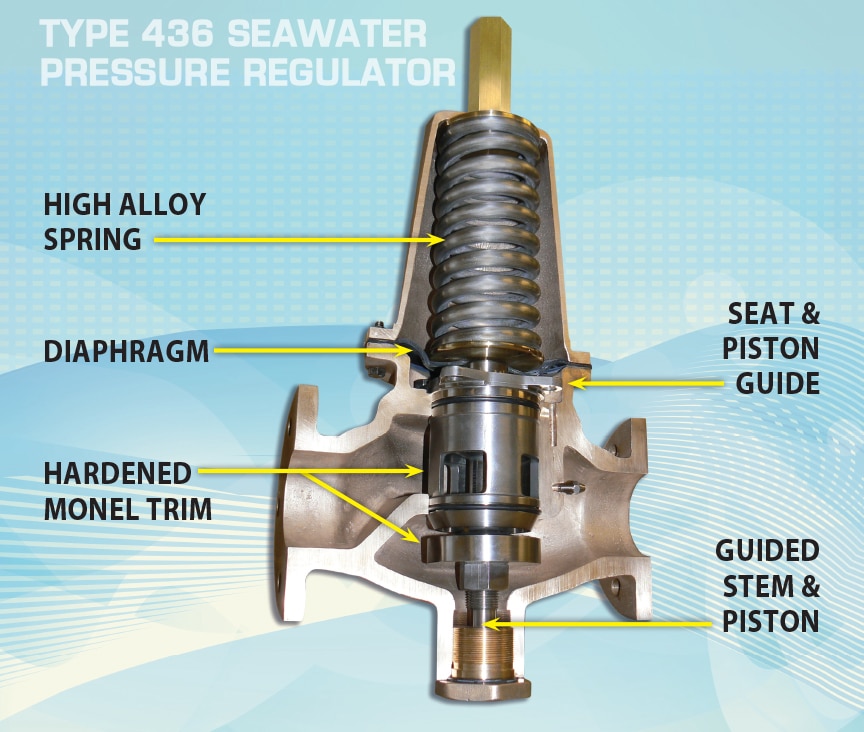 Featuring a convoluted diaphragm design that does not interfere with the valve stem travel, as well as a combined cage and seat component that eliminates threaded, screw-in seat rings/piston guides, the 436 Series regulators are also designed to minimize and simplify maintenance in the harsh marine environment. Special tools are not required to remove or install any of the internal parts in most sizes. What's more, corrosion-resistant options include Monel or Inconel spring and aluminum bronze components inside the spring chamber.
Though many ranges are standard, the Warren Controls engineering team has successfully customized 436 Series regulators capable of reaching set pressures up to 190 PSIG, as well as regulators that extend the low end of the lowest range below 5 PSIG. Additionally, a specially-designed differential pressure regulator version coupled with an adjustable orifice valve is available for applications requiring a constant flow rate. The 436 Series regulators are available in sizes ranging from ¼" to 8" in diameter.