The assignment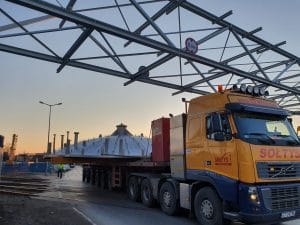 Gpi – together with the contractor, TECHNIK Polska, and the operating company, Biproraf – is building 7 duplex stainless steel tanks on location at the customer's plant in Trzebinia (Poland) and a further 8 tanks at its own factory. The 15 storage tanks have the key requirement of maintaining the temperature of the stored substances. The tanks have been designed by engineers at Gpi in compliance with the requirements of the Polish and European PL-EN-14015 standard.
Environmentally friendly solution
Propylene glycol is an environmentally friendly product. It is used, amongst other things, in cosmetics, medicines or in the food-processing industry. Glycerine is used in the production of glycol, which is a by-product in the production process of biodiesel from rapeseed oil. This is the new 'green' solution on the Polish market.
The goal
The new installation will start production next year. With this investment, ORLEN Południe ultimately aims to satisfy three-quarters of demand for glycol in Poland.
About Orlen
PKN ORLEN is a leading player on the fuels and energy markets, and the largest company in Central and Eastern Europe, listed in prestigious global rankings such as Fortune Global 500, Platts TOP250 and Thompson Reuters TOP100. The ORLEN Group operates in 6 home markets – Poland, the Czech Republic, Germany, Lithuania, Slovakia and Canada.
About Gpi
Over the last 25 years, Gpi has expanded to become an established name in the Dutch engineering industry and singles itself out through constant innovation in technology, process and collaboration. The Gpi Group is comprised of three tank construction businesses – Gpi Tanks Netherlands, Gpi Tanks Poland and Gpi Tanks XL – in addition to Gpi de Gouwe for process equipment and BMN (Beitserij Midden Nederland), the latter two which form part of the parent company. Gpi Tanks has customers in a diversity of markets worldwide, including the food-processing, chemical, pharmaceutical and cosmetics industries. In total, the Gpi Group has a workforce of around 200 employees.