With initially two "glassblowers" and a "scribe", he produced glass thermometers, hydrometers, laboratory glass instruments and later also medical glass instruments for various industries in Europe and America.
When Adalbert Fritz died in 1918, his son Franz become his successor. The company name was changed to "Adalbert Fritz und Sohn" with the telegraphic address AFRISO and the first company logo was created.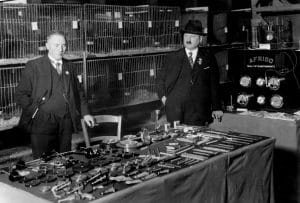 Due to food shortages in the post-war years of World War I, products were needed that helped to increase food production. AFRISO provided a complete range of instruments for the operation and monitoring of incubators and warming cabinets: thermometers, temperature controllers, humidity meters, heating elements, fans, signalling devices and monitoring devices such as egg candlers which simplified incubation of eggs.
In 1924, a small, thin-walled, circular and concentrically shaped metal sheet completely changed the AFRISO world. Two diaphragm half shells form a capsule element which expands or contracts depending on the pressure. This pioneering invention, the capsule pressure gauge, became the foundation for a host of innovative products: Precision pressure gauges, blood pressure measurement instruments and diaphragm type temperature controllers became the most important products for the time up to 1945 and the new beginning after that.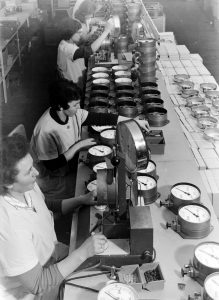 In 1935, Franz Fritz invested in a new plant for the production of front motors for bicycles. The petrol- powered engines could be mounted on a bicycle within minutes and reach speeds comparable to those of small motorcycles. In 1940, the company was expropriated.
After the Second World War, Franz Fritz and his family fled from Thuringia homeland, because the considerable reprisals were expected from the Soviet occupation forces. His son Georg, born in 1922, who experienced World War II as a fighter pilot, transported valuable business assets across the border in daring actions. The family first settles in Eltmann/Main in Bavaria, but Kleingartach and Güglingen (Baden- Wurttemberg) offer a more favourable location so family Fritz moves again. Georg Fritz started an entirely new ear: Pneumatic level indicator were developed on the basis of pressure measurement instruments, primarily for fuel oil storage tanks.
This was followed by overfill prevention systems, leak detectors and leak monitoring systems for the safe storage of mineral oil products. AFRISO became the market leader in this sector – technologies and products for environmental protection became the credo and mission for the entire product portfolio. The company started to systematically gear all processes towards groundwater protection, conservation of resources and energy saving. This took place at a time when environmental protection played virtually no role in Germany and there was hardly any coverage of the subject in the media. In the early 1960s, the first sales and production companies were founded Western European countries. As a result of the Europeanisation, the name AFRISO was changed AFRISO-EURO-INDEX.
The oil crisis of 1973/1974 entailed a profound paradigm change in the world economy. For AFRISO, the crisis marked the starting point for the development of a broad range of products for the economical and environmentally friendly operation of heating systems. The increasing pollution of air by pollutants from coal- fired, gas-fired and oil-fired systems became the catalyst for the German Federal Immission Control Act (BImSchG) of 1974, which serves as the basis for air pollution control. In response to this, AFRISO developed the RGT 01, the world's first flue gas tester. This allowed heating system engineers and chimney sweeps for the first time to effectively inspect and optimise oil burners and gas burners in a single go directly on site. The device immediately gained an outstanding reputation as ideal equipment for inspection and service work and won a major market share. Its successor RGT 02 G still attests to a technological innovation in the Deutsches Museum in Munich as an exhibit in the "Power Machines" collection.
In 1981, AFRISO succeeds as the first manufacturer to produce a compact, light-weight plastic manifold which meets the demanding requirements of underfloor heating systems in terms of temperature behaviour, service life and robustness. This pioneering achievement and the reorientation on the market and of the original equipment manufacturers is mainly attributable to Günther Blasinger, managing director for many years, who developed the OEM business into a separate division. Today, AFRISO manufactures and delivers plastic manifolds for leading global vendors of underfloor heating systems as well as heating and cooling systems. For decades, experts from the fields of heating, ventilation and air conditioning have been working with AFRISO products under the brands of leading system providers.
In 1986, Georg Fritz resigned from the operative business at the age of 64; his son Elmar took over the management. In 1992, Elmar's brother joined the company. Since then, the two brothers have been leading the company as the fourth Fritz generation. Georg Fritz died in 2004 at the age of 82.
With ideas, innovations and products, AFRISO was a key driver on the heating system market from the very beginning on and secured an exceptional position on the German market. HVAC experts and other specialised companies value AFRISO products for their quality and reliability – in more and more basements, you can now find equipment from AFRISO.
In 1992 – at this stage, AFRISO already is a provider of a complete range of pressure gauges for domestic technology – a site for R&R and production is established in Amorbach (Bavaria). The new plant was optimised with the production requirements for pressure gauges and thermometer in mind. The investment in a new site served as the basis for a high-quality range of pressure measuring instruments for industrial applications. After the political change in Eastern Europe, Elmar and Jürgen Fritz founded the first subsidiaries in Poland, the Czech Republic, the rest of Eastern Europe and in Russia, starting in 1992. A new production site was set up in Bucharest that has been manufacturing measuring instruments with a superior price/performance ratio for standard applications ever since.
The next two decades were characterized by steady expansion and growth, for example, new subsidiaries were in South Africa, China and India. Production companies such as Systronik and Gampper were acquired and integrated into the AFRISO. Today, the group comprises 19 members with a staff or more than 1,100; it is represented in more than 65 countries. In Germany, AFRISO currently offers 550 employees secure workplaces and training positions.

Since 2012, AFRISO has made massive investments in digitisation:
With the multiprotocol AFRISO Smart Home system, specialised companies can offer their customers tailored solutions for apartments and buildings in terms of indoor climate, comfort and security. Existing smart home components can be integrated.
The modular CAPBs probe system allows users to upgrade their handheld AFRISO measuring instruments to multi-purpose measuring systems. They provide Bluetooth communication. In addition, smartphones or tablets can be used instead of the handheld measuring instruments so that existing IT equipment can be used. This considerably reduces the efficiency of specialised companies.
AFRISO also plays an important role in the area of "air pollution control". AFRISO emission monitoring systems monitor the limit values of exhaust gas cleaning systems on maritime vessels to reduce the emissions of pollutants.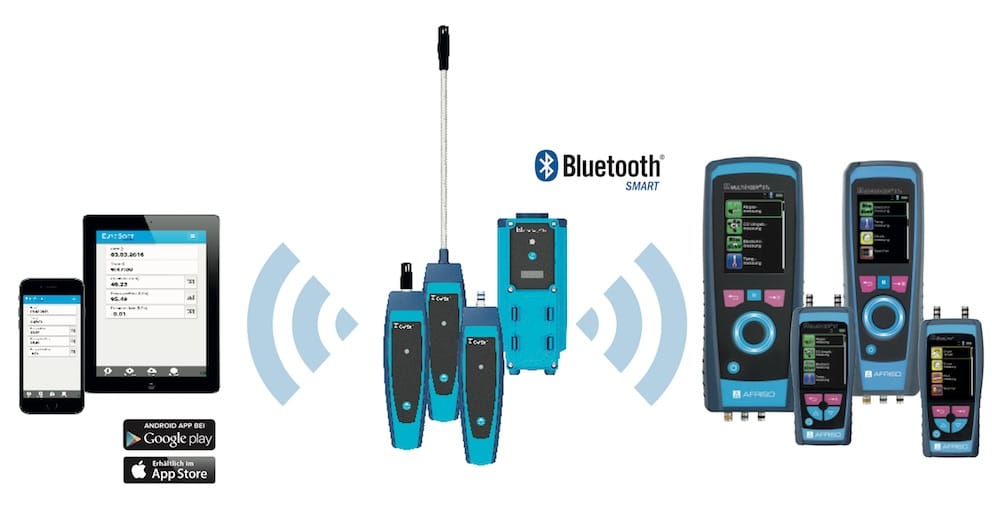 The company history is backed by a clearly defined customer and company philosophy. It is based on environmental awareness and responsibility. In addition, people with their needs and competencies take centre stage in this philosophy. The company values of "reliability", "flexibility" and "independence" are not just promises in terms of performance, but clear values and the foundation of all activities of the company and its people. The value of a handshake still applies at AFRISO in a figurative sense, and this is something everyone can count on – every customer, every supplier and every employee.