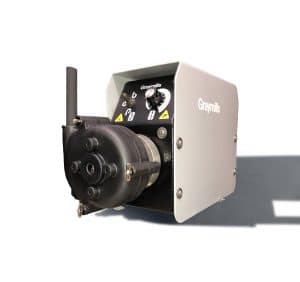 Peristaltic pumps are clean, easy-to-use and press operators don't have to lift and move them. In addition, if customers maintain the correct hose types, these pumps are extremely reliable. The bad news is that we see about 25 – 30% of installs attempting to use the wrong replacement hose with their peristaltic pump systems. This is problematic due to the potential of damaged parts and converters not being able to use the press while the pumps are repaired. The good news? With proper hose selection and maintenance, peristaltic pumps will continue humming along – providing variable flow rates and creating little or no foaming with inks.
Here are five questions we regularly receive on how to keep a peristaltic pump running reliably:
Can I use any hose on the market?
Using a hose other than our recommended products can result in damage to the pump and considerable expense. Trying to save a few dollars by purchasing an "off-brand" hose, or to squeeze out extra run time, can have the opposite effect.
What's the right hose for my pump?
Peristaltic hoses are selected by Graymills based on their physical size, the chemical resistance of the tube material and the resilience property of the tube. We offer a variety of hoses, but our more expensive hoses give double the life and are a better value because they run longer, resulting in less changeover and downtime. According to Gary Pritchard, one of our seasoned sales representatives, "I encourage my customers to buy the more expensive hose because they are more reliable and offer better value."
How often will I need to replace a hose?
The average time a hose needs to be replaced varies based on multiple factors including press speeds and the number of hours the pump is used on a daily basis. A pump capable of marginally supplying enough ink flow for converters' application demands will have to operate at a faster speed to supply enough ink. High speeds result in more compression cycles and will shorten the run life of the hose. A larger-capacity pump that can supply application requirements at a slower speed will provide better reliability and value. However, a pump that is significantly oversized for a low flow requirement may not be able to provide reliable flow at very slow rates. Graymills can assist you in selecting the proper size.
When do I know it's time to replace a tube?
Even the proper hose is going to wear, and it is important to know when to replace a worn tube before it reaches the failure point. When using the correct tube, wear is primarily a result of two factors, abrasion and mechanical fatigue of the hose material. Your Graymills rep can help you know when it's time to think about a new tube.
Can I reduce abrasion on the hose?
Yes. Abrasion can be substantially reduced by applying a slight amount of water-based lubrication to the hose surface. If the roller on the rotor can compress the hose with minimal surface friction, the outer surface of the hose wears much more slowly. It is also important that the rollers be free-turning. If a hose has previously failed inside the pump head, it is crucial that the ink is thoroughly cleaned out and that the compression rollers, bearing and bushings are turning freely.
By Bill Cox, Director of Engineering, Graymills Corporation
Bill joined Graymills at the end of 2018. As a mechanical Engineer, he brings to the company 17+ years of comprehensive experience in automated industrial equipment with a record of increasingly progressive roles and responsibilities. He has contributed to the successful introduction of multiple new products, numerous custom-designed, automated industrial systems, and the implementation of ongoing continuous improvement projects.