International technology group ANDRITZ is now offering its newly developed ANDRITZ pump controller (APC) – a flexible and individual control unit for interconnected pumps in sprinkler, wastewater, lifting, pressure boosting and fire extinguishing systems and in water supply networks.
The APC features excellent flexibility, enabling customers to set it themselves via an intuitive configuration interface to suit the individual circumstances in the plant, quickly and without requiring specialized personnel. Operating modes and available sensors can be integrated into the system with just a few clicks. Freely adjustable control parameters also provide automatic and optimum adjustment to plant conditions, thus making a substantial contribution towards maintaining high operating reliability and thus also to optimizing the process. The APC also provides optimum duty by the pumps integrated into the system, ensuring that the plant operates efficiently and with the longest possible service life.
Innovative Remote Solution
The unit can be extended at any time by adding more pumps and functions, such as a remote monitoring concept or a connection to existing higher-level systems. By using a secure, remote interface – for example via mobile devices like tablets or smartphones – the operator can access the APC at any time and from anywhere in the world. Remote support and various updates implemented by ANDRITZ staff can also be added to these IIoT functions at the customer's request. In addition, the APC expansion package includes modules to monitor vibration and energy consumption, connections to various bus systems, as well as taking account of additional digital and analog input/output signals for connection to higher-level systems.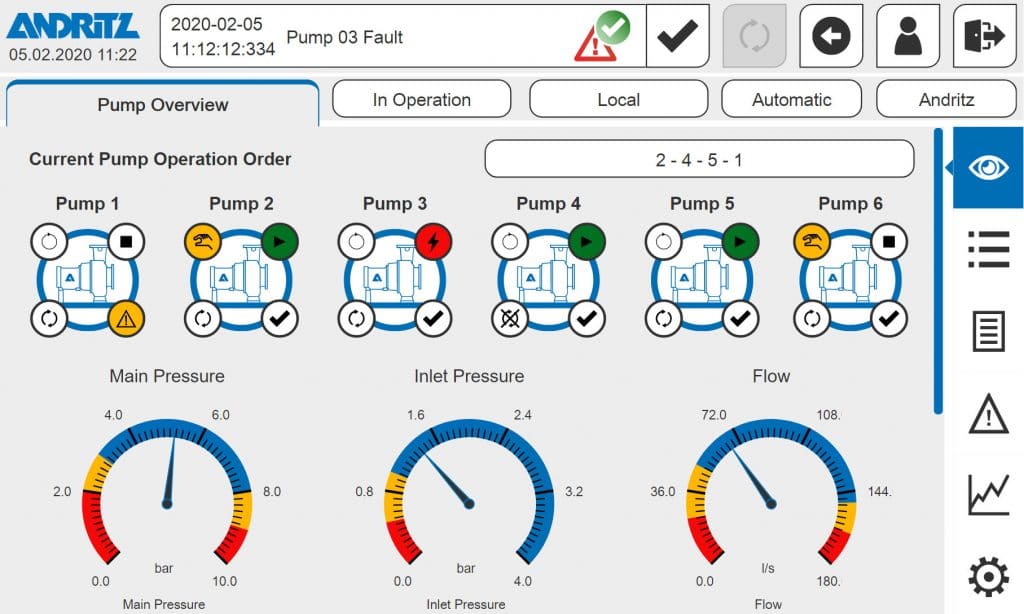 In the standard design, the APC provides various functions like display, operation, notification, and control in accordance with the pre-defined control variables (pressure, head and flow rate) for up to six pumps. The control system switches the pumps on and off, replaces pumps for optimum distribution of use between the pumps, changes pumps over in the event of a fault, as well as providing the necessary protection functions like dry running protection, flow monitoring and anti-jamming. All of these functions are performed automatically.