The library now contains CAD files for the company's Air-Pro® compressed air piping, Asahitec™ PP-RCT commercial HVAC and plumbing piping, Proline® single wall industrial piping, Purad® ultra high purity PVDF piping systems, in addition to its manual valves.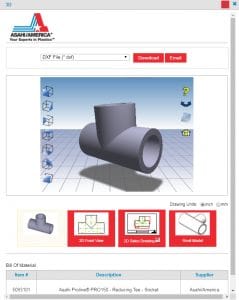 Engineers, estimators, and designers can easily download CAD files through the company's online catalog at http://cad.asahi-america.com.
Accessing files through the interface is easy and intuitive; simply choose the desired part, file type, and then download, print or email the files. The interface supports 32 formats. BIM software platforms include Revit® MEP, AutoCAD® MEP, and CADmep™. Supported CAD software platforms include AugtoCAD®, Pro/ENGINEER®, Catia®, SolidWorks®, and Solid Edge®.
Asahi/America valves, actuators and piping systems are used in a variety of applications and industries including chemical processing, water and wastewater treatment, pharmaceutical and semiconductor manufacturing, aquariums, mining, landfill, and oil and gas.