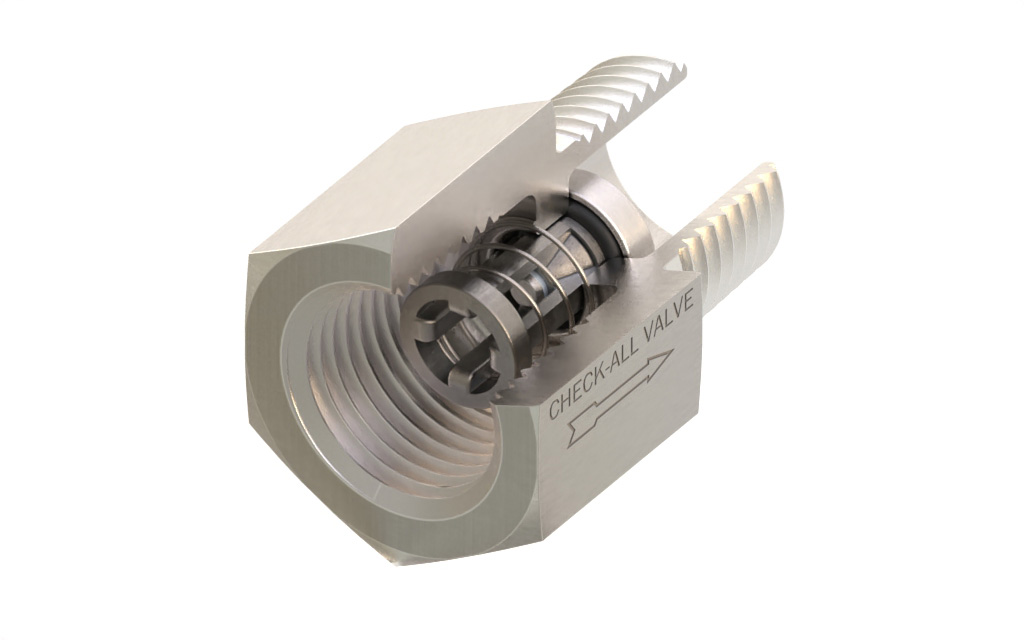 Check-All Valve® is happy to announce the addition of the New Adapter Valve Check. This latest addition to our full service line of silent check valves is available in two styles, MODEL AM (MALE THREAD X FEMALE THREAD) and MODEL AF (FEMALE THREAD X MALE THREAD). Both models have the same size pipe thread on both ends for installation where a threaded straight adapter is needed. The one-piece body design is machined from only the highest quality bar stock and is manufactured at our factory in West Des Moines, Iowa.
Features
Size: 1/2" – 4" NPT threads
Body Materials: 316 Stainless Steel, Brass, Carbon Steel, Alloy 20, Alloy B, Alloy C-276, Monel® 400, Titanium
Seat Materials: AFLAS®, Buna-N, EPDM, KALREZ®, "Metal-to-Metal", Neoprene, PTFE, and FKM
Spring Materials: 316 SS, Alloy C-276, Alloy B, INCONEL® X750, MONEL® 400, 17-7PH SS, and Titanium
Since 1958 Check-All's unique spring-loaded, poppet type check valves have been trusted in the most demanding and critical applications. For over 60 years one thing has always stayed the same, our desire to meet each customer's needs. That's why we offer over 20 different body styles with the largest selection of in stock alloy and superalloys in 1/8" up to 20".
And for those truly unique applications, we have a team of engineers that will work with you on a custom design to fit your needs.
Find out more at www.checkall.com or call us at (515) 224-2301
This article is published by
Spring Check Valve, Silent Check Valve  Supplier and Manufacturing Company
Check-All Valve produces a complete line of inline, spring-loaded, poppet-style check valves to serve a wide range of industries and practically every service application. Every Check-All valve is designed and built to perform to your exact needs and specifications. ...