Its patented circuit with flap valves can pump fluids with suspended solids up to 45 mm in diameter and 600 mm long (lengths in excess of this can be configured on request). Unlike the complex alternatives (normally fitted with vertical hydraulic circuit), this pump moves fluids horizontally, creating an extremely effective and reliable through channel outside of the pumping chambers.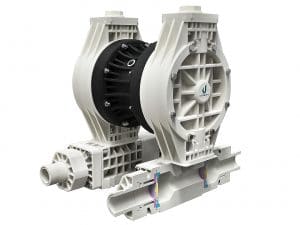 The FULLFLOW 502 provides an inspection passage on all its axes for rapid cleaning and maintenance. Its technical specifications make it ideal for use in a variety of sectors, such as pumping particularly stubborn dirty sewage, dye-works and tanneries (to move fluids containing fabric, parts or production remains) or simply where there is a need to move fluids containing bulky solids or suspended filaments.
The pump has a maximum flow of 530 litres / minute while the maximum recommended hydraulic gradient is 40 metres.  As with all diaphragm pumps, this is self-priming and can rotate dry without incurring damage. Suction and delivery have 2"1/2 F / DN 65 gas fittings and it is manufactured in polypropylene.