For that, they had to know the electrical consumption of the pumps necessary for the pumping of the seawater to cool the heat exchangers, which is directly related to the pumped flow. This measure having never been realized, it was necessary to find a simple way of achieving it.
The environment of the offshore platform required an FM / ATEX device, compact, robust and easy to use. The FLEXIM solution: the FLUXUS G608.
Solution
Ultrasonic external measurement was an ideal solution. The installation of the measurement is done without cutting the pipe and without interruption of production since the transducers are affixed to the outside of the pipe wall. The transducers are not in contact with the sea water, therefore they are not subject to corrosion, so no maintenance. FOXTROT was able to carry out its flow survey work easily.
Advantages
Measuring Points and Instrumentation
Medium:        Sea water
Pipeline:        PRV, DN250, wall thickness 7.00 mm
Flow velocity: 0.12 m/s
Portable clamp-on ultrasonic flowmeter FLUXUS® G608 (FM / ATEX certified)
Clamp-on ultrasonic transducers type CDM (shear wave technology)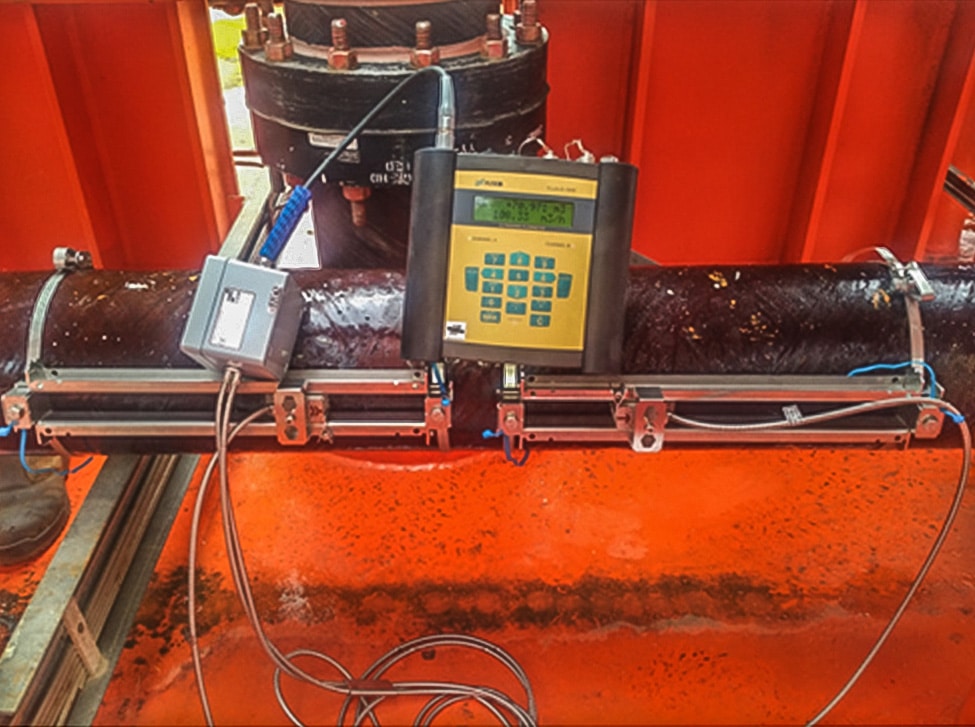 Customer
FOXTROT International LDC (FOXTROT) is an offshore oil operator, a member of the Joint Venture in charge of operating the CI-27 block in Côte d'Ivoire.
FOXTROT produces about 75% of Ivory Coast gas from block CI-27, thanks to two treatment platforms: Foxtrot (PFA), in service since 1999, and Marlin (PFB), installed on-site in April 2015, a few kilometers from the first, and a network of pipelines more than 300 km long.
This recent installation doubles the hydrocarbon processing capacity of the CI-27 block. The use of natural gas produced by FOXTROT allows the production of more than 55% of the electric power of Côte d'Ivoire.