It is part of the Singapore MMA and Acrylic Group (SMAG), a petrochemical complex, located on the island of Jurong, operates several plants that produce methylmethacrylate monomer (MMA), polymers (PMMA), and acrylic acid and its derivatives.
Toagoasei has ambitious targets to reduce its greenhouse gas emissions by 50% by 2030 and to zero by 2050. In addition, the Singapore government is continuously tightening its regulations regarding the monitoring of industrial consumption and efforts to increase energy efficiency. Therefore, the operators of Toagosei Singapore's plant were looking for ways to continuously monitor the energy efficiency of the heat exchangers on their distillation columns. Flow measurements on the water circuits are needed for this task.

Given the central importance of the plant for the integrated site and the limited personnel resources of Toagosei, retrofitting of the measurement technology should cause as little effort as possible and should not disturb production. It was very fortunate that a sales engineer from FLEXIM's local office in Singapore had only recently introduced himself on-site. He got a call asking if he could offer an appropriate solution for this project with his measurement technology.
Will Teoh, Technical & Project Support Engineer at FLEXIM Singapore, likes these kinds of calls: "Yes, of course."
Test and installation during ongoing operation
Clamp-on ultrasonic technology has always been the best choice when it comes to easily setting up flow measuring points on existing piping systems. Since Toagosei had no experience with the non-invasive measuring technique, doubts were raised as to whether the measurement would also work under challenging conditions, for example on the small pipes in which -15 °C cold methanol-water mixture flows and ice forms on the surface. In the event of any doubt or uncertainty, FLEXIM's sales and service engineers know that the answer is to carry out a test measurement.
One of the advantages of non-invasive measurement technology is that it can be tested for suitability on-site without any disruption to normal plant operation. The test measurement with the portable FLUXUS F601 proved to be convincing. Toagosei therefore decided to equip the cooling water circuits on the heat exchangers with FLEXIM clamp-on ultrasonic flowmeters. Toagosei's process engineers and FLEXIM's measuring experts worked together to find the best solution in terms of investment costs and installation effort. The fact that FLEXIM's product portfolio also includes transmitters with two measuring channels proved to be particularly advantageous. The choice finally fell on the FLUXUS F721. In order to fit a total of 12 flow measuring points, Toagosei decided to purchase seven devices, five of which are dual-channel versions. This not only meant an economical solution in terms of acquisition costs, but also reduced the effort required for cabling. The installation and commissioning was carried out by experienced service technicians from FLEXIM Singapore.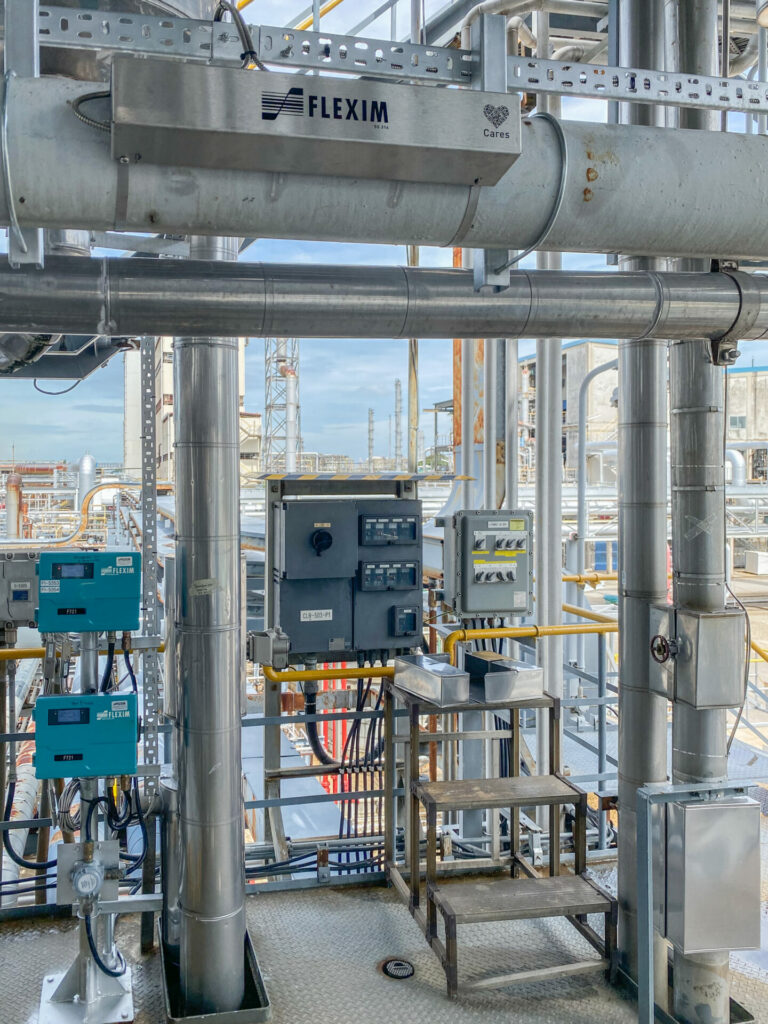 Measuring point with the clamp-on ultrasonic transducers, installed in a Variofix C mounting rail. In the background two FLUXUS F721 transmitters.
The acoustic measurement technology provides relevant diagnostic values that can be transmitted, visualised and evaluated with Advanced Meter Verification, allowing the quality of the measurement to be assessed with certainty. This also means a welcome reduction in organisational effort for Toagosei, as FLEXIM ensures traceable verification of its measuring points in accordance with ISO9001 requirements.