The sensor is pre-calibrated to water and oil at the factory – it can also be adjusted easily to a variety of other mediums via teach-in. Two versions are available: The industrial version with rotatable OLED display in the rugged VISTAL® housing as well as the stainless steel version for use in hygienic areas. The T-Easic FTS has no moving parts in the interior, which impresses as it is maintenance-free, fail safe and ensures the highest availability. The sensor offers one digital output each for the temperature and flow measured value – the IO-Link interface also opens other communication options with the higher-level control, for example for parameterization, diagnostics and for cloning sensor settings. Among other areas, the T-Easic FTS is used for pump performance monitoring as well as process monitoring in a wide range of procedural application areas.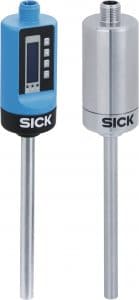 With the T-Easic FTS, SICK is adding to its product portfolio of innovative fluid sensors to include a measurement solution which allows for the recording of two measurands – flow and temperature – at a single measuring point, thereby minimizing installation and wiring effort. In addition, the flow sensor is not only suitable for a variety of media, but also for different pipe diameters from DN25. The T-Easic® FTS therefore reduces the variety of sensors and versions, enabling considerable savings in purchasing and storage.
Process-compliant specifications for industrial and hygiene-sensitive fields of application
The T-Easic® FTS is designed for a wide range of applications in industrial and hygiene-sensitive process technology. The flow sensor is specified for process pressures of -0.5 bar to 100 bar and for medium temperatures of -40 °C to +150 °C. The measuring ranges of the flow measurement run from 3 cm/s to 300 cm/s for oil as well as 3 cm/s to 150 cm/s for water. The industrial version of the flow switch in the VISTAL® housing fulfills the requirements of enclosure rating IP67. The hygienic variant in the 1.4404/316L stainless-steel housing achieves enclosure rating IP69 and, due to the surface roughness of Ra = 0.8 µm, minimizes the risk of adhesion of product remains, bacteria and other microorganisms.
Productive + practical = practice-oriented
Since the T-Easic® FTS does not have any movable devices which are therefore subject to wear, it achieves a high level of availability in productive operation. The practical features of the flow switch impress at the same time: A sensor for two measured values with reduced installation effort and minimized process risks, plug and play pre-calibration with the option of teach-in adjustment to other media as well as quick and user-friendly configuration, adjustment and diagnostics per IO-Link.
The T-Easic® FTS therefore offers a practice-oriented concept that impresses when used to monitor pump performance as well as cooling liquids and lubricants in machine tools, for performance measurement in centralized lubrication systems, oil flow monitoring in hydraulic circuits, monitoring of cleaning substances in industrial washing systems, flow detection in CIP and SIP machine cleaning in wet applications as well as other areas of application.