GF Piping Systems has addressed this challenge by developing a pre-insulated 3-in-1 piping system for chilled water, including pipes, fittings, valves, and tools. This complete system has seen use in comfort cooling and a broad range of commercial and industrial applications. Customers have previously relied on pressed and welded metal systems or post-insulated polyethylene pipes to cover the last meter between COOL-FIT 2.0 and the cooling unit.
The COOL-FIT 2.0 Push System now bridges the gap by extending the product range with smaller dimensions. Designed for temperatures between +5° C and +60°C, it includes sizes from d16 to d32. Based on the proven iFIT range from GF Piping Systems, the COOL-FIT 2.0 Push System offers an easy plug-and-play installation thanks to mechanical connections, bendable pipes, and modular adapter technology.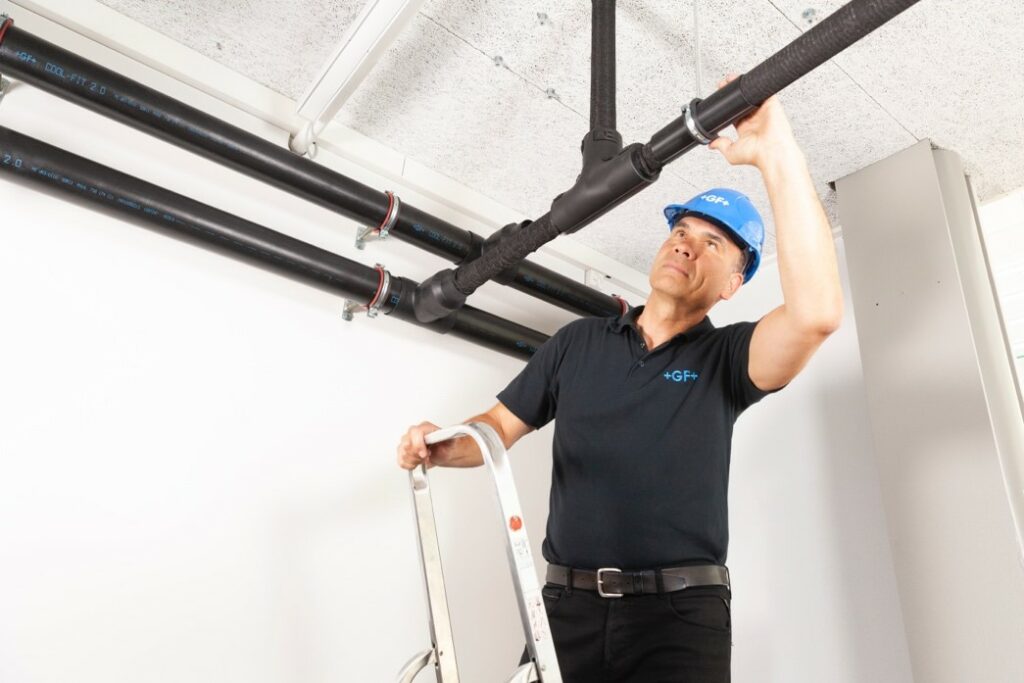 Made of lightweight materials, COOL-FIT 2.0 is a corrosion- and maintenance-free alternative to metal piping systems. Furthermore, these material properties mean that the system can operate for 25 years without interruption. Its 3-in-1 design (consisting of pipe, insulation, and robust jacket) combined with efficient and easy jointing technology results in a 50% faster installation time than post-insulated metal pipes. Due to pre-insulation and the use of plastic, COOL-FIT 2.0 also minimizes pressure losses and has low thermal conductivity, making the system 30% more energy efficient.
"We have already shown that plastic piping systems are a long-lasting, easy-to-install, and high-performing solution for a wide range of cooling applications," says Kevin Blumberg, Senior Business Development Manager – Cooling. "Introducing the COOL-FIT 2.0 Push System is an important step forward; we can now bridge the gap to the cooling unit for our customers. COOL-FIT is a complete solution for confident and safe insulation that makes commercial and industrial cooling more energy efficient."