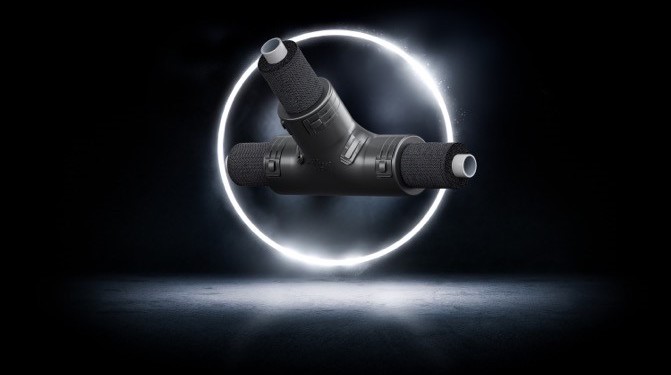 HVAC technology is becoming increasingly important. The number of air conditioning units in buildings is estimated to reach 5,6 billion by 2050 due to climate change and rising population numbers. At the same time, high-tech industries rely on HVAC for process cooling applications, such as data centers or manufacturing. As a result, the need to reduce CO2 and greenhouse gas emissions is greater than ever.
GF Piping Systems has addressed this challenge by developing a pre-insulated 3-in-1 piping system for chilled water, including pipes, fittings, valves, and tools. This complete system has seen use in comfort cooling and a broad range of commercial and industrial applications. Customers have previously relied on pressed and welded metal systems or post-insulated polyethylene pipes to cover the last meter between COOL-FIT 2.0 and the cooling unit.
The COOL-FIT 2.0 Push System now bridges the gap by extending the product range with smaller dimensions. Designed for temperatures between +5° C and +60°C, it includes sizes from d16 to d32. Based on the proven iFIT range from GF Piping Systems, the COOL-FIT 2.0 Push System offers an easy plug-and-play installation thanks to mechanical connections, bendable pipes, and modular adapter technology.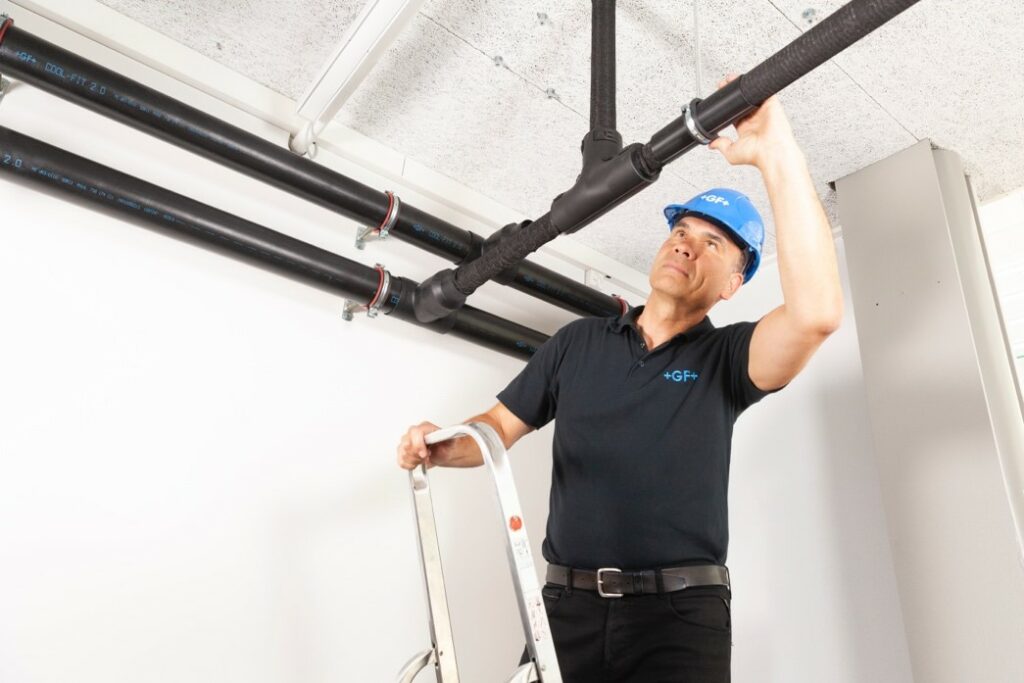 Made of lightweight materials, COOL-FIT 2.0 is a corrosion- and maintenance-free alternative to metal piping systems. Furthermore, these material properties mean that the system can operate for 25 years without interruption. Its 3-in-1 design (consisting of pipe, insulation, and robust jacket) combined with efficient and easy jointing technology results in a 50% faster installation time than post-insulated metal pipes. Due to pre-insulation and the use of plastic, COOL-FIT 2.0 also minimizes pressure losses and has low thermal conductivity, making the system 30% more energy efficient.
"We have already shown that plastic piping systems are a long-lasting, easy-to-install, and high-performing solution for a wide range of cooling applications," says Kevin Blumberg, Senior Business Development Manager – Cooling. "Introducing the COOL-FIT 2.0 Push System is an important step forward; we can now bridge the gap to the cooling unit for our customers. COOL-FIT is a complete solution for confident and safe insulation that makes commercial and industrial cooling more energy efficient."
This article is published by
GF Piping Systems is the leading flow solutions provider worldwide, enabling the safe and sustainable transport of fluids. The company specializes in plastic piping ...