Clamp On to Clean Out? Non-invasive Flow Measurement for Stainless Restoration
Katronic Technologies has supplied portable non-invasive clamp-on flow metering equipment to Stockport-based Stainless Restoration Ltd as part of a project to clean and maintain heat exchanger pipework for one of the UK's largest and most important engineering groups.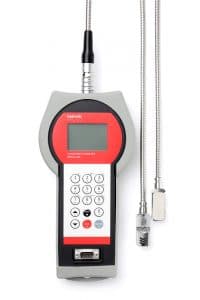 The project, for Rolls Royce, will involve demounting pipework from large-scale heat exchangers and removing particulate deposits from the internal surface.
Iron oxide, dust, atmospheric contamination and loose fibres are removed using fine filters, down to 3 micron, dislodged from the pipework's internal surfaces by circulating clean, demineralised water at a high flow rate to create a turbulent flow to scour the pipe's interior.
A Katronic KATflow 200 clamp-on ultrasonic flowmeter confirms that flow is maintained at more than the 3.5 kg per second needed for a sufficiently turbulent flow to create the cleaning action.
Compact Katronic K4N sensors are securely fixed to the outside of the pipework using simple sprung chain mounts, and the flowmeter uses a non-invasive ultrasonic technique to measure the flow rate through the pipe wall. The flow rate is displayed on the KATflow 200's integral screen and logged for later data analysis.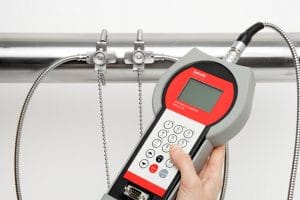 Stainless restoration purchased the KATflow 200 after successful experience hiring them from Katronic in the past. Stainless Restoration's Managing Director Frank Morris commented, 'We have found the K200 to be perfect for various chemical circulation projects we have undertaken.
We like the easy set-up and reliability of the flowmeter, and we have had great support over the phone from the team in Coventry.' The KATflow 200 forms part of a range that also includes other portable and fixed ultrasonic systems including explosion-proof.
They are used for applications from 10 mm pipe diameter to more than 6 metres, of virtually any pipe material and virtually any medium. Non-invasive, clamp-on meters provide convenience and accuracy without any need to break into or otherwise disturb the process.
This article is published by
Providing reliable flow measurements to satisfied customers since 1996. Katronic's excellent reputation has been built on offering accurate and intuitive clamp-on flow meters supported by market-leading customer service and technical support. Katronic was established in the UK in 1996 as a distributor of process measurement instrumentation with a ...