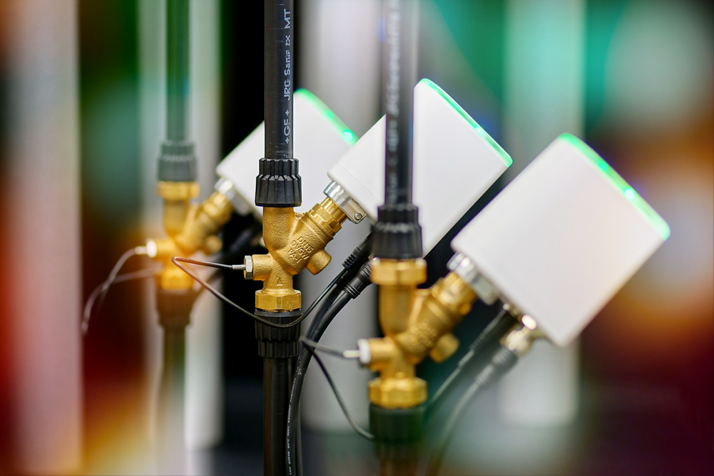 The company received one of the three nominations for its Hycleen Automation System that makes drinking water systems safer and more energy efficient.
The Hycleen Automation System by GF Piping Systems has been nominated for the category "Manufacturer Innovation" by the jury of the Swiss Real Estate Award. The submitted products were evaluated according to their innovation, sustainability, originality, service offers, customer benefits, the plausibility of their marketing and sales strategies, and their user-oriented architecture.
GF Piping Systems developed the Hycleen Automation System with the goal of improving the energy efficiency of drinking water systems and making them more hygienic, safer, and user-friendly. The system's sensors continuously monitor temperatures and water flow within the pipes. This data is then transmitted to a central "Master" unit for processing. Depending on the measured values and the previously configured criteria and limits (e.g. duration of the stagnation, minimum temperature, etc.), the Master adjusts the digitally actuated circulation valves or initiates the flushing of the cold water line. As a result, the system achieves constantly optimized, demand-driven operating conditions that can otherwise only be found for a limited time in new constructions.
The Hycleen Automation System therefore actively ensures lower energy and water consumption as well as cost savings and fewer CO2 emissions. It is important to understand that the use of drinking water in most of today's buildings is responsible for up to 40% of the heating energy. Another benefit is the increased safety for every person in the building, the legal assurance for operators and owners, as well as the improved comfort of a fast and consistent temperature availability.
Florian Beutter, Senior Business Development Manager – Hygiene at GF Piping Systems, is pleased about the nomination: "The problems that the Hycleen Automation System can solve are obvious: An optimal temperature distribution with minimal losses throughout the building, an optimal minimum temperature at the boiler, as well as precisely controlled stagnation times and amounts. We are happy that the jury has recognized the significance that this product has for people and the environment. Now we hope that the audience will agree so that we can also win the online vote!"
Out of all received applications, three suggestions have been nominated per category by the jury of the Swiss Real Estate Award. To determine the winners, there will be an online vote between September 13 and October 22, 2022.
This article is published by
GF Piping Systems is the leading flow solutions provider worldwide, enabling the safe and sustainable transport of fluids. The company specializes in plastic piping ...