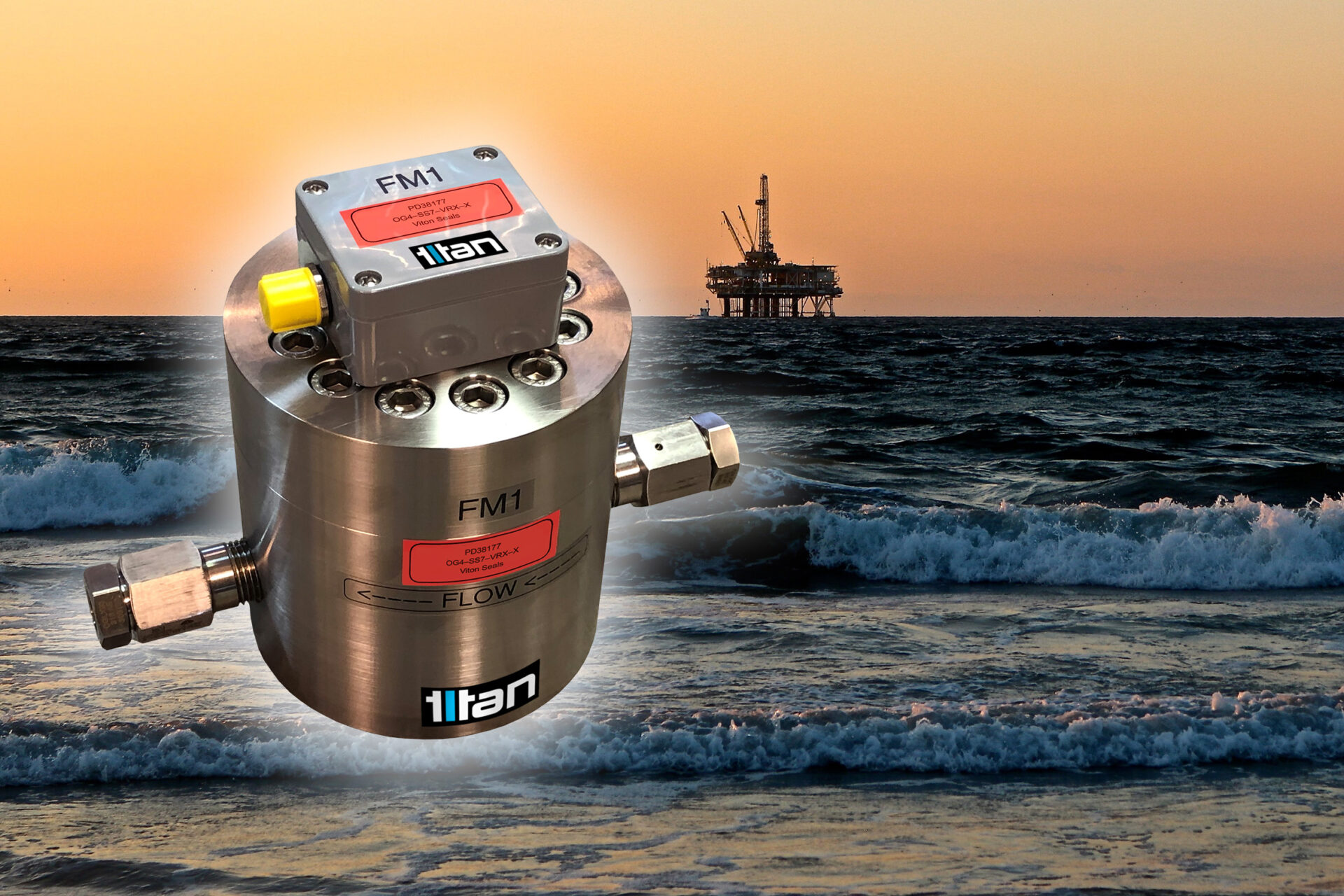 Titan Enterprises supplies high performance Oval Gear flowmeters for oil and gas related processes where flow measurement is fundamental in upstream, midstream and downstream segments of the Oil and Gas industry.
High-Pressure Oval Gear Flowmeters
For the successful transportation and refining of crude oils, a whole raft of additives are required. These vary from simple surfactants through to complex blended scale and corrosion inhibitors. The chemical additives are injected in small quantities at high pressure and are critical to the whole refining process. Consequently, careful monitoring of their addition to any process is essential. Petrochemical additive injection fluids vary in both viscosity and density, and any flowmeter installed into a plant should be able to cope with a wide range of physical and chemical properties. Titan's Oval Gear range of flowmeters, with standard models in 316 stainless steel, aluminium, and PEEK materials, have pressure ratings from 50 bar to 700 bar, with options to 950 bar. These flow devices offer excellent chemical resistance whilst maintaining high performance and 0.1% repeatability. Titan's in-house pressure testing facility enables certification of its own meters for high-pressure operation. For OEM-specific application, alternative features are available including high-pressure options up to 950 bar and designs that can be pressure tested in-house up to 1200 bar.
Flow Measurement of High Viscosity Fluids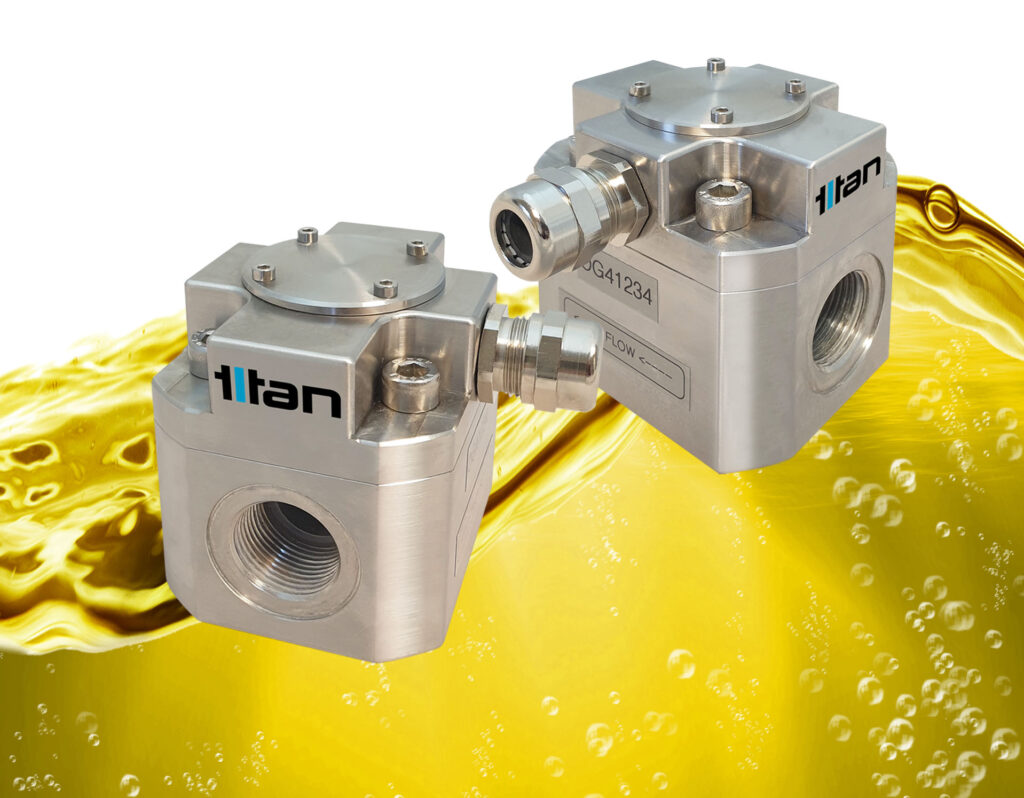 High-viscosity liquids, such as thick oils, bitumen and tar require devices that are precision engineered to provide highly accurate flow measurement. Almost immune from the effects of varying liquid viscosity, density and temperature, the measurement accuracy of Titans' Oval Gear (OG) flowmeters improves as liquid viscosity increases, from a nominal 1% to around 0.1% of flow rate at higher viscosities. Titan's standard OG models provide high accuracy up to 1000 cSt, the efficiency of the meter improving with increased viscosity. At higher viscosities above 1000 cSt for specific OEM application, specially profiled gears can be supplied.
Flow Monitoring in an Explosive Atmosphere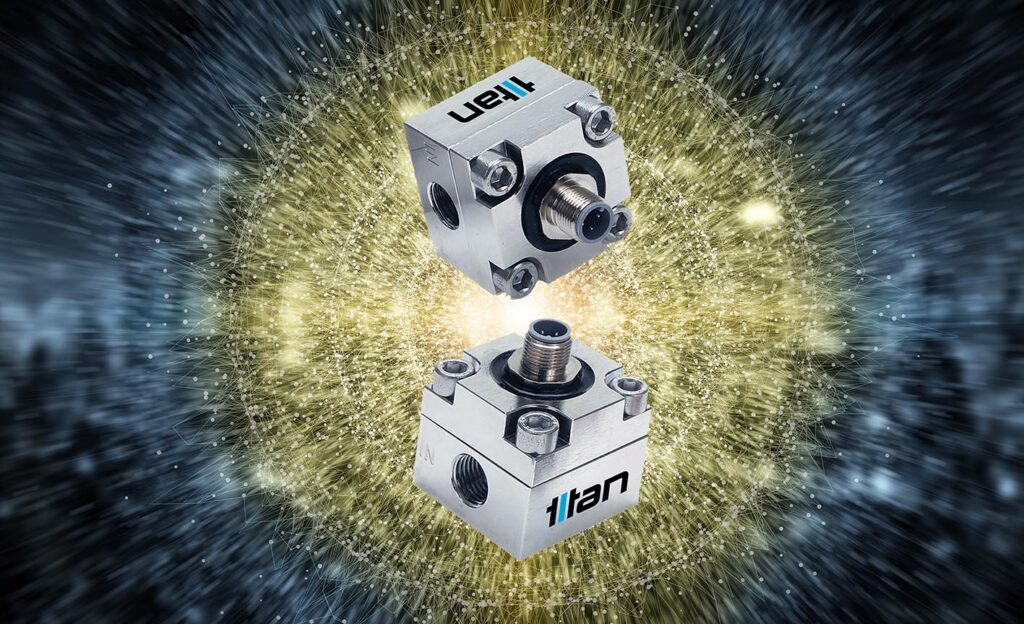 Titan Enterprises offers special options for its Oval Gear flow meters to ensure safe operation in potentially explosive atmospheres, such as those encountered in the petrochemical industry. Titan's Oval Gear range of metersinclude ATEX compliant IP65/NEMA 4 protection models, and devices that offer intrinsically safe options to be used in potentially explosive atmospheres. As well as being constructed from durable materials, a fully certified NAMUR Proximity Switch can be installed into the Oval Gear flow meters.
The NAMUR Proximity Switch is an intrinsically safe sensor specially designed for use in hazardous location areas that have explosive gas, dust, or fibres present, enabling the OG series flow meters to deliver highly accurate flow measurement in explosive atmospheres.
This article is published by
With over 40-years experience in flow meter innovation, Titan Enterprises Ltd are a leading UK-based designer, manufacturer and supplier of high-performance liquid flow measuring solutions. From Titan's innovative, low flow, through-bore Atrato® ultrasonic flow meters and Oval Gear flow sensors, to the low-cost Turbine flowmeters and ...