A customer came to Hawk Measurement (HAWK) seeking a problem with their transfer chute.
The client was using two approaches for Blocked Chute switches in his conveyor transfer chute. The first technology was the hinged impact door that would open when a blocked chute condition developed in the chute and a proximity sensor would indicate that the door had moved. The problem was that buildup of fines material behind the door, sometimes prevented the door from operating if the operator, didn't hose down the chute on a constant basis. The other problem with the impact door, was that after each blocked chute condition, when the door opened, an operator, would have to attend the chute to clean the door jam, so as to shut the door again, to reset the switch.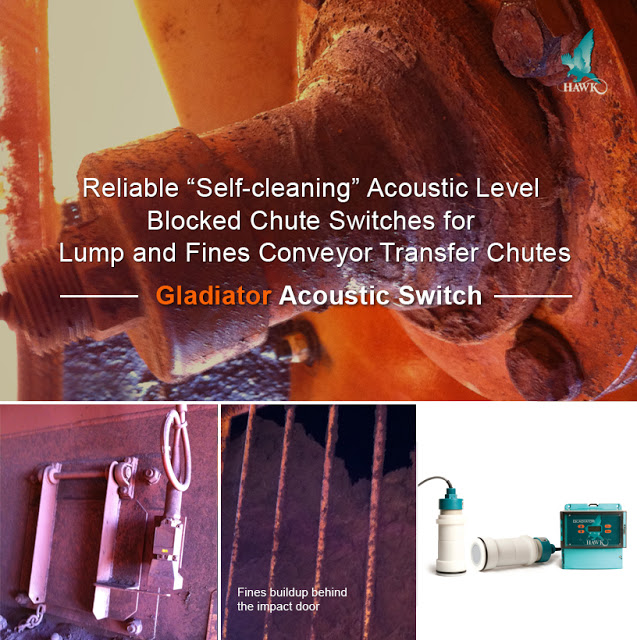 The second technology used, was the Tilt Switch, higher up in the chute, to provide additional protection, when bridging of wet ore prevented flow through the chute. Bridging generally occurs with wet or damp ore. Over time, the tilt switch suffered buildup issues around the switch and prevented it from operating when a blocked chute condition, caused by bridging occurred. Operators needed to hose down the tilt switch on a constant basis.
These issues result in costly downtime, typically costing the facility thousands of dollars. They were in search of technology to solve this problem.
For both applications, HAWK recommended the Self-cleaning Acoustic Switch, which provides self-cleaning, by way of the low-frequency pressure wave that is produced with each pulse of the transducers. The Acoustic technology can tolerate both wet and dry ore as they are not reliant on a dielectric constant in the ore to produce a switch point. The transducer diaphragms are made from Titanium and therefore are a wear plate in their own right. The Acoustic Switch system is a fully failsafe switch that can also provide an additional pre-maintenance warning on critical chute applications.
The Acoustic Switch system to replace the tilt switch provided more advantages, in that they can tolerate ore flowing through the measuring beam, allowing for the Acoustic Switch to be mounted lower in the chute, providing a faster-blocked chute condition signal. This solution solved the problem of digging out the chute when the tilt switch did operate and saved the customer from costly downtime.
This article is published by
About HAWK Hawk Measurement Systems (HAWK), the world leader in level, positioning, asset monitoring and flow measurement technology, provides cutting-edge equipment and complete solutions to the global industrial market. Established in 1988, HAWK has won several prestigious awards for ...