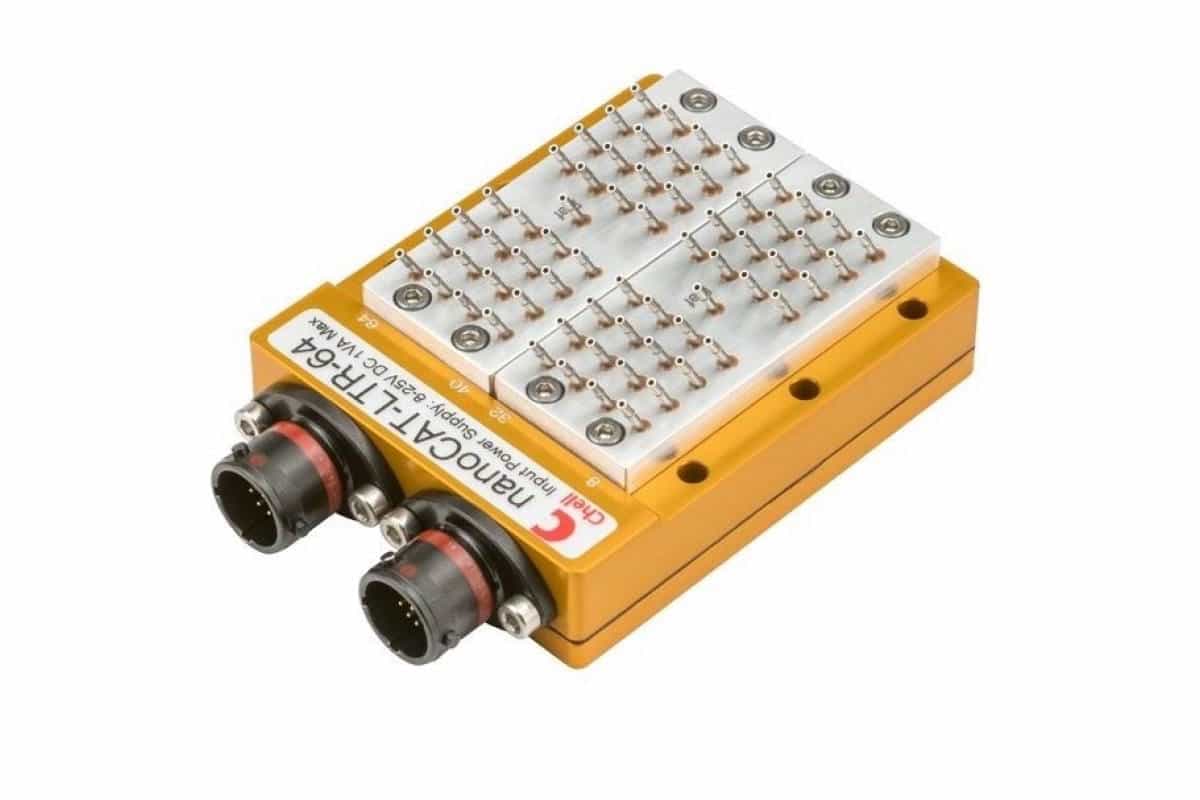 Chell Instruments has added to its leading nanoDAQ range by launching a miniature smart pressure scanner with fully functioning EtherCAT capability.
The nanoCAT-LTR-64 is the latest edition to their comprehensive range of pressure sensors and data acquisition modules which are used widely in sectors including pharmaceutics, petrochemicals, motorsport and aerospace.
Nick Broadley, Managing Director at Chell Instruments, said: "The nanoCAT-LTR-64 is an important addition to our range of products, delivering the critical functionality of our other EtherCAT-connected pressure scanners but in an even more compact design."
Established in the 1970's, UK-based Chell Instruments have steadily grown to become an international leader in pressure, vacuum and gas flow measurement and control solutions.
With the same calibration and thermal compensation as the rest of the nanoDAQ-LT range, the new nanoCAT-LTR-64 features EtherCAT connectivity and has a non-vendor specific protocol so no special code is required to interface with it.
Nick continues "We are always innovating and expanding our range. The nanoCAT-LTR-64 is the latest example of how we've responded to customer requirements for ever smaller and more connected solutions."
The nanoCAT-LTR-64 has up to 0.04% FS accuracy output, all thermally compensated from -40 to 90 degrees Celsius. Its rugged enclosure is sealed to IP67 standard and its miniature dimensions mean it can be used in harsh environments where space is limited.
Users can select absolute or differential measurement and output over CAN as well as EtherCAT. It can be configured using one reference port for each 32 channels, one for all 64 channels or an average of both reference channels.
The nano-CAT-LTR-64 joins a range of over 30 pressure scanning products which provide measurement options for almost any high-accuracy application.
"The nano-CAT-LTR-64 is just one example of the constant developments we are delivering to make technology more adaptive and cost-effective for more and more applications", concludes Nick.
Chell's products are designed and manufactured at their UK headquarters. To validate measurements, they also have their own ISO17025 calibration lab with some of the lowest uncertainties available.
Chell manufacture and calibrate testing apparatus used in areas including pharmaceuticals, Formula One and aircraft design. They are a strategic supplier to many industry leaders and known for creating innovative solutions to both common and individual measurement challenges.
This article is published by
Many of our solutions incorporate instruments and components such as thermal mass flow meters and controllers and capacitance manometers produced by our Principals, with all of whom we have enjoyed long-standing relationships. In many cases, where our customers identify gaps in product ranges, Chell has developed solutions to fill those gaps – Leak ...